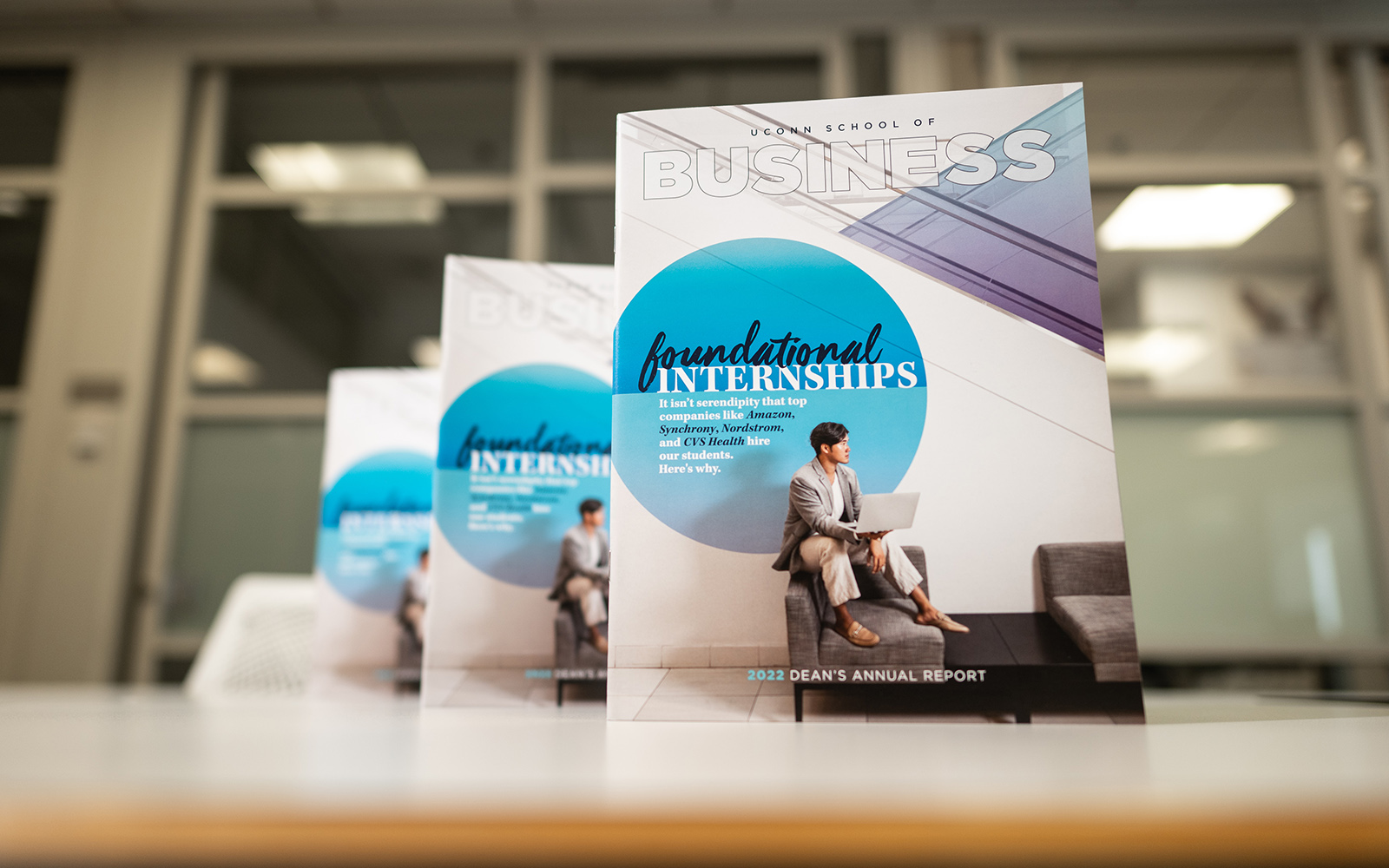 Today I'd like to introduce you to a few of the outstanding students at the UConn School of Business, the many achievements of our faculty, and the myriad of successes we have celebrated in the past 12 months.
In the pages of this year's Dean's Annual Report, you will read about Rashana Weerasinghe, who is completing her ninth (that's right, ninth!) internship as a UConn student, this time at Amazon Robotics in Boston, where she is helping the company meet its sustainability goals.
You will also meet Linbing Pan, featured on our cover, who had an incredible summer internship at Nordstrom. During an introduction to alumnus Mike Koppel '78, the former executive vice president and CFO of Nordstrom, Linbing expressed his passion for fashion and his interest in corporate management. Mike was able to advise Linbing on steps he could take to advance his interests.
These are just two of our many outstanding students who are pursuing active business experiences as part of their UConn journey. Our carefully designed and individualized advising program prepares our students for meaningful internships that are stepping stones to successful careers. Our well-connected faculty, successful alumni, and other friends of UConn give them the skills that they need, so when they land a big interview, they are ready to impress. Their stories begin on page 6.
Our business programs continue to produce outstanding results, with 88 percent of our Class of 2022 undergraduates securing jobs, entering graduate programs, or joining the military within three months of commencement. Be sure to see our top employers, rankings, and our placement statistics on pages 16-17.
Our faculty continue to make great strides in research that has real-world impact. In this issue, we feature three of our Operations and Information Management researchers who are tackling issues that impact us all, including how insurance companies can identify safe drivers, how the trucking industry can be more efficient, and how supply-chain management can be enhanced by lessons learned in the pandemic. Their work is featured on pages 26-29.
Our students are keenly focused on the intersection of business and society, seeking opportunities to learn and apply their interest in sustainability, corporate responsibility, and climate action. Environmental, social, and corporate governance (ESG) influences business strategy and investors today more than ever, and we are meeting that need with a variety of programs and experiences. On pages 30-31, you will meet faculty and recent alumni who are making strides to elevate the social conscience of business.
I hope you enjoy reading about the highlights of a busy, exciting, and productive year. As I write this, Thanksgiving season is upon us. We have much to celebrate and many people for whom we are grateful. I wish each of you a holiday season of personal joy, professional satisfaction, and the abundant love of those you hold dear.