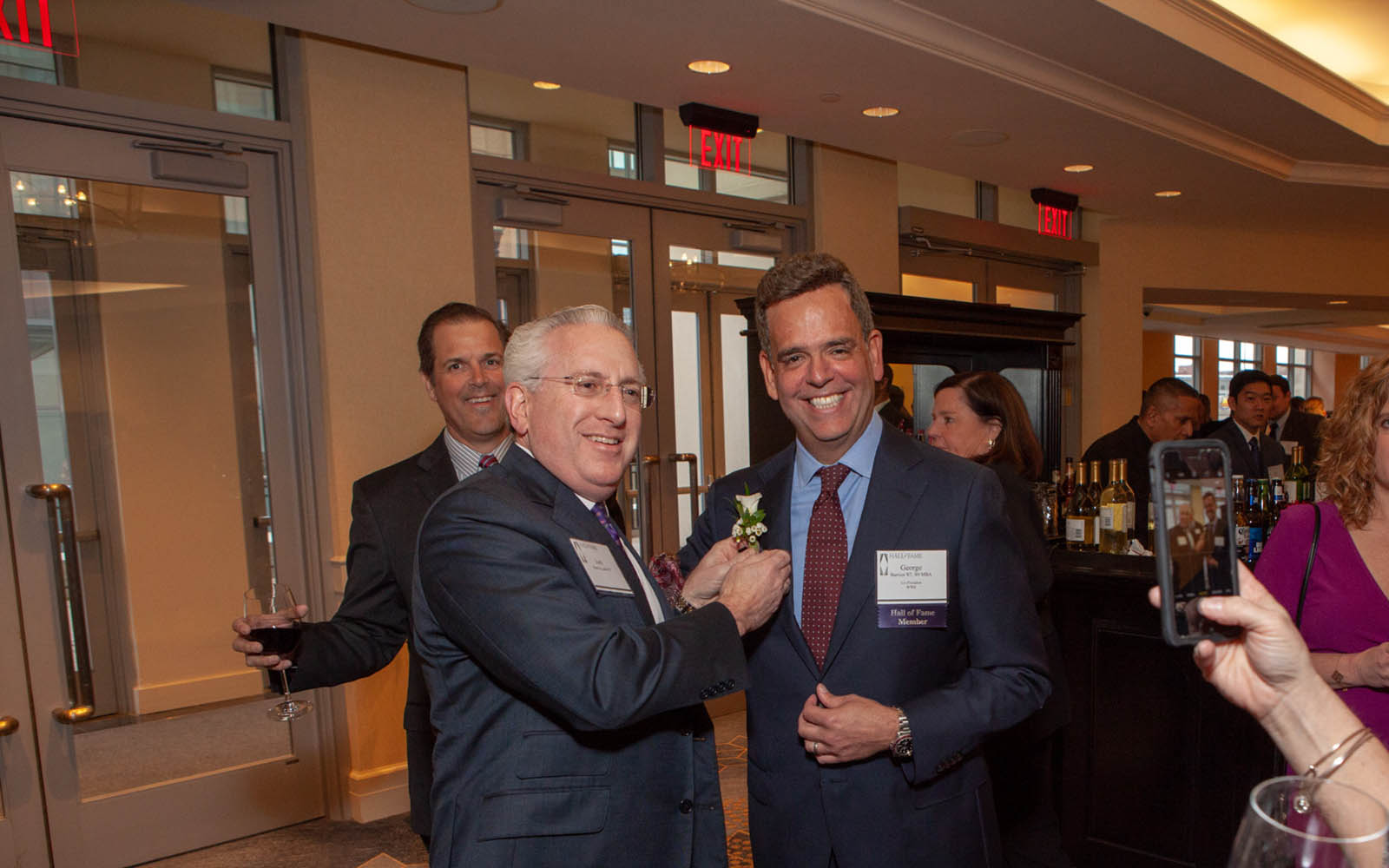 Entertainment titan and UConn alumnus George Barrios is frequently asked for career advice, and he tells his proteges is to be optimistic, passionate, and maintain a good attitude.
"There will be pitfalls and there will be bad days. But you can bend the world to you, if you do the right things," he said prior to his guest-presentation to UConn EMBA students on Friday night.
Barrios joined WWE in 2008 as its Chief Financial and Strategy Officer, and 10 years later became its co-president with Michelle Wilson. He played a key role in leading the professional wrestling company's transformation to one of the most successful, multi-platform media businesses in the world, valued at $7 billion. He also developed and launched the WWE Network, which garnered more than 1.5 million subscribers.
"I have conversations all the time around life lessons. I think whatever you're doing, in whatever field you work, you have to be consistent, hard-working and a life-long learner. You should always be looking for opportunities to add value to yourself and to others," he said.
He told the graduate students to use their knowledge and power to help others, be it their boss or a volunteer organization they're serving. The mindset of helping others will pay off in both professional and personal success.
Barrios, a two-time UConn alumnus, earned his bachelor's degree in economics in 1987 and an MBA in finance two years later. He held several senior financial and general management roles for The New York Times Co., Praxair, Time Warner and HBO, before joining WWE. In 2017, Institution Investor ranked Barrios among the Top Three CFOs in the media industry in America.
After leaving WWE in January 2020, he and Wilson created Isos Capital Management, an independent investment firm focused on investment opportunities in the media, sports and entertainment industries. He also explained to the students the role of a Special Purpose Acquisition Company, known as a blank-check company, that is a popular method for transitioning a firm from a private to public entity.
Isos marked its first foray in June when Bowlero Corp, an owner and operator of 300 bowling centers in the U.S., agreed to go public through a merger with Isos Acquisition Corp. The company is seeking growth opportunities through gamification and sports betting. The deal is valued at $2.6 billion.
Starting a new company in the midst of a pandemic wasn't intimidating, Barrios said.
"The more difficult element was that we can do anything we want to do, but where do we want to put our effort? We were presented with a lot of opportunity and they all sounded great," he said. "Now Michelle and I are defining our own path, which is exciting."
Although he has had career transitions between industries, Barrios said that the core of business expertise doesn't vary much. "Each company or industry has unique verbiage, but fundamentally they're all eager to market their ideas to their customers. That's the aspect that's the same. And once you understand that, have knowledge about that, you really have the ability to work in any business," he said.
In addition to his work accomplishment, Barrios currently serves as the National Board Chair of the Make-A-Wish Foundation. "I hope my legacy will be that I was committed to my work, with a smile on my face, and that I made other people feel good about what they were doing, too," he said. Barrios and his wife, Carol, whom he met at UConn, are the parents of three young-adult daughters.
The son of Cuban immigrant parents, Barrios said he has watched the recent strife in Cuba on television. His family has some elderly family members there who haven't seen each other in decades.
"We've all been lucky in life. If my parents had decided not to come to the United States in the 1960s, our lives would be a lot different," he said. "I think about that all the time."
When he was inducted into the UConn School of Business Hall of Fame in 2019, Barrios entertained the audience with a perspective on his life's journey and expressed gratitude for the education he received.
"This kid from Queens (N.Y.) has been to Shanghai, Dubai, and sat across from a Saudi Arabian prince debating the merits of Hulk Hogan," Barrios said. "You need a foundation to build upon and mine, at UConn, was as good as anyone else's."