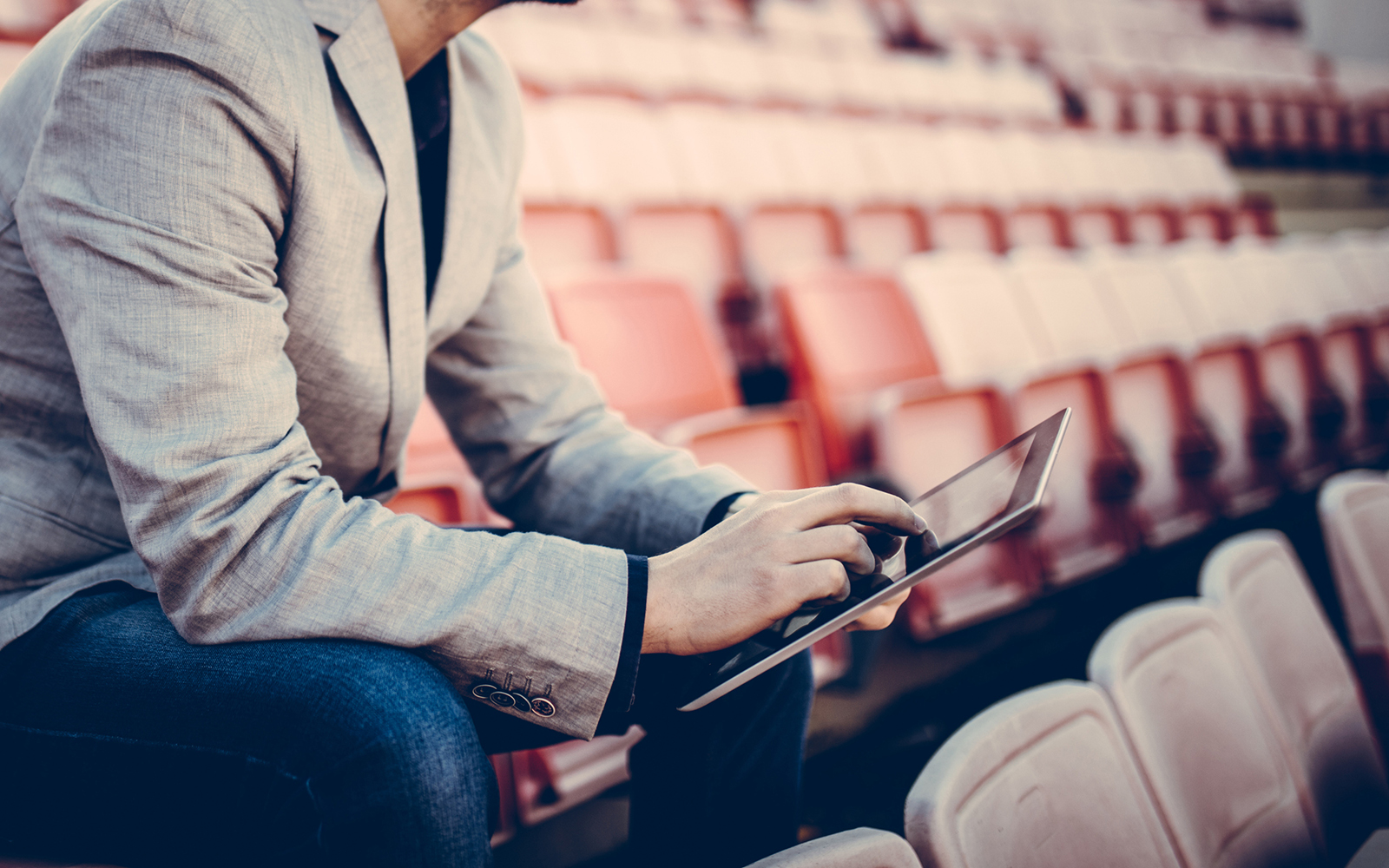 Before UConn alumnus Tyler Davis '18 became a tight-end for the Jacksonville Jaguars, he started applying football strategies to his graduate work in the School of Business' Financial Risk Management (FRM) program.
"I think there are so many athletes in the FRM program because of the competitive nature of it," said Davis, who had long been interested in stocks, bonds, real estate and finance.
"In risk management, you're looking at tendencies, patterns, developing good knowledge of what's going on and what will happen in the future, as you would in football or any other sport," he said. "You're trying to beat an opponent, but this one is off the field."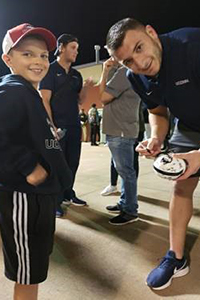 Financial Risk Management Degree A 'Home Run' for Many Students
UConn's FRM program is a popular specialty master's degree program, in part because its graduates are equipped with in-demand skills, enter a robust job market, and command strong starting salaries.
Some 86 percent of FRM alumni find jobs within three months of graduation, and the average starting salary is $97,000.
In addition, the degree can be applied to multiple fields, and the demand for risk-management expertise is projected to grow in coming years.
Goldman Sachs, IBM, PwC, Bank of China, Moody's and UBS have recently hired UConn FRM graduates. The U.S. Bureau of Labor anticipates risk-management job growth at 19 percent through 2026.
In the tri-state area, new financial-risk job creation has increased 26 percent in the last year.
Versatility is One of Its Hallmarks
Two-time alumnus Isaac Feldstein '17, '18 MSFRM, a former outfielder for the UConn baseball team, will apply his new skills when he becomes a financial adviser at Morgan Stanley in San Francisco this summer.
"Baseball had been the drive of my life, and that had ended. I joined the FRM program looking for my next opportunity," he said. "I like working with people and setting goals, but I also enjoy analytics and finance. Wealth management is a perfect intersection of all those interests."
"Sports offer a lot of lessons on adaptability, setting goals, pivoting, hard work, and learning from disappointment," he said. "The skills I learned as a student athlete allowed me to set myself apart."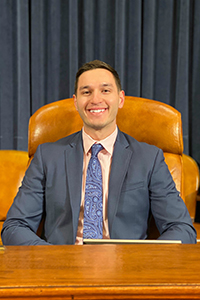 UConn MSFRM Program Set the Standard
UConn's FRM program was started in 2010 in the wake of the worst financial crisis in the U.S. since the Great Depression, said professor Chinmoy Ghosh, head of the Finance Department.
"The curriculum was developed after two years of research by a team of faculty and practitioners," Ghosh said. " the beginning our aim was to make sure that the program had a blend of cutting-edge theory on financial modeling and analysis, and real-life applications that were the current trend in the business community."
"For its academic rigor and practical focus, the program has always remained one of the most uniquely balanced risk management programs in the world," he continued. "Our research faculty that are teaching in the program have published in the premier journals in business, and the practitioners that have been teaching for the program are in leadership positions in the risk-management industry. As a result, our placement record has been outstanding."
Students can attend the program in Hartford or Stamford and select a full- or part-time track. They are supported by a career development team and multiple recruiting events. The program also offers a fast-track option for undergraduates.
The program draws both domestic and international students, said Meghan Hanrahan, executive director of the school's MS Programs. And while the majority of students are not former athletes, the program does seem to draw tremendous interest from those who are.
"Sports prepare you for life," Hanrahan said. "Our student-athletes have excellent time-management skills, handle pressure, work collaboratively and perform at a high level, just like on the sports field. These transferable skills then distinguish them in industry, or even the NFL."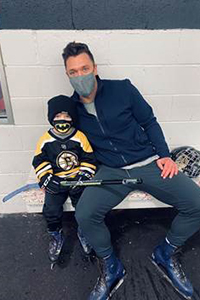 Risk-Management Skills Took Center Stage During Pandemic
Bryant Shirreffs '17, '18 MSFRM is a financial adviser for UBS Financial Services in Hartford, but around UConn he is fondly remembered as a quarterback for the football team.
"Everything I learned about financial risk and the markets was particularly relevant in the last year with the extreme uncertainty in business," he said. "The expertise prepared me well for the times we're living in now."
"As a former athlete, I'm thankful for the lessons, in football specifically but in all the sports I've played, about a unified vision to work for," said Shirreffs, who was a finance major as an undergraduate. "Everyone has different experiences and personal goals but when you align with a unified vision there is power there to make each individual stronger."
"What I'm most thankful for are the professors and peers who created such an enjoyable experience," he said, adding that he appreciated working with peers from other nations. "I enjoyed being surrounded by so much intelligence, made a lot of friends, and saw perspectives that were not like my own."
Real World Experience Also a Bonus
Finance professor Michel Rakotomavo said the program requires students to complete a capstone project and an additional experiential learning requirement.
"Both projects typically require intensive interaction with and reporting to executives from the sponsoring organization," Rakotomavo said. "These experiences allow our students to apply what they have learned with the rigor and pace required by various businesses and other organizations."
"The fact that each of our students has to use their knowledge outside UConn at least twice during their tenure makes them very adaptable and accounts for the large breadth of finance and risk positions they hold right after graduation," he said.
Jason Gorack, a career development and corporate outreach expert for the program, said the job market for graduates is very strong.
"We have many companies that request our students after graduation. It seems when one of our students gets hired at a company, many follow," he said. "There is a bond-rating agency in New York City in which 50 percent of their employees in the risk department are now UConn FRM grads.
"The unique aspect about UConn's FRM program is the large variety of career paths our graduates are prepared for," he said. "Their skills go well beyond managing financial risk; in fact 30 percent of our alumni are managing risk in the insurance industry. They can be employed anywhere from corporate finance to data analytics to internal audit, which has been a very popular option over the last three years."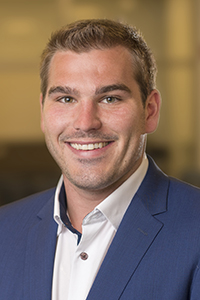 Ideal Candidate? Open Minded, Extroverted, A Team Player
Two-time alumnus Trevor Holmes '16 '18 MSFRM is an associate advisor at SVN Parsons Commercial Group, a commercial real-estate firm in Boston. He works on the brokerage side of the business, focused on investment sales and leasing.
"I'm working in real estate and this industry is super, super, super competitive," he said. The combination of the FRM degree, coupled with good discipline, organization, and time-management skills has served him well.
Holmes said he found the FRM program challenging and enjoyed that he met people from around the globe. The program requires good communication and working with people who have had different experiences and that has benefitted him in his career.
"I would say that someone considering the FRM program should be advanced in math, you need to know a lot more than how to use a calculator," he said. "I think the ideal candidate would be open-minded, patient, willing to work with people from other cultures, and be an extroverted, team player."
Feldstein agreed.
"I think someone who is curious and interested in the space would excel in this program," he said. "There is a lot of opportunity for collaboration on projects, tackling issues, and learning from others. I really enjoyed the communal aspect of the program. It's a smaller cohort, so you get to know your classmates well, and bond with them."
If you are interested in learning more about our MS in Financial Risk Management program, you can attend a virtual infosession on Tuesday, June 29th.