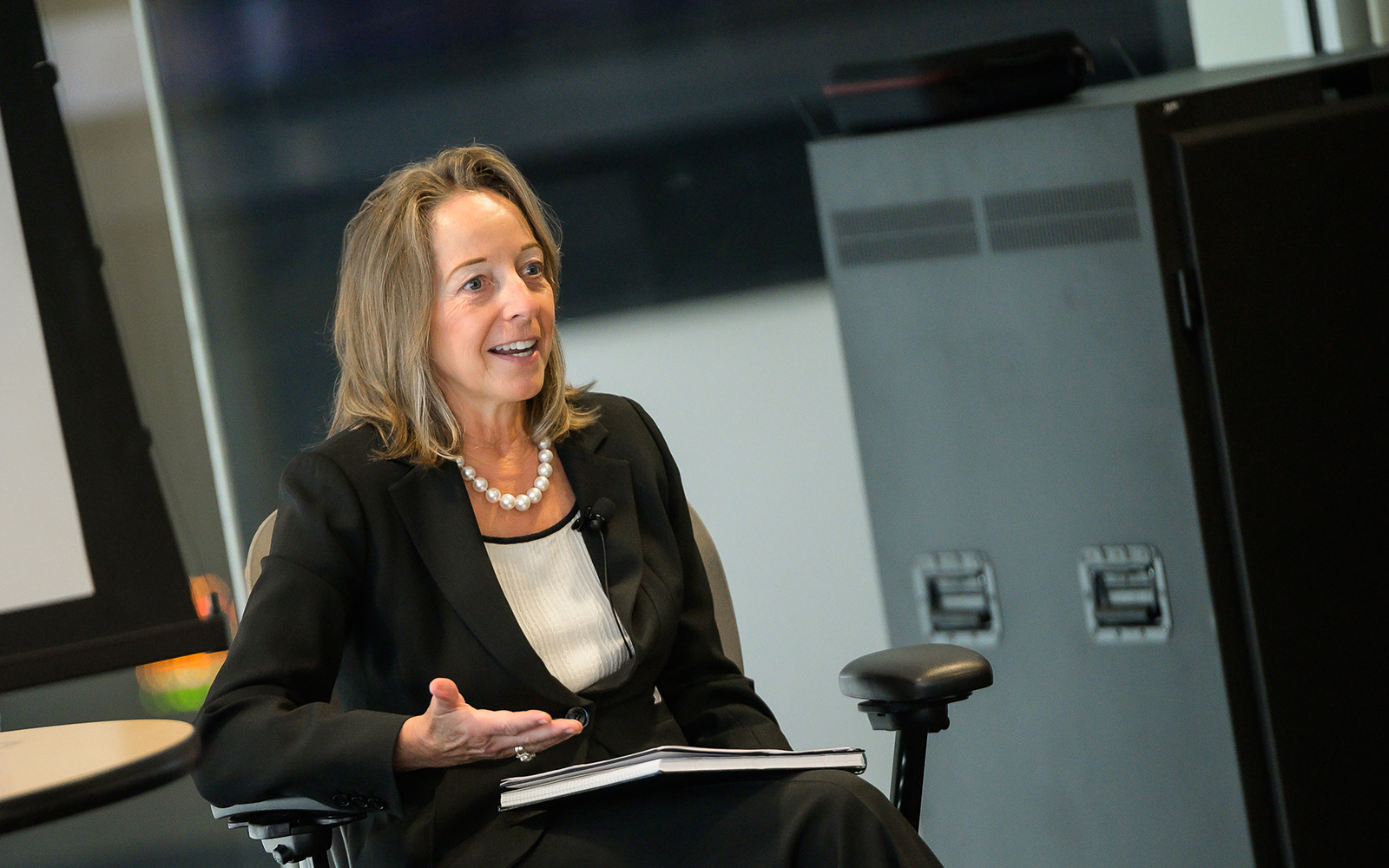 Long before she became one of the most powerful CEOs in the nation, alumna Mary Laschinger '92 EMBA developed a strong work ethic and the courage to take on formidable challenges.
"My upbringing, working on a Wisconsin dairy farm, in a large family including four brothers, helped me a great deal. You had to speak up and not be shy" she said. "As a business leader, I knew I had a right to be at the table and to be heard. I developed the confidence to speak my mind about what was important and what needed to be said."
Laschinger returned to her alma mater in April, sharing her experiences with students in UConn's Executive MBA program. She was a member of the program's inaugural class in 1992.
As the chairman and CEO of Veritiv Corporation, Laschinger was one of only 24 women in that elite Fortune 500 leadership club in 2019. The Atlanta-based B2B packaging-solutions company designs and distributes packaging to secure, protect, and transport products across the globe.
Courage is one of the traits that Laschinger said defined her career and something that is in short supply in many corporations.
"You develop courage by stepping outside your comfort zone, by pursuing broad experiences and developing informed perspectives, and then by making bold decisions. Sometimes that means standing alone," she said. "Too often companies create strategies and don't execute them because they don't have the courage. Courage matters."
Veritiv was created through a merger with International Paper Company's distribution business, 'xpedx' and Unisource Worldwide Inc in 2014. The multi-billion merger drew together 9,500 employees and thrust Laschinger from a comfortable role in a mature company into a pressure-cooker position where a company literally had to be built.
"I realized this would be a hard task and it was every bit as hard as I thought it would be," said Laschinger, who was inducted into the UConn School of Business Hall of Fame two years ago.
When the COVID pandemic arrived, Laschinger again recognized that bold action would be the only way to lead Veritiv through the economic upheaval. Within 30 days of the virus' arrival in the U.S., she had enacted sharp cost-saving and restructuring measures to ensure continuity.
"People said, 'This is crazy. We can't do that.' And I said, 'Yes we can and yes we will,'" she said. "I think too often people tell you what you can't do. But leaders need to be confident doing what they need to do for their company's wellbeing."
As a younger woman, Laschinger said her career goals were simple: to make enough money to support herself and to never be bored at work. She attended the University of Wisconsin, starting at 21 and graduating just shy of her 26th birthday. "Back then I couldn't have imagined what I'd end up doing, what awaited me, and what's possible to achieve in a career," she said.
Laschinger began her career at Kimberly-Clark Corp., and later worked at the James River Corp. She served as President of the Europe, Middle East, Africa and Russia business at International Paper from 2005 until 2010.
Laschinger said that she always saw herself as a business leader first; not as a 'woman business leader.' She believes women and minorities would be wise to think of themselves foremost as leaders.
"I never focused on being a woman, but, instead, on who I was and how I could contribute. You must show people what you're capable of doing. In a very male business world, I was never intimidated," she said. "Have confidence in yourself—not arrogance—and know when you have something meaningful to add and add it. Don't be afraid to speak up."
She also told the EMBA students that what companies want is employees who can solve problems and think strategically.
"No employer expects you to arrive with a deep understanding of the business, but they seek someone with a broad baseline of knowledge, the ability and strength to think strategically and analytically. The ability to think, learn, and grow is critically important," she said.
Laschinger said when she hired employees, she also sought those who would be a match with the company's values and culture. She looked for characteristics including integrity, trustworthiness, and respect. She wanted team players and those who worked hard and were unwilling to accept mediocrity. "Make sure people know your values, your work, and what you stand for," said Laschinger, who is now a member of the Board of Directors of the Federal Reserve Bank of Atlanta and the Board of Directors for Kellogg Co.
"Don't make short-sighted decisions for the money or the title," said Laschinger, who once took a two-step demotion because she wanted to develop her expertise in marketing. "You ought to know where you're headed and what you want," she said, adding that there's one answer for you, but not one answer for everyone.
When asked by a student if an Ivy League education is required to excel, she said absolutely not. Select a rigorous graduate program that will nurture your growth and help you develop thinking and problem-solving skills.
"Being the CEO of a Fortune 500 company doesn't come without tremendous personal sacrifice," she said. After seven years in the CEO chair and the incredible demands of that role, she said she was ready to retire. She is now fishing, boating, and planning a trip to Alaska.
She left the students with a road map for success in their leadership roles. Good leaders have high integrity, passion, vision, a commitment to doing the right thing, and the courage to be better. They don't accept mediocrity and they know how to be agile, she told the graduate students. Give your employees good direction, clear goals, and objectives that align throughout the company. Remember, employees need a sense of purpose. Care about your people both personally and in their work, she said. Give them challenges, and constructive feedback, and communicate on a regular basis.