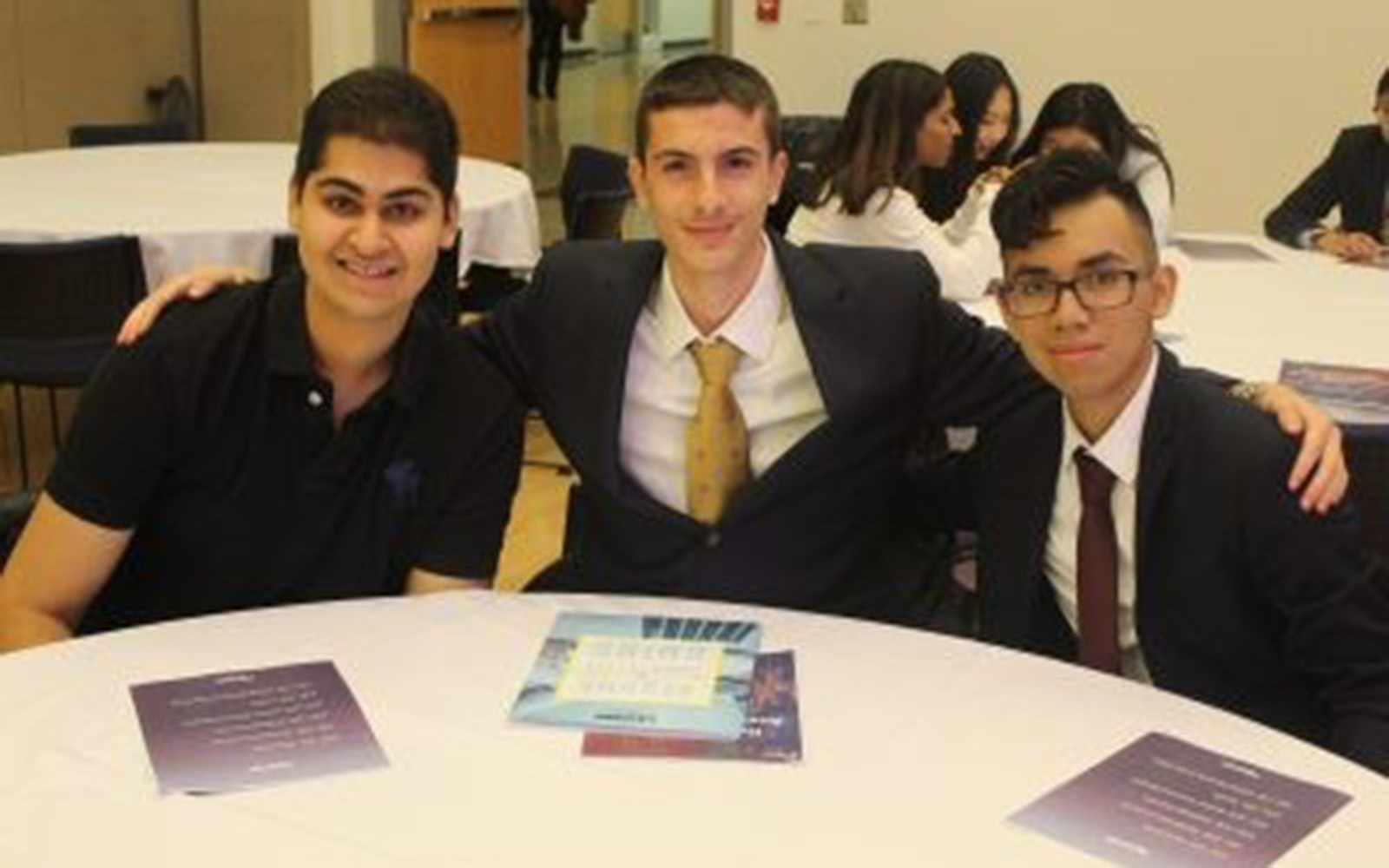 UConn students recently completed a first-of-its-kind, semester-long challenge, analyzing and presenting data to help The Hanover Insurance Co. gain better insight into their present and future customer base.
Three things made this challenge unique. First, students had the opportunity to earn up to $500 each in scholarship money, and top performers will be selected for externships to continue their research.
Unlike traditional case competitions or hackathons, the students had the chance to grow professionally through analytics workshops and mentorship offered in conjunction with the challenge.
And, because all the teams were comprised of students from various majors, including some with little business background, the students learned about the problem-solving advantages offered by multiple, diverse perspectives.
The Hanover Image Analytics Challenge was sponsored by Hanover Insurance and the School of Business' OPIM Innovate team, which introduces students to emerging technology.
Alumnus Rob Brewer '83, vice president and chief underwriting officer at The Hanover, said he was very impressed by the students' forward-thinking solutions to insurance problems.
The students applied technology including 'neural networks' to identify risks and hazards that are important to the underwriting decision; used drones in innovative ways to take accurate measurements of buildings; and applied data and analytics to properly evaluate insured property and more, Brewer said.
"I see real potential in further developing a few of these solutions into valuable tools that can improve our underwriting response for our agents and customers," Brewer said.
Beyond the business advantages, sponsoring the challenge created valuable opportunities for the Hanover team to interact with students and faculty, he said.
"This partnership helps with recruiting and brand building, while also helping us stay connected to the future in a meaningful way," Brewer added. Hanover is based in Worcester, Mass., but has strong ties to UConn. President and CEO John "Jack" C. Roche is a 1985 alumnus of UConn, where he earned a degree in economics.
OPIM Professor Jon Moore, who organized UConn's participation, said students had a powerful experience.
"Hanover gave our students this exciting opportunity to use real data to find new ways to maximize insurance data and help strengthen and grow a business. The insurance field is changing rapidly and companies like Hanover are competing to identify data and use technology in the best way possible," Moore said.
"Our most ambitious students went beyond just descriptive and predictive analytics and looked to build the basis for A.I. on image data. For example, one team matched the insurance data with images from Google maps to attempt to build a 'neural network' identifying swimming pools on properties," he said. "This is a real-world experience that they can discuss when they are interviewing for jobs, and apply the knowledge they developed throughout the challenge towards their future careers."
Some 72 students, in 18 teams, participated in the challenge. The competition was broken into four tiers and students could select how far they wanted to advance.
The students who participated to the highest level included: Joanne Cheong; Eli Udler, Mariela Kridzelis and Thomas Rivet from Team OP I Am; Rachel Fein, Mia Marasco, Angela Wang and Vaughn Nangle from Team Alpha Analytics, and Xiaoye Fan, Zachary Wahrman, Rahul Sindvani and Kathleen Cruz from Team Gold Diggers.
The challenge began in September and wrapped up on Nov. 20. The challenge drew participants from various majors, including some with little to no business or technical knowledge. Their roles ranged from business analyst to marketing specialist, developer and data analyst.
"It was really valuable to have a real-life business dilemma, as often that is something a class cannot duplicate," said Nangle, who is a physics major. "I worked on developing our systems and my co-workers analyzed the data, made business applications of our data, and found ways to market the results. To work with others on the overall direction of the project, while focusing on a specific piece of the puzzle, was an invaluable experience."
Students who completed the four stages of the challenge had the opportunity to apply for an externship next semester.
The insurance company has expressed an interest in sponsoring a similar challenge next fall. "We are so grateful to the university, the Peter Werth Institute for Entrepreneurship & Innovation and the faculty and staff of the School of Business for this opportunity to learn cooperatively," Brewer said.