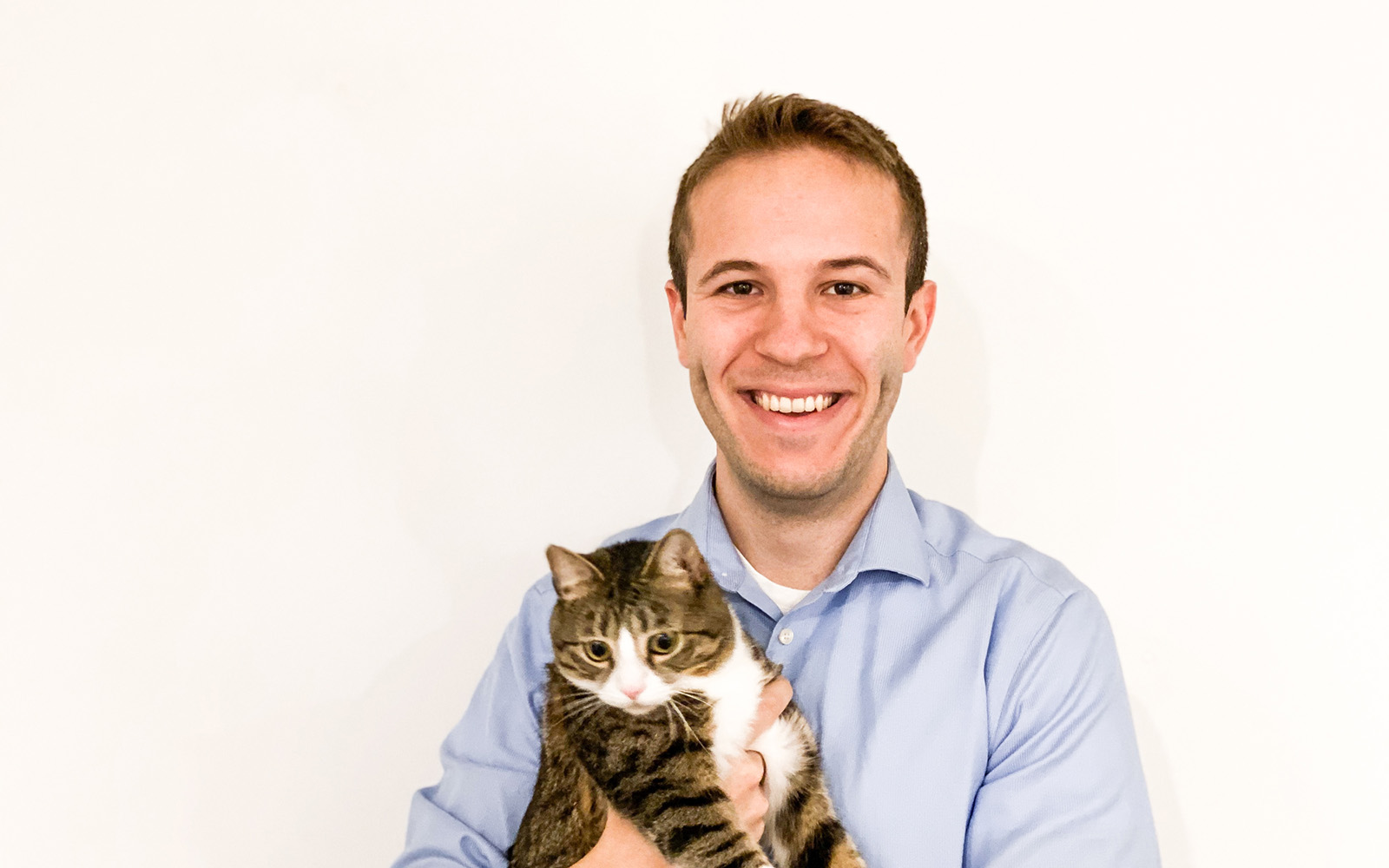 As soon as alumnus Travis Bloom '13 (BUS) tells people that he co-owns a company that brokers pet health insurance, the stories begin.
Almost every pet owner recalls a beloved animal's illness or injury that led to an enormous out-of-pocket medical expense.
"A $10,000 veterinarian bill isn't unusual," Bloom said. "There are many people who have to decide whether to accrue debt in order to afford a life-saving procedure for their pet."
The opportunity for growth in the U.S. pet-insurance market is enormous. Only 1 percent of dog and cat owners carry pet insurance here, significantly less than in Sweden, for instance, where roughly half of pet owners insure their animals.
Pawlicy Advisor, the startup that Bloom co-founded with business partner Christopher Mawhinney in 2018, offers an array of insurer options for customers. Last winter the business raised an initial round of funding from Entrepreneurs Roundtable Accelerator, one of the largest startup accelerators in New York City.
The reason many people don't select pet insurance is because it is difficult to compare policies, and to determine what care is covered, said Bloom, who is also Pawlicy's CTO. Pawlicy offers a transparent, easy-to-understand comparison of insurance options.
Bloom's interest in the pet-insurance business developed when he and his wife, alumna Meghan Ledan '13 (CLAS), adopted a cat named Ginny. Bloom asked his wife how much she would be willing to spend to treat the cat if it became ill.
"I will go bankrupt before I let this pet die!," she told him.
"I tell people that even if they can self-insure against large medical expenses they should get pet insurance, if for no other reason than to avoid this kind of discussion at home," he said.
The Scariest–and Best–Decision
Bloom knew he wanted to become an entrepreneur from the time he was an upperclassman at Weston High School. His experience at UConn, as an honors student majoring in management information systems (MIS), and in two valuable jobs afterward, helped prepare him for his new role.
But before he made the final decision, he and Mawhinney went on a grueling hike up snow-coated Wittenberg Mountain, part of the Catskills, where they shared their business visions and expectations. At the top of the mountain, they agreed to become business partners.
"I realized this was the moment; I knew the time was right," Bloom said. "It's one of the scariest and best decisions I've made in my life."
'I Wanted Something that was Commercially Viable'
Bloom's experience at UConn helped set his career in motion. His interest in technology drew him to the MIS program, where he was intrigued by the intersection of business and technology. His favorite classes were taught by Professor Ramesh Shankar, who taught his students the practical applications of the skillsets they were learning. For his honors thesis, Bloom launched a web app.
With the combination of strong grades and leadership, having served as president of his fraternity Alpha Epsilon Pi, Bloom was inducted into the School of Business Hall of Fame as a student fellow during his senior year.
Bloom's first job after graduation was at GE, where he had completed an IT internship after his junior year at UConn. He spent two years in the company's leadership rotational program, which he said was a great experience and allowed him to develop software engineering expertise. Although he loved the team he worked with, and the company culture, after two years he wanted to experience working at a startup.
He got a job with Rocketrip, a B2B that helps companies reduce travel costs by rewarding employees who go above-and-beyond to save their company money. Bloom was one of the first 25 employees. He was promoted twice in less than four years and became a lead software engineer.
"Knowing the risks, I went to my boss, Dan Ruch, the CEO and Founder at Rocketrip, and told him I wanted to leave to become an entrepreneur, and that I was hoping he would mentor me," Bloom said. "To my delight, he was incredibly supportive and spent the next three months mentoring me."
Ruch suggested Bloom start interviewing potential business partners. He told Bloom to find an idea he could fall in love with.
"I had some ideas of my own, but I wanted something that was commercially viable," Bloom said. "I talked to a lot of people and it really did teach me what 'good' looks like. Some of the people I met were still really committed to their day jobs or didn't understand how to take an idea and actually implement it."
Spurred on by his recent, frustrating cat-insurance quest, Bloom reached out to Mawhinney. The idea of a simplified and transparent pet-insurance marketplace fascinated him.
'Now the Family Pet is Often Sleeping in the Bed with You'
As a first-time pet owner, Bloom was surprised to learn that so few Americans have pet insurance.
"Pet ownership is growing, and 95 percent of pet owners view their pet as a family member," Bloom said. "In the 1970s or 1980s you would keep the dog in the doghouse in the backyard. Now the family pet is often sleeping in the bed with you!"
At the same time, the cost of veterinary care is soaring. Reports indicate that fees have increased by 10 percent in the last three years alone.
Veterinarians have traditionally sidestepped recommending pet insurance because they don't feel comfortable advocating for one brand over another, Bloom said. But research has shown that pet-owners are more proactive about the care of their animals when they have a policy to cover the expenses.
"Most vets don't want to promote a brand; they just want to give their patients the gold standard. They would rather say, 'This is what you should do, and your insurance covers 80 percent of the cost,' than say, 'This procedure is going to cost $7,000,'" Bloom said.
The overwhelming nature of selecting an insurance policy leads many pet parents to a decision paralysis, he said. "Most insurance websites negotiate different commission amounts with each partner, meaning they have a bias to recommend one over another. Because Pawlicy Advisor gets paid the same amount, regardless of which provider you go with, we're able to provide unbiased, data-driven, recommendations to help consumers save time and money."
Another area in which Pawlicy Advisor is gaining traction is employee benefits. Currently, half of Fortune 1000 companies offer pet insurance to their employees. By offering a seamless onboarding process for human resources departments, the team is hoping to help companies offer their employees a new perk that is completely free for the employer.
Not Everyone is a Zuckerberg
Bloom has been in contact with UConn's entrepreneurship faculty and has offered to talk to students about his entrepreneurial journey.
"Often times you hear about the Zuckerbergs of the world who drop out of college to start the next billion-dollar business. I have nothing but admiration for the entrepreneurs who have that level of conviction at such a young age, but I want students to know that there's still time even if they don't take the leap immediately," Bloom said.
"My journey led me from a 300,000-person company, to a 25-person company, until I was finally ready to start my own business," he said. "We're still very early in our growth, and have a lot to prove, but I'm excited for the journey ahead."