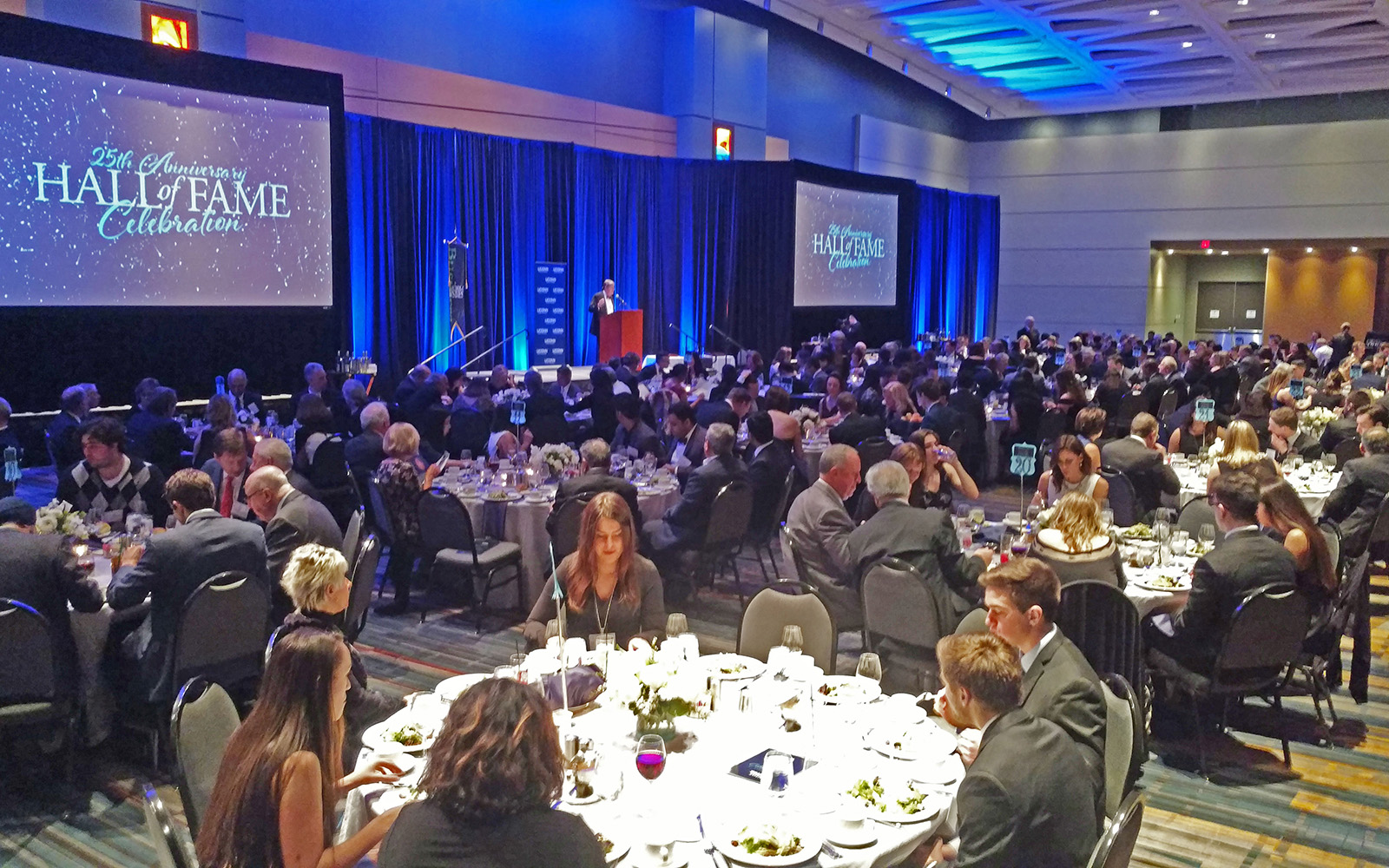 Although alumnus Kevin Bouley '80 wouldn't necessarily describe the School of Business' Hall of Fame ceremony as a UConn family reunion, it does offer the same sense of excitement and anticipation.
The School's premier event celebrates and honors top UConn alumni who are outstanding business leaders by inducting them into the Hall of Fame. But the evening also offers an opportunity for local and global business leaders to exchange ideas, network, and enjoy camaraderie with more than 300 guests, all business champions.
"The degree with which members of the UConn community interact, support, compliment and enrich each other's experiences is remarkable," said Bouley, president and CEO of Nerac Inc., a global research and advisory firm and a Hall of Fame inductee. "The camaraderie and celebration, not only of the inductees, but also of one another in new and successful commercial, technology and other ventures is outstanding. The bond brings us back year after year. If you can't attend, you're missing out."
Event Draws Newest to Most-Seasoned Business Leaders
Brian Paganini '03, vice president and managing director of Quantum Biopower, Connecticut's first waste food-to-energy facility, agrees.
"The conversations and connections I made at the Hall of Fame event were beyond my expectations," said Paganini. "The energy in the room was palpable having brought together accomplished business school alum, academic thought leaders, entrepreneurs, and most importantly, eager and engaged current students of the School of Business."
Mark Smith '13 MS (CLAS), co-owner of Macroscopic Solutions, an innovative microscope system, said he enjoys seeing friends both from the School of Business but also many of the entrepreneurship-fostering organizations in Connecticut. Smith is a winner of UConn's Innovation Quest, which helped launch his business.
"As a student, I was fortunate to meet many people who gave me tremendous opportunities, from advice to financial assistance to invitations to social events, all of which drove me toward success," he said. "The Hall of Fame event serves as an annual checkpoint for me, a time to assess where the business is and to talk to people about the company's progress and growth."
Events like the Hall of Fame reflect UConn's passion for new business, he said.
"One of the things UConn does exceptionally well is encouraging people who are curious about starting a business and providing a channel for entrepreneurs," Smith said.
Corliss Montessi '86, vice president and corporate controller at Stanley Black & Decker, and a Hall of Fame member, said she enjoys meeting business executives in different fields. "I meet new people and come away with new ideas every time I attend," she said. "You can feel the engagement based on the 'buzz' in the reception and during dinner."
Huskies Today; Hall of Fame Members Someday
Bouley, who sponsored a table of students during his induction in 2014, said that bringing younger people into the room forges a bond between them and potential mentors in the corporate or private sector.
"This year we had dozens of Business Community Learning Center students in attendance and they were engaging and articulate, and they really made a point to meet as many people as they could, with social expertise that's almost unheard of. They made a noticeable impression with people. I think we're all more encouraged knowing the people who will be carrying the torch and moving business ahead in the future."
Montesi, a 2016 inductee, said the students gain tips for navigating their college careers, as well as learning about opportunities in business.
"At Stanley Black & Decker, we value the interaction with these impressive and accomplished students to help us learn about what is important to them and how we can engage our current and future employees," she said.
Sophomore Swathy Shriram, a business management student, attended the event as a guest of the BCLC. It was the first time she had attended such a large business event and said she was a bit nervous until Management Professor John Mathieu reassured the students that they were making a positive impression.
"I definitely felt welcome," she said. "It was a great opportunity to network and meet new professionals. I sat at a table with younger employees from Stanley Black & Decker, and we really connected. They talked about what they did after graduation and how they built up their careers. They were very relatable because they understand what we're going through."