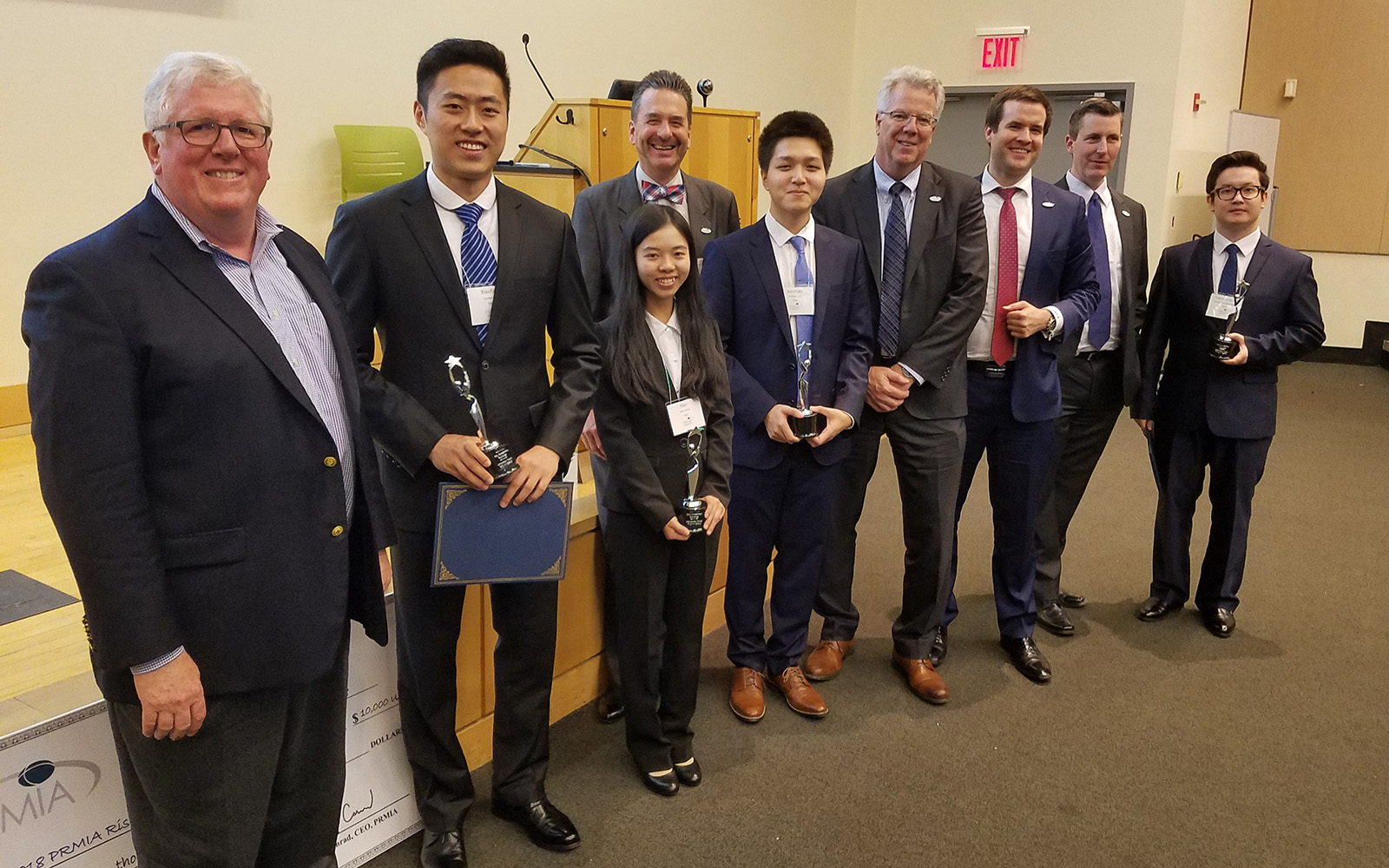 A group of UConn graduate students in financial risk management can now add the title of "international competition champions" to their resumes.
Teammates Xiao Wang, Xiaofan Hou, Junchao Liao and Tuershunjiang Ahemaitijiang took home the first-place award and a $10,000 prize in the international PRMIA Risk Management Challenge 2018. Finance professor Yaacov Kopeliovich served as team adviser.
The UConn students competed against nine other teams of students, hailing from across the globe, including New York, Chicago, Toronto, Hungary, London, Canada and Egypt. The contest is sponsored by the Professional Risk Managers' International Association and was held at Baruch College in New York. Some 83 teams, from 41 colleges and universities, participated in the competition over several months.
The UConn team had successfully completed the regional challenges by analyzing a case study on GE Capital Corporation's adaptation to the financial crisis and various strategic decisions to optimize the company's balance sheet. At the international challenge, finalists presented their analysis and strategic solutions to Lehman Brothers' pre-crisis ramp up.
"The case was very interesting," Wang said. "The point is to study the case thoroughly and read as many references as possible, to have a big picture of the case as well as to have familiar knowledge of all the related details."
The winning team is known for its hard work, and teammates spent a great deal of time finding the financial data to support their opinions, she said.
"The judges liked our presentation and appreciated that we collected detailed data and did all the modeling and quantization," she said. "They encouraged us to continue working hard."
To get to the finals, the team spent days revising their solutions, hours at Bloomberg terminals searching for data and debated key questions repeatedly. They even rehearsed their presentation until the last minute.