The New York Yankees invited 34 School of Business students, Dean John A. Elliott, and staff from the Office of Career Development to attend an April 8 game at Yankee Stadium and learn more about job opportunities with the organization.
The UConn guests, who came from Storrs and Stamford, were treated to an afternoon game from the comfort of a SkyBox. As part of the recruitment event, the students learned about the organization from the perspective of Yankees' sales executives. They explained that while they sell tickets, the real focus is selling an "experience that lasts a lifetime." They talked about the family environment at the games, which was planned by George Steinbrenner and that continues today.
Elliott thanked the panel for their insight and talked about the opportunity for future collaborations between the Yankees and the Huskies.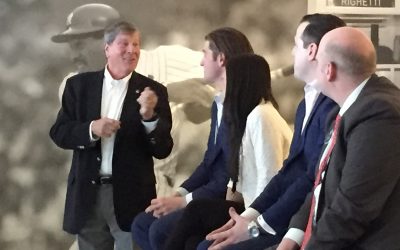 "Creating relationships between employers and students is part of our mission," said Kathy Hendrickson, assistant director of the Undergraduate Career Development Office. "We could not have been more proud to set the groundwork for UConn business students to show the Yankees team what it means to be a UConn Husky. Our students showed that they are ready to use their academics and personality to take on the world!"
"It was a great opportunity for UConn students to shine-and they did by asking great questions, demonstrating a professional demeanor and showing courtesy and respect for our hosts," said Jeffrey Schulenburg, executive director of career development and corporate engagement at the School of Business. "It was a great day for Huskies!"
The trip was a huge hit with students, but the Yankees didn't fare as well, losing 8-7 to the Baltimore Orioles in the 12th inning.