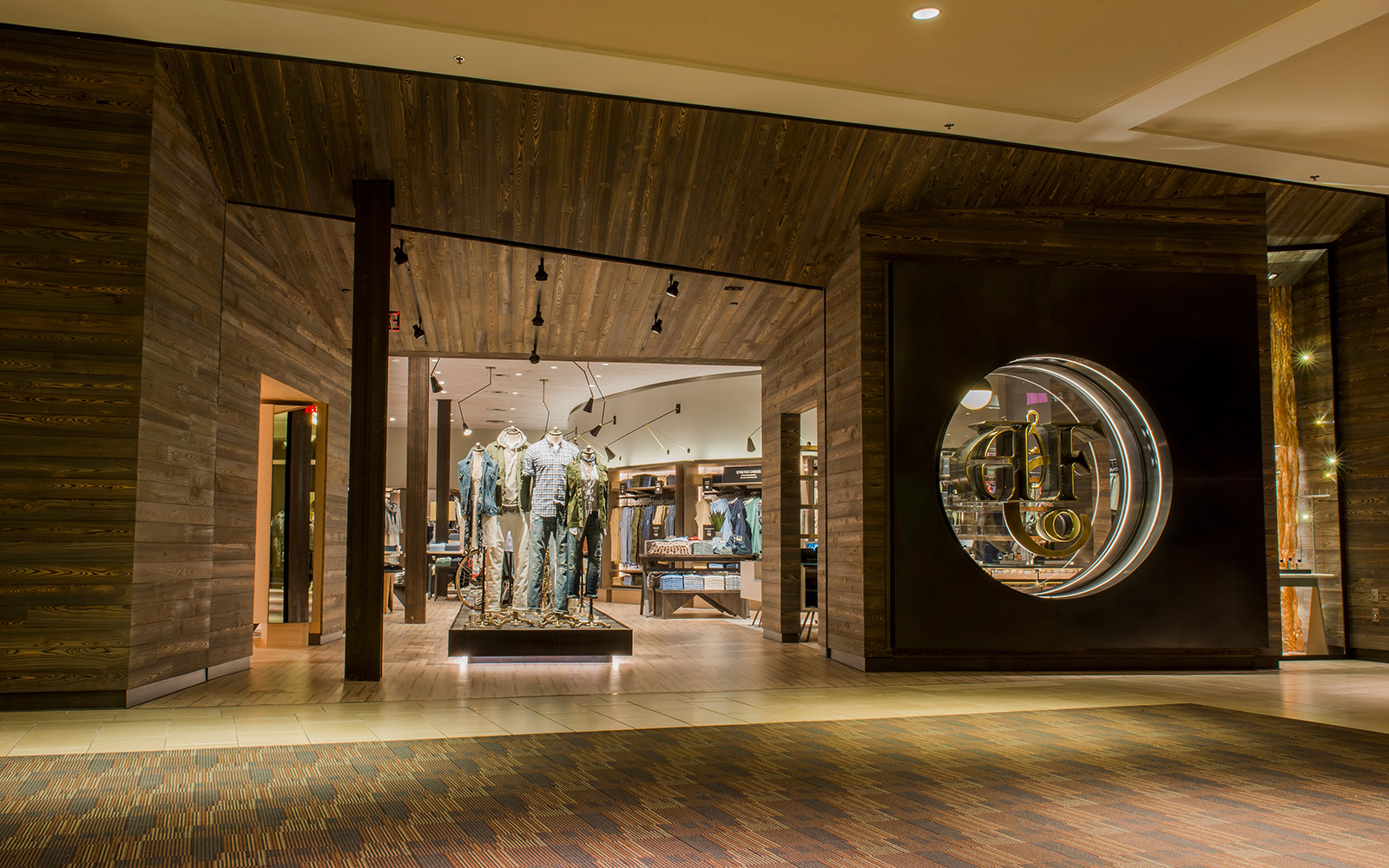 Spirit of Adventure
Joanne Crevoiserat '85 sounds euphoric when she talks about the history of Abercrombie & Fitch Co., the American clothing company where she is celebrating one year as chief operating officer.
"Abercrombie & Fitch was founded in 1892 in New York City and was the outfitter of adventurers and icons," she said. "Amelia Earhart's bomber jacket? It was Abercrombie & Fitch! Teddy Roosevelt, Ernest Hemingway and John F. Kennedy all wore our A&F brand too."
As new leadership strives to restore the company to robust health after several years of financial loss and undesirable publicity, that spirit of adventure is key to its transformation, the UConn alumna said.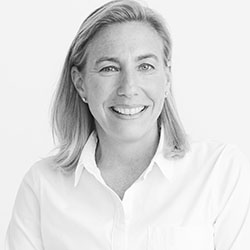 "If you think about it, our Abercrombie & Fitch customers are currently on the adventure of a lifetime," she said, of the A&F clothing stores that cater largely to young adults. "They're moving to new places, starting new jobs, making new friends. We think that spirit of adventure resonates with them, and we want to be the brand to outfit them along that journey."
A Shopping Evolution: "We're Going on the Offense"
Abercrombie & Fitch Co. is the parent company of three brands: its namesake brand, abercrombie kids, and Hollister Co. Combined the company has more than 900 stores worldwide.
While some retailers have folded their storefronts—Wet Seal, The Limited—Abercrombie & Fitch Co. continues to make progress driving productivity across its store fleet, through an ongoing, thoughtful approach of a mix of new prototypes, remodels, downsizing and closures. The company reported quarterly same-store sales growth for its Q3 2017, largely driven by the Hollister brand, which is focused on the teen customer, and the company's growing e-commerce business. Across all brands, the company is launching new storefronts and prototypes, innovating online, and expanding abroad, she said.
"We're going on the offense. We're focusing on the customer, and creating relevant brand experiences based on their feedback."
-Joanne Crevoiserat '85, Chief Operating Officer, Abercrombie & Fitch
"We're going on the offense. We're focusing on the customer, and creating relevant brand experiences based on their feedback," she said. "In this competitive environment, Hollister has industry-leading sales numbers and we have found that our customer responds when product, brand voice and brand experience are aligned. We're applying those strategies to Abercrombie & Fitch and seeing early signs of progress."
The total company draws 35 percent of its customers from outside the U.S., largely from Europe, the Middle East and Asia. Across its brands, the company's target market ranges from children to teens to young adults up to age 24.
"Shopping has evolved considerably since I graduated from college in 1985, but to do well, it comes down to knowing your customers and how to engage them," she said. "Today, the retail landscape keeps us continually innovating, so that we are engaging with our customers whenever, wherever, and however they choose to shop with us."
"Our goal is to provide unique and relevant brand experiences," Crevoiserat said. "We want to know whether they prefer an in-store experience or prefer to shop online–or a mixture of both. We stay close to our customers so that we can cater to their shopping preferences and behaviors in a more meaningful way."
By running a global operation, and with experience at several other large retailers, Crevoiserat has been exposed to diverse communities, associates and customers.
"It is one of the greatest benefits of my experience in retail. I have learned firsthand the benefits of being open to and understanding of diverse cultures, ideas and opinions. My career has allowed me to explore many new geographies and communities, and these experiences have enriched our family life," she said.
"At Abercrombie, we believe that embracing diversity makes us stronger and allows us to leverage the broad and varied backgrounds of our associates to make better decisions and drive better outcomes for our associates, customers, communities, and shareholders," she said.
Retailing: It Is Easy to Get Addicted to the Pace, Excitement
Joanne Chambers, a native of Groton, Conn., had planned to become a lawyer when she entered UConn in 1981.
"UConn wasn't my first choice, but it was the school I could afford and it turned out to be one of the best investments I ever made," Crevoiserat said. "UConn gave me the opportunity to explore all different subjects, which I wouldn't have been able to do at a smaller college, and I enjoyed the business classes the most."
Her favorite finance professors included Stephen D. Messner and Beryl Boyce, whom she recalls as engaging and influential. She graduated summa cum laude with a bachelor's degree in finance in 1985.
"I had a lot of fun in college and I did well. I surprised a lot of people—including myself," she said, with a chuckle. "The curriculum was very engaging." Although she studied hard, she has many other memories of her UConn years as well, including watching the men's soccer team win the NCAA tournament in 1981, trips to the Dairy Bar with friends, and many social activities on campus, including Spring Weekends.
Although she had envisioned herself in a banking career after graduation, Crevoiserat jumped at the chance to enter a management-training program offered by the G. Fox department store in downtown Hartford.
"I wasn't drawn to shopping and fashion particularly," she said. "But the May Department Stores (parent company of G. Fox) had a management-training program that led to quick responsibility."
While there, she met a colleague named Mike Koppel '78. The UConn alum recently retired as executive vice president and chief financial officer at Nordstom and he became a longtime friend. That year she also met her future husband, Rodney Crevoiserat '87 MBA, who went on to have a successful career in banking. Together they have three young-adult children.
By the end of that first year at G.Fox, Crevoiserat was hooked on the retail industry.
"Retailing is a straight-forward business. It's all about anticipating your customers' needs and responding to them. Retail moves very, very fast and that's why it is easy to get addicted to the pace, the innovation, the response, the excitement," she said. "Once you're in it, it's hard to leave it!"
Heading to the Top? Don't Rule Out a "Broadening" Opportunity
After many years with the May Co., Crevoiserat moved on to executive roles in other large retail companies, including Kohl's, where she supervised large employee divisions, including the merchandise planning group. She also had leadership roles at Walmart, where she befriended two-time UConn alumnus, Bill Simon '81, '88 MBA, who later became Walmart's U.S. CEO. Crevoiserat joined Abercrombie & Fitch Co. in 2014 as its chief financial officer.
"I feel like my time with Abercrombie is my 'capstone class,'" she said. "I've taken everything I've learned in previous roles and applied it to this opportunity. Of all the different and exciting jobs I've had, Abercrombie has been my favorite."
In her current role, Crevoiserat oversees several departments, including, finance, IT, supply chain and sustainability. Her day-to-day duties include working with multiple internal teams to develop and drive business strategies, and meeting with external stakeholders including investors and Wall Street analysts.
"I enjoy being on the road, sharing our story with investors and spending time with our teams and customers in the field," she said. "Our field teams have so much energy and passion for our brands, our customers and our business. In retail, there is no 'typical' day. You have to change daily. When sales are up, you're figuring out what you did well, and when they are down, you're finding ways to turn it around."
Crevoiserat said she enjoys a strong working relationship with CEO Fran Horowitz. "Fran and I have a great partnership. Both of us have 30-plus years in the industry, building brands and teams. We are well aligned and we are both energized by the path ahead for our brands," she said.
The Abercrombie & Fitch Co. has a global workforce of close to 40,000 people. Its headquarters, just outside Columbus, Ohio, employs more than 2,000 people and its 500-acre campus includes two distribution centers, mock stores, and an innovation and design center.
Having spent her professional life in Hartford, Pittsburgh, St. Louis, Houston, Boston, Arkansas, Milwaukee and, currently, in Ohio, Crevoiserat has learned that customers' preferences and values can vary substantially from region to region.
"We see differences in assortment performance across geographies. For example, denim fits, from skinny to straight, sell differently in certain regions," she said. "These differences underscore the importance of putting the customer at the center of everything we do. We are constantly listening to our customers and evaluating our business to respond to their preferences."
Career Progression Isn't Always a Straight Line
Crevoiserat said that one of the lessons she has learned through her career is that often people pass up key opportunities because they don't see immediate or obvious benefits.
"My advice for graduating students, and really for anybody, is to make the most of every opportunity. Don't just learn and move on… add value to what you're doing," she said.
"I think a common mistake that people make is assuming that a particular role is not right for them or that their career progression must be vertical. Pursue the opportunities in front of you! Many will broaden your experience and perspective," she said. "For me, an important component of my career was leading large teams and strengthening my perspective across the business in roles that complemented my finance experience. You may be surprised how much you grow in roles that are not vertical."
UConn Women's Basketball Inspires Lessons of Grit
In her free time, Crevoiserat enjoys running, being a "soccer mom" and looks forward to annual family reunions at the Connecticut shore. She has served on the Board of Directors of Big Brothers/Big Sisters of Metro Milwaukee and is an avid UConn athletics fan.
"I follow UConn athletics and love the UConn Women's Basketball program," she said. "I am so impressed with what [Head Coach] Geno [Auriemma] has accomplished. His players have so much grit and determination, knowing the competition is always gunning for them. They dive for balls even when they are 60 points ahead!" she said. "It's amazing to me how hard they play. There's a lot we can gain in business, and life, by emulating their passion, commitment, focus and work ethic."