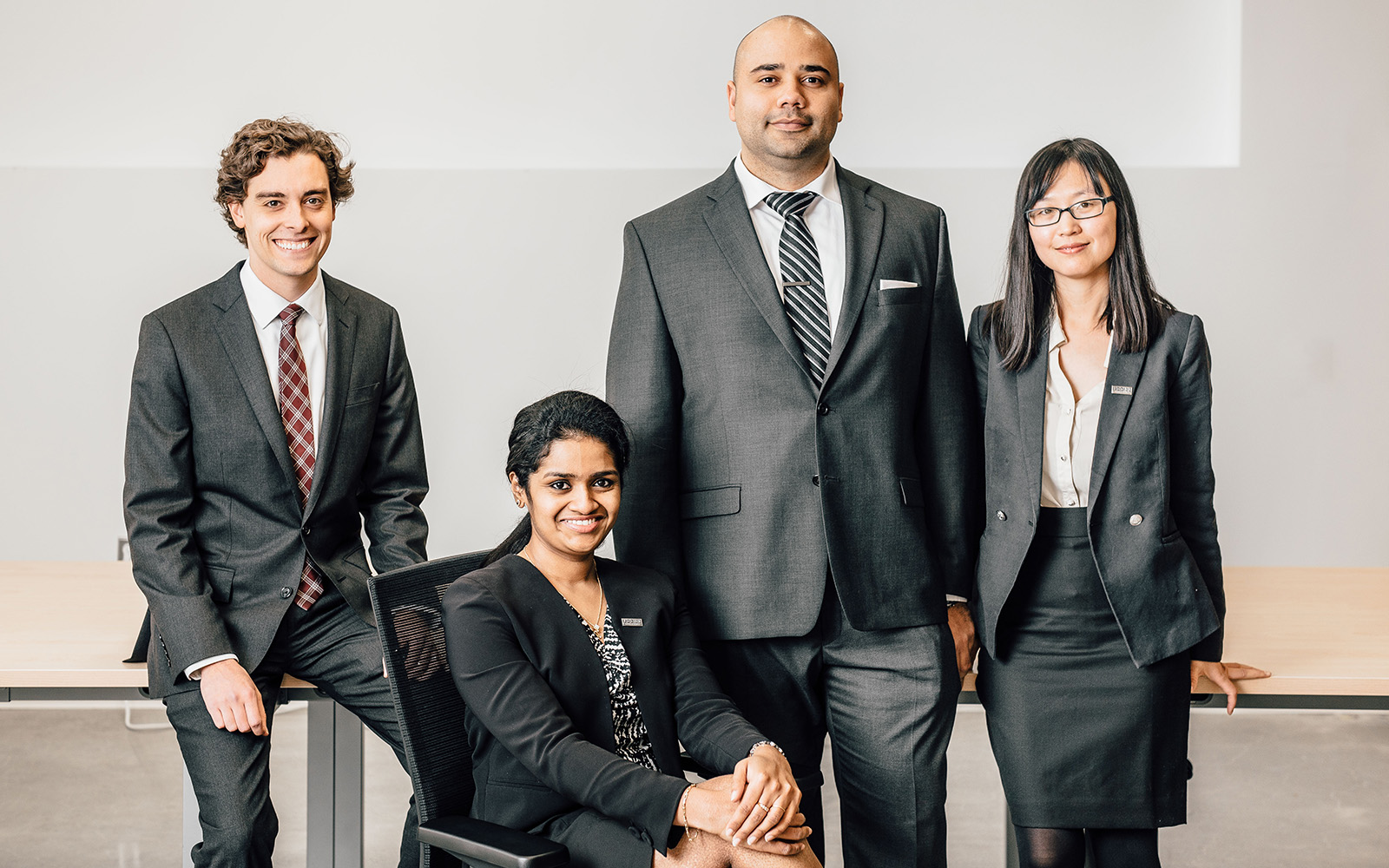 As Insurance Industry Grapples with Change, MBA Candidates Could Become Trailblazers
First-year UConn MBA students faced one of their first big hurdles earlier this month when they were presented with a real-life, pressure-filled case competition, made all the more interesting by the presence of a special judge.
The students had just 36 hours to analyze, debate, and select the most promising from among seven startups, all eager to transform the insurance industry in London.
The fact that Erika Bothma, the program director at Hartford InsurTech Hub, and an organizer of the sister program in London, was judging the competition, further fueled the contest.
"I'm excited to be a part of this competition," Bothma said prior to the event Dec. 6 at Upward Hartford, an economic development hub at 20 Church Street. "The data that the students used came from us. I'm excited to hear their presentations and give them feedback on their strategies. But most of all I hope this work sparks MBA-student interest in what we do."
Hartford InsurTech Hub is an initiative that was started by a group of executives from Greater Hartford, seeking opportunities to help spur tech innovation in insurance. The mission is to bring Hartford's insurance giants together with other passionate, creative and skilled thinkers to drive change within the industry.
"We're particularly thrilled to connect business students and Hartford's InsurTech Hub," said Michelle Cote, managing director of UConn's Connecticut Center for Entrepreneurship and Innovation. "One of the things we hear from our corporate partners is that they want help in recruiting talent. When our students are 'networked' in to the economy, it is better for them—and it is better for Hartford."
The judges selected the team of Jonathan Neal, Jared Alexia, Mariam Kurian and Jin Du as the champions, but it seemed everyone felt the task was rewarding.

Student Pia Holtmeier, who formerly worked in Mercedes-Benz USA's management team, said the case experience gave her a chance to use newer skills in strategy and marketing. "With my team we were able to analyze companies and look for traits that would define success. It was a great deal of work," she said. "The amount of experience we have developed on case analysis, frameworks and models will give me a great deal of confidence for the 'real world.'"
Chirag Sheth, who is pursuing the MD/MBA dual degree program at UConn, said the competition was a tremendous experience. "Our team worked well together all semester and then we threw ourselves into this unexpected situation. We had 36 hours to analyze startup teams, their strengths and weaknesses," he said. Together they created a compelling presentation, he said.
Professor Mary Caravella, who teaches marketing strategy in the MBA program, said the case competition provides the opportunity for students to learn and demonstrate their skills, show their ability to work quickly, to make 'real world' recommendations and prepare for future competitions against other universities.
"The annual MBA case challenge is intense by design, but also a lot of fun for the students. We want to simulate the "real world" when often you don't have a great deal of time nor information to propose a business solution or recommendation to a client or executive," said Meg Warren, director of the Full-time MBA program.
"Every year I am so proud to see our MBA students demonstrate what they're learning in the classroom, and to do so with such knowledge and confidence is impressive," said Warren. "These are first-year students, so they've only been here three short months. I am already seeing the start of their transformation as emerging leaders. It's wonderful to witness it!"