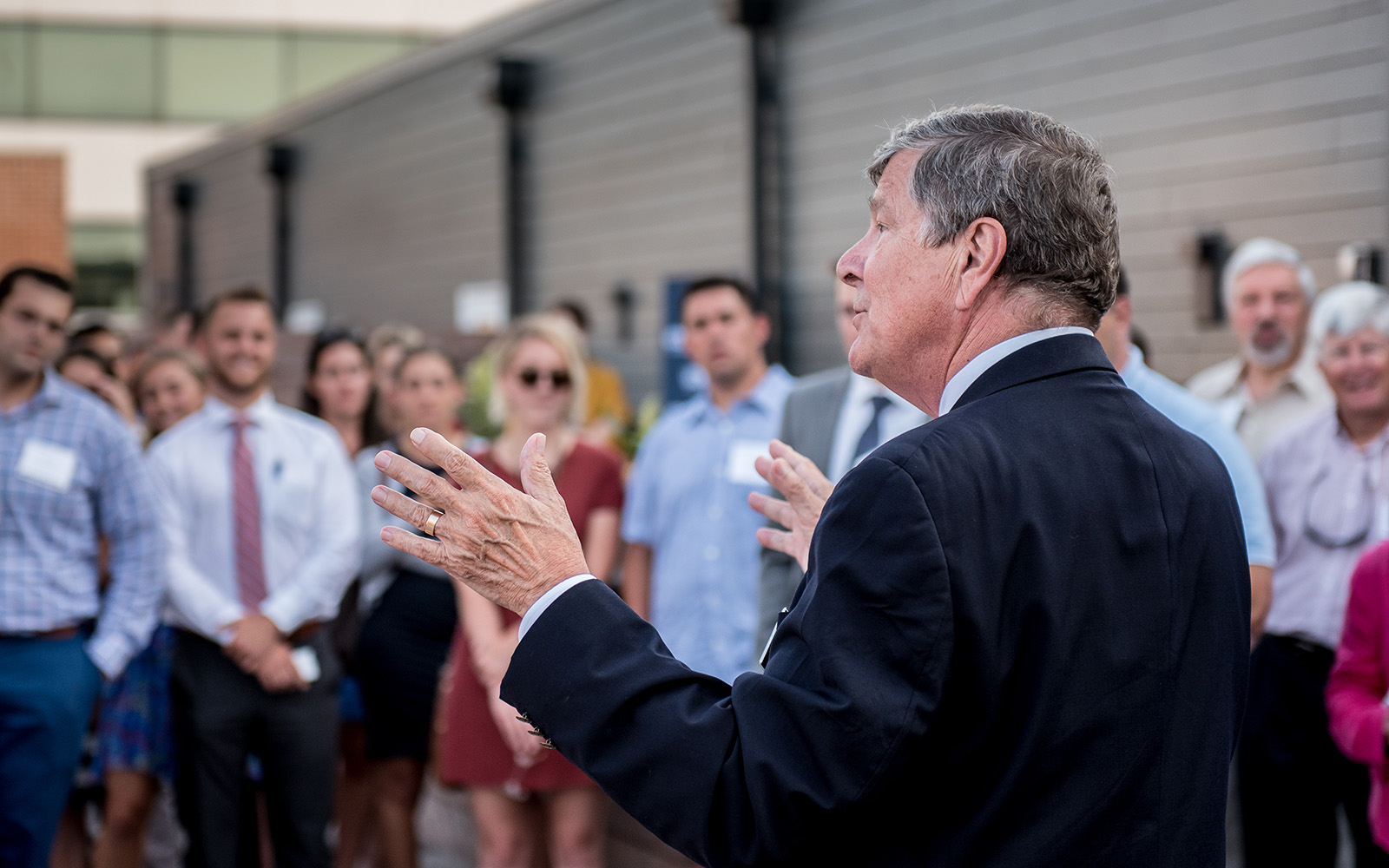 Business Alumni Overjoyed with Direction of Stamford Campus; Opening of New Residence Hall
Pengfei Yang '15 MSBAPM is several years into a great career as a senior business analyst at Charter Communications, but on Aug. 17 he longed to be a UConn student again.
Yang was among 75 School of Business alumni gathered at a rooftop reception celebrating the opening of the first residence hall to serve the Stamford campus, located at 900 Washington Boulevard in the heart of downtown.
The long-anticipated student apartments convert the campus from a commuter school to one that offers students a chance to experience the full spectrum of college life. Some 265 students have already moved in.
"This is a great place. I wish I could move in," said Yang, who could see his office windows, as well as a slice of the city skyline from the 7th-floor vantage point. "Are you sure it isn't open to alumni?"
Yang, who earned a master's degree in business analytics and project management in Hartford, before moving to Stamford, said his colleagues commute from Long Island, New Jersey and Rhode Island. For students to live within walking distance of dozens of global business powerhouses is a tremendous career advantage, he said.
Freshman Applications Soar
The change brought by the residence hall has been remarkable, with a 500 percent increase in applications from would-be freshmen who list Stamford as their top choice campus, said School of Business Dean John A. Elliott. He praised UConn President Susan Herbst and the rest of the administration for their investment in the growth and potential of the Stamford campus.
The School of Business is offering a host of new degrees, ranging from an undergraduate minor in accounting to master's degrees in financial risk management and business analytics to meet the needs of students. More growth is on the horizon, he said. Most students will be able to complete their degrees in Stamford, without transferring to Storrs.
The combination of great academics, a vibrant city and access to internships are a perfect combination, he said.
"This is a game changer for our city and our campus," said Terrence Cheng, Stamford campus director. "Stamford has become a 'student destination.' They are bringing new energy to the city."
While the student population will increase from 2,100 to 2,300, the freshman population will jump from 360 to 560, Cheng said.
Elliott described the Stamford students as tight-knit and active, and the Stamford residents as powerful supporters of the students and the University.
Elaine Wright '14, a Stamford native, was wholeheartedly enthusiastic.
"I love what's happening with my school and with my community," said Wright, the director of business analytics and project management at Americares.
Wright, who earned her bachelor's degree exclusively in Stamford, attending classes part-time, said she thinks the residence hall offers new opportunities for students, businesses and the city. She said the students will have access to internships and jobs, while the community benefits from their energy and involvement in community work.
Apartments Are At Capacity
Visitors were impressed with the spacious, furnished apartments, whose amenities include walk-in closets, large bathrooms and granite countertops in the kitchens. With 265 students, the majority of them freshmen, the residence is at full capacity.
The residence halls cost between $995 and $1295 a month, much less than a typical apartment in the city, and include Wi-Fi, cable, heat, hot water and air conditioning.
"I'm very jealous and wish I hadn't graduated early because I could have taken advantage of this!" said Shahanara Shahjahan '17, a human resources associate at Scopus IT and former Stamford Student Government Association president. Although she originally planned to transfer to Storrs, she loved the Stamford campus and decided to complete her degree in business administration here.
"We are in the heart of Stamford with access to New York and easy access to jobs. The School offers a great career center," she said. "I'm excited to see how UConn expands in the coming years."
"I miss everything about UConn, especially how involved we were and all our friends," she said, turning to former SGA vice president Joanna Petruzziello '16, now a teacher at The Goddard School.
'They Are Going to Love It Here'
William Flannery '72, '78 MBA, of Stamford, a retired real estate agent, said he was impressed by what he saw. "I think this is a fabulous opportunity for undergrads to learn here because of the local corporate community. If you're an undergraduate and can get some strong internships here, you'll have a job of your choosing after graduation."
"Stamford's downtown is very vibrant with thousands of things to do, from dining to shows to public concerts, and it will be even more vibrant when the new students arrive. They are going to love it here," Flannery said. "Just look at the skyline of Stamford. Buildings are popping up. We're the only city in Connecticut that's growing, and soon we'll be No. 1 in the state. This is another important part of our growth."