Expert Advice: "Get Comfortable with Being Uncomfortable"
Jeffrey Hudson Jr. '07 MBA, the co-founder of One Light Research, a media and operations advisory firm dedicated to setting strategy and growth for Fortune 500 clients, had three key pieces of advice for UConn graduate students:
1. Get Comfortable with Being Uncomfortable.
"I found that when someone gets really, really good at what they do, it's time to switch them because then they'll get bored. Go do stuff you really want to do," he said.
Hudson spoke to about 90 students studying for either their MBA or Master's in Financial Risk Management on Aug. 23 at the Fox Ballroom in Hartford. It was one of several events that week welcoming and celebrating new graduate students at UConn.
"The world we're going into is incredibly unsettled and it will start impacting global business. We will reset," he said.
"Embrace the crazy, the unsettled. You have an opportunity to rewrite the books."
2. Success is Always a Team Venture
"No success is ever individual. You're going to have to rely on each other, not only to get through the program but to be successful in your careers," Hudson said. "Collaboration is the 'special sauce' that will allow you to succeed, so embrace it."
There will be disruption in prominent industries, Hudson predicted. But as a lifelong hockey player, he urged the graduate students to "skate where the puck is going to be."
Stay focused, persevere, dream big and work hard, he said.
"When you go into the workforce, create a space where people can have curiosity and work in an environment that's safe to explore new ideas. Cultivate relationships, stretch yourself, collaborate, listen to others and always learn," he said. "Be mindful of everything and everyone around you."
3. If You Are Unhappy With What You're Doing, Find Something New
"If not, someone who loves what you're doing will rip your face off, because they love what they do," he said. "The journey is not a sprint, it is a marathon. Train for a marathon. When the challenge is gone and you're not happy with what you're doing, it is probably time to challenge yourself again."
Earning a master's degree in business should be celebrated, he said. Don't let anyone dampen your spirit or diminish your accomplishments.
Hudson earned his MBA at UConn's Stamford campus in 2007. Prior to starting One Light, Hudson was a partner with Cedar Ridge Partners LLC, as a member of the portfolio management team and the firm's investment committee. He spent 24 years in the securities industry, working for firms such as Lehman Brothers, Charles Schwab & Co. and Smith Barney. He has been advising startup companies in media internet and financial services for the past 10 years. He also has been a venture capitalist and angel investor in media, technology and logistics.
Chris O'Bar, from Wolcott, Conn., was among the students preparing for a new future. O'Bar has worked for Travelers as a data analyst and said he is excited to pursue his master's degree in financial risk management, with a goal of eventually working for the Federal Reserve in Washington, D.C. "It seemed like the right time in my life to pursue my degree and advance my career," O'Bar said. "Summer is over and I'm ready to get going."
Jin Du, a Full-time MBA student who hails from China, said she expects to learn many team-building skills in her classes and is excited to launch a new job search. This year's Full-time MBA class is 40 percent women, up 10 percent from last year, and includes students from 16 countries in addition to the United States.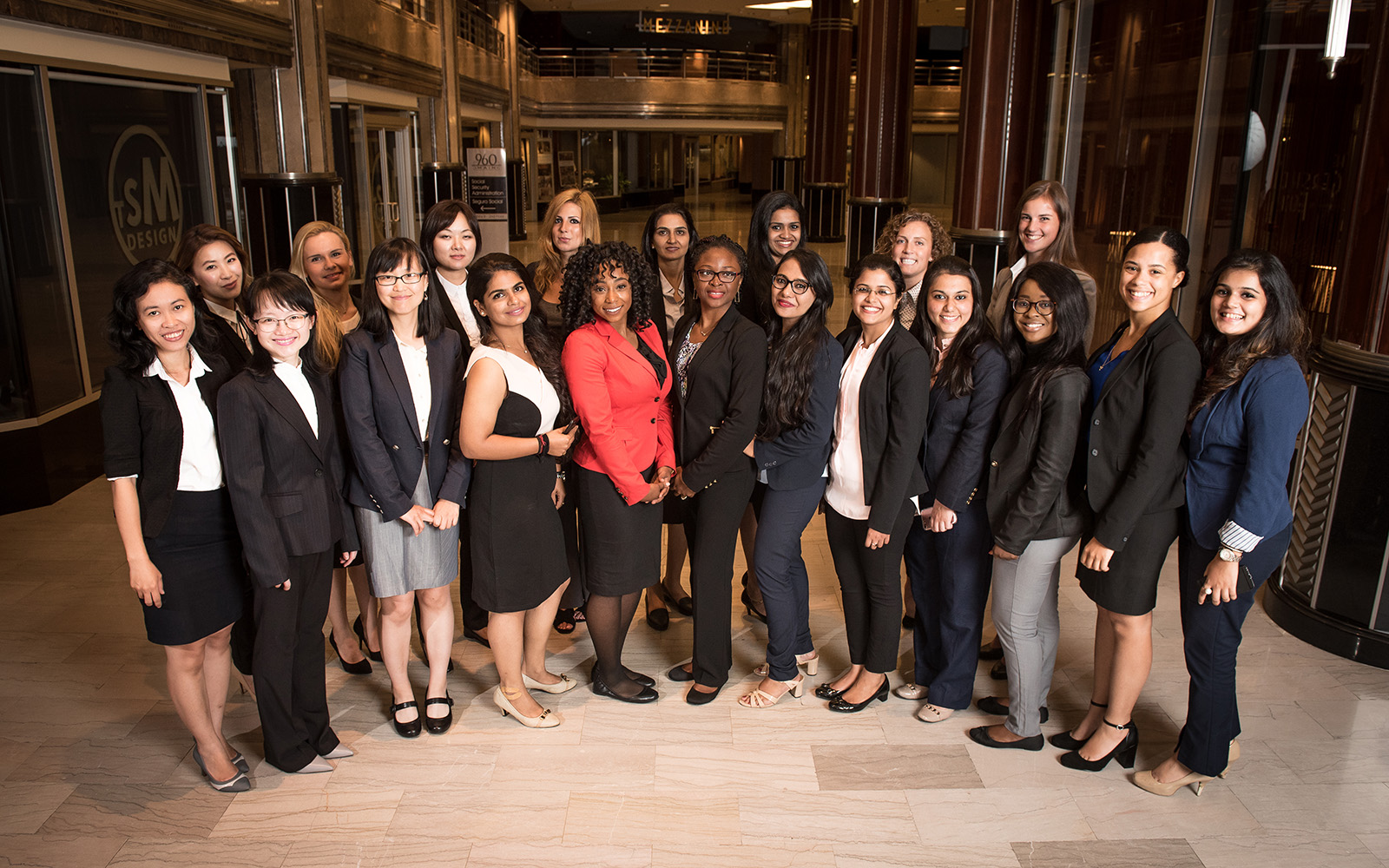 Du's friend, Mingyu Hu, who has financial and banking experience, said she may change career paths after earning her MBA. "I expect the program to be very intense and tough but I think it will be worth it!" she said.
Jared Carey Alexis, who is enrolled in the Full-time MBA program, is a native of the Bahamas who was recently working in Canada for a chemical manufacturer.
"I looked at other schools but I only applied to UConn. I see this program opening a lot of doors," he said. "The Canadians all know about the UConn Huskies."
"I liked the staff and they were eager to answer my questions and I also liked the digital marketing program. I definitely think I made a great choice," he said, adding that although the Hartford winters are cold, they don't compare with the 40-below temperatures in Canada.
"I think an MBA sets you up for the best leadership positions," he said, adding that he especially enjoys working with people. "This experience will and it will help round out my knowledge and assist with my goal of working for a multinational company in the U.S. specializing in marketing, brand and product management."