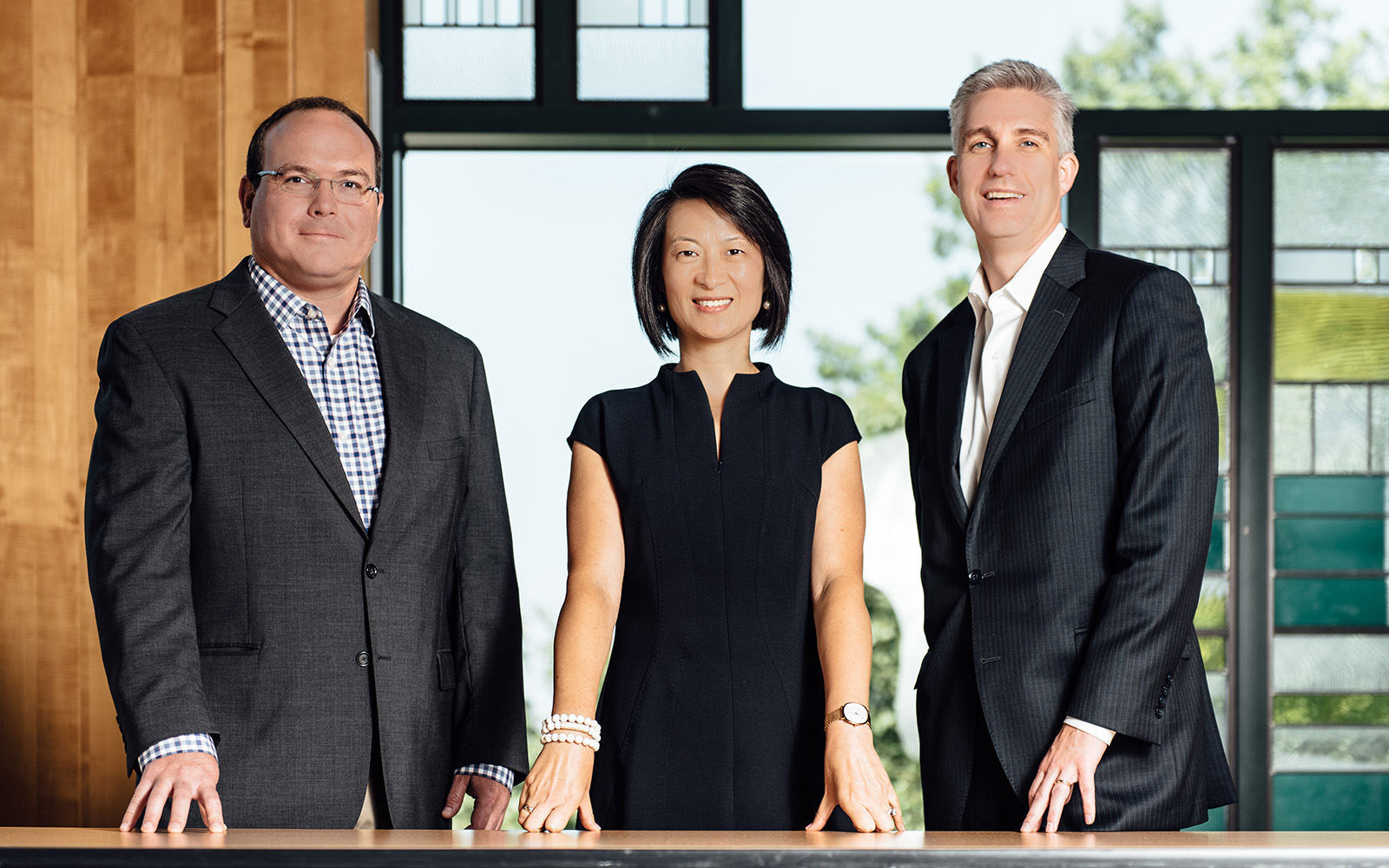 Professors Day, Souder Assume New Leadership Roles; Strive to Further Distinguish Business Programs
The School of Business has appointed two veteran professors, Bob Day and David Souder, to its top leadership team.
Day, an associate professor in OPIM and co-director of the interscholastic Management and Engineering for Manufacturing (MEM) program, will serve as associate dean of undergraduate programs.
Souder, an associate professor of management who has served as the academic director of UConn's Executive MBA program, will be associate dean for graduate programs.
They join Sulin Ba, associate dean of academic and research support, in the three-person team working most closely with Dean John A. Elliott.
"I'm pleased to have the support of these two very qualified and enthusiastic faculty members," Elliott said.
"Together with Associate Dean Sulin Ba, this is a team of professionals who have repeatedly demonstrated their passion for the School of Business, its students and their fellow faculty. The future of the school is in good hands."
Day said he is excited and grateful for the opportunity to further shape the direction of the school. Through his work with the MEM program, he has collaborated extensively with key advisers.
"The people I've known working on undergraduate programs are exceptional in their drive to do what's best for our students, so it is a great team to join," he said. "I couldn't be happier about the people I'll be working with."
Larry Gramling, who previously served in that role, will become senior director of undergraduate programs, and will help Day transition to his new duties. Gramling will also spearhead new initiatives.
"There are many hard-working staff and faculty who have devoted their careers to our undergrad programs, and my first goal will be to engage with and listen to them," said Day, who will continue as MEM director until a replacement is hired. "Even though I've been teaching business undergrads at UConn for 13 years, I know there is still much for me to learn."
"In discussing my long-term goals and visions with Dean Elliott, I emphasized my experience teaching some of our most gifted students and my interest in helping our school further stand out by continuing to enhance and develop some of our really unique specialty programs," Day said.
In particular, by focusing on the special experiences of the honors program, capstone experiences through industry outreach, and the residential Business Connections Learning Community (BCLC) program, the School can further distinguish itself, he said. He added that he looks forward to working with leaders of other schools within the university, as well as UConn's partners in the community colleges. He is also interested in investigating the idea of offering accelerated undergrad-to-master's degree programs.
Souder said the UConn graduate programs are well established and thriving.
"It is an exciting time for the UConn School of Business," Souder said. "Our faculty members have a hard-earned reputation for rigorous thought leadership that helps attract promising graduate students from across Connecticut and around the world."
"The professionals running our graduate programs do a wonderful job of making our school a welcoming place for these students to continue their education," said Souder, who has also served as the Ph.D. coordinator for the management department. "With such great colleagues and students, the big challenge is to distinguish the best opportunities from those that are merely good."
Souder replaces Professor Suresh Nair who will resume his teaching and research priorities. "We are all extremely grateful to Suresh for his many accomplishments over the previous three years," Elliott said. "Through his guidance, the graduate programs have remained robust and enjoyed strong growth."