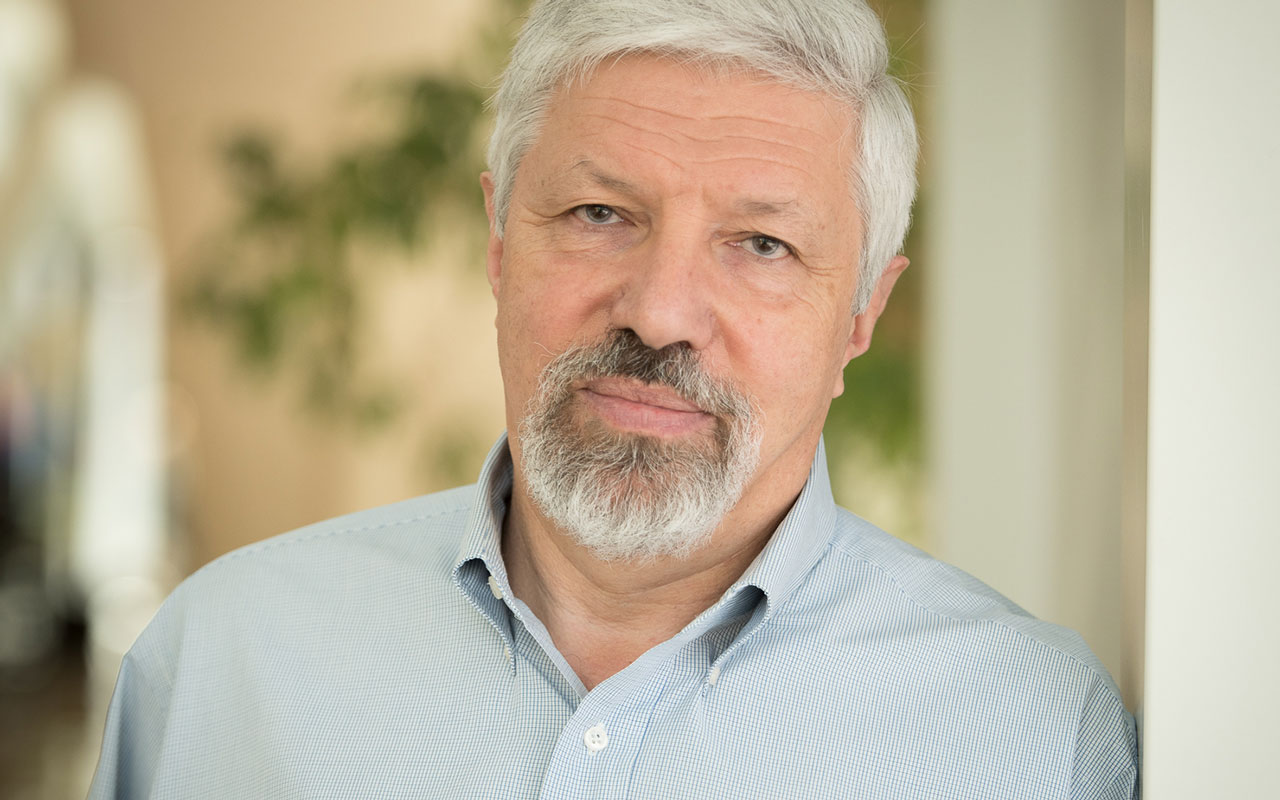 Professor Kivenzor: Business Games Stimulate Adult Learners, Elicit Creative Solutions
In the graduate class he teaches on Marketing for Global Competitiveness, Professor Greg Kivenzor plays the role of chief shaman of an Amazon tribe, with some of the students playing the role of tribe members.
A smaller group of students, who represent American university researchers, must persuade the tribe to let them take a sacred flower, which has healing powers, from that land back to America.
To complicate the mission, Kivenzor brings in an electronic parrot. As the students try to communicate, the parrot flaps its arms and mechanically repeats back what they've said adding one more touch of "Amazonian experience."
Finding traditional communication with the tribe impossible, one student grabbed a sheet of paper and drew a picture of a sick baby to express the university's desperate need for the valuable healing flower.
"It just melted the ice and gave the group the outcome they wanted," Kivenzor said.
The purpose of the role playing is to help graduate students get a feel of different cultures, the challenges of negotiating agreements, and understanding of global business context that can be very different from what they see and practice in the United States.
To achieve his instructional goals, Kivenzor uses gamification—a contextual method of teaching that applies game-design elements and game principles to serious, non-game environments, such as business education and professional training.
Kivenzor will be a keynote speaker at the Sixth International Business and Management Conference organized by the International Institute of Social and Economic Sciences in Geneva, Switzerland, from June 27-30.
In his speech, titled "Leaders in the Making: Business Games to Stimulate Adult Learning and Professional Training," he will discuss the use of gamification to engage participants and deepen their learning experience. The conference attracts business and management practitioners, as well as academics, and Kivenzor was asked to select a topic that would appeal to both groups.
"I've conducted extensive research of gamification and the way people learn, and it is fascinating," he said. "This approach particularly relates to adults learners, who are well equipped with prior knowledge. But they often develop an 'invisible shield' around themselves, reducing a degree of their engagement in a new environment."
While gamification of learning was used in the education of children for centuries, its applications to adult learning is relatively new.
"Gamification brings up adult-learners' energy levels, their interest in the results, and initiates an active peer-to-peer learning process," he said. "In a gamified environment, participants have a stimulus to step out of their comfort zones, drop down that "invisible shield," forget about their job titles, and open up to learning new things. Ultimately that psychological easing leads to a broader and more in-depth learning of the subject matter."
Kivenzor, who also is director of the Experiential Learning Collaborative at the School of Business, designed the project-based experiential learning process using gamification elements to unleash student creativity and help their immersion into real-life problems and solutions.
Kivenzor recently won a mini-grant from the Provost's Office on the topic of gamification and presented some of his findings at a faculty workshop organized by the UConn Center for Excellence in Teaching and Learning.
He has extensive experience in the global marketplace, including work in high-tech industries, and has held managerial and executive positions with domestic and multi-national companies. The founder and chief strategist of Bi-Focal Strategies, an international business-strategy company, Kivenzor also has 15 patented inventions.