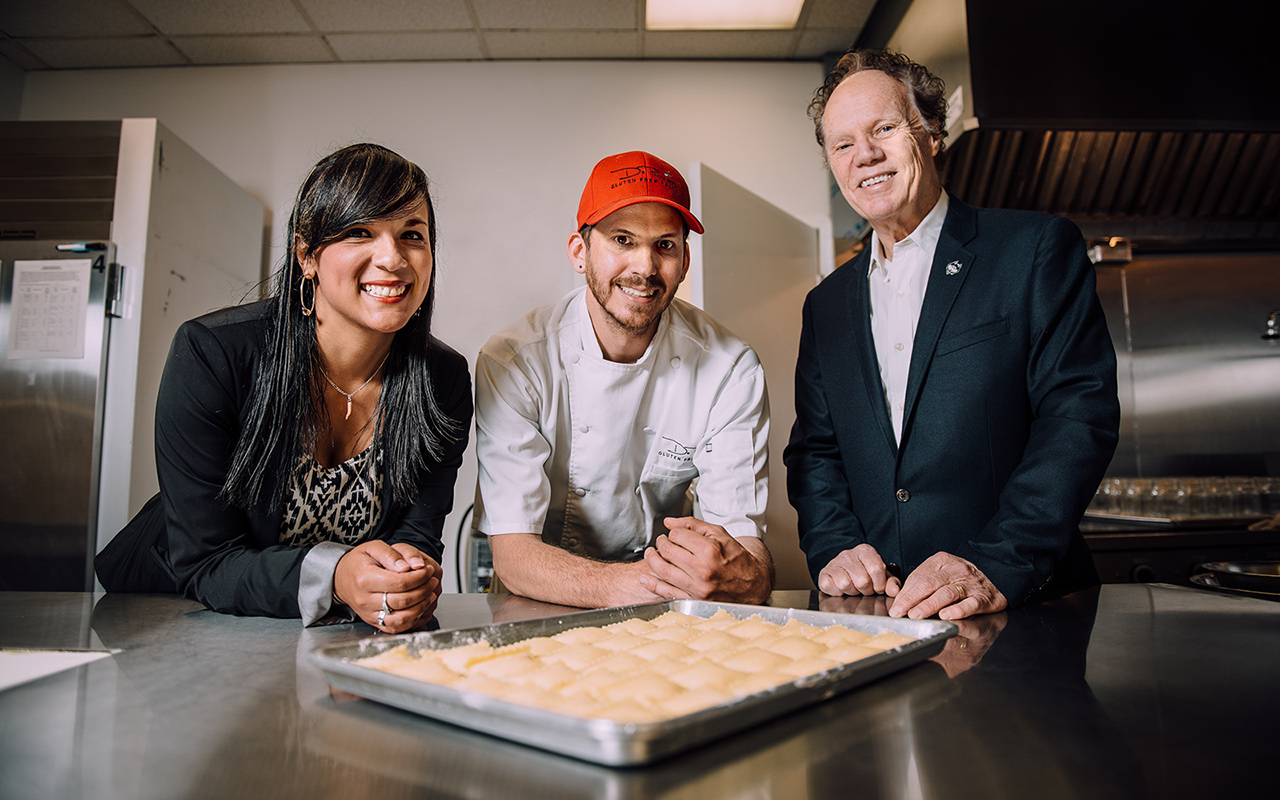 UConn MBA Student Assists Small Business Company
When Gina DePuma was diagnosed with celiac disease 10 years ago, forcing her to abstain from eating traditional pasta, it was nothing short of a crisis in the DePuma family.
"My wife is Italian, and she just loves pasta,'' recalled John DePuma, a professional chef. "I said, 'I have to find a solution to that!' It really was a labor of love.'' 
With just $500 in seed money, and juggling the demands of a full-time culinary career, DePuma spent his free time in the kitchen. He experimented with dozens of gluten-free recipes, striving for a combination that looked and tasted like conventional pasta.
Today, DePuma's Gluten Free Pasta in Milford, Conn., is thriving. The company produces 200- to 300-pounds of hand-crafted pasta daily. DePuma's 14 varieties—from bestsellers like cheese tortelloni to spinach ravioli and cavatelli—are sold locally in Shop Rite, Whole Foods and many specialty grocery stores. Sales are up 30 percent over last year.
Goodbye Paper and Clipboards
But while DePuma excelled in perfecting taste and texture, the company's corporate side wasn't as sophisticated. Some of his business tracking methods involved paper and clipboards. Occasionally he ran short on ingredients and would have to do an emergency supply run. And his system for sales forecasting involved a little guesswork.
DePuma is a long-time friend of the daughter of UConn Instructor-in-Residence Wayne Bragg, and one day DePuma asked Bragg for some business advice. Bragg, the recipient of five Executive MBA Outstanding Professor awards and two UTC President Awards for Outstanding Management Achievement, was eager to help.
"My background is in manufacturing, so I really wanted to take him under my wing,'' said Bragg, who teaches in the MBA programs in Hartford and Stamford.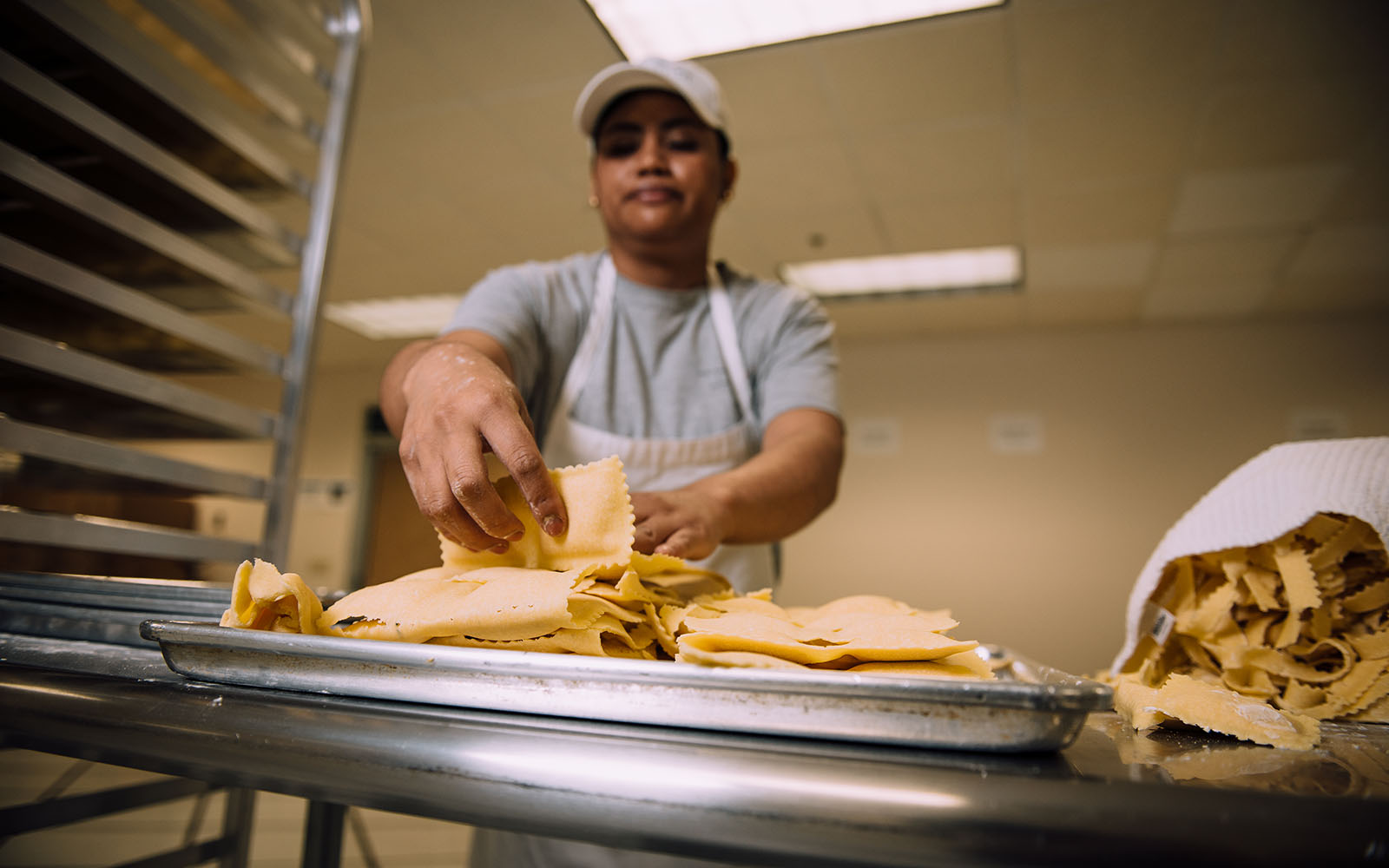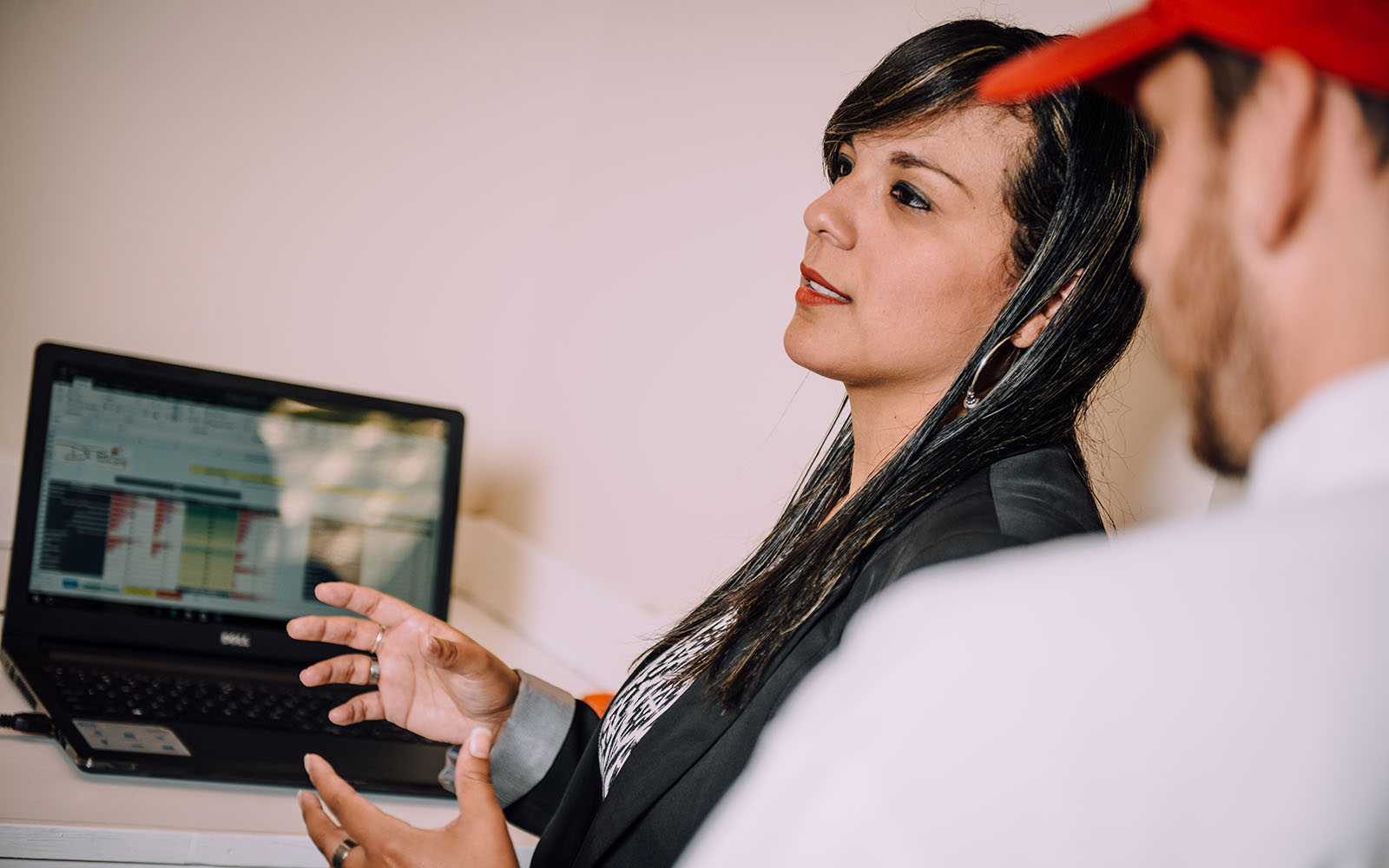 Shirley Tarabochia '17 MBA, then one of Bragg's students, is a software whiz, and he thought she would be a valuable asset to help enhance DePuma's business practices.
In the spring semester, she carefully analyzed his business operation, reviewing processes, software, order history and more. Then she devised a sophisticated computerized system that allows DePuma to improve inventory control, more precisely forecast sales and better plan employee scheduling, as well as other tasks.
"I am truly honored to have the opportunity to work alongside Shirley during the past couple of months,'' DePuma said. "She worked hard on this project and treated it like it was her own company. It is very impressive to see what she was able to design and implement. We came up with ideas and Shirley ran with it. I can't thank Wayne enough for making this happen.''
"Shirley knocked it out of the park,'' Bragg said. "She exceeded my expectations. This is how 'experiential learning' should work, benefiting not only our students but also small businesses.''
"When students have an assignment at a large company, if they are lucky, they will work with one set of data,'' Bragg said. "Because DePuma pasta is a small company, Shirley was able to assist the company, from start to finish. It was an unusual opportunity.''
"It was an awesome experience and a lot of fun, too,'' said Tarabochia, who has since graduated and accepted a job with Amazon in South Carolina. "I loved applying and putting into practice what I was learning, from statistics to finance, supply chain management to predictive modeling.''
"Without this kind of data, a company can't grow,'' Bragg agreed. "It would be unmanageable!''
Three Million Suffer from Gluten Intolerance
About three million people, or 1 percent of the population, in the United States suffer from gluten intolerance, an immune reaction to eating gluten that creates inflammation that damages the lining of the small intestine. The number of people diagnosed with the illness continues to grow, DePuma said.
DePuma, who has a culinary degree from Johnson & Wales University in Providence, RI, started his career working at Foxwoods Resort & Casino, then became a sous chef at Tribeca Grill in New York City and later at the Union League Café in New Haven, and then became a chef at L'escale in Greenwich. While working at L'escale he appeared as the executive chef on the Food Network's "Iron Chef America.''
Eliminating the key ingredient from pasta didn't intimidate him. DePuma's ingredients include potato, corn starch, tapioca flour, eggs and oil. Most of his business is based in the tri-state area but he ships his pastas, which also include butternut squash ravioli, wild mushroom ravioli and rigatoni, across the country.
"I'm so thankful for having the opportunity to help John,'' said Tarabochia, a native of Peru who taught herself English so that she could attend UConn. "I feel personally invested in DePuma pasta. I want John to succeed. I'm always going to help him if he needs it.''
DePuma said the management system helps his business run efficiently and saves him a great deal of stress. With more available time, DePuma can introduce his product to new high-end restaurants and retail establishments.
But for Gina DePuma, the pasta company that she inspired offers both culinary rewards and an incredible source of pride for her family.
"How do I describe the taste… it just has a perfect flavor,'' she said. "I actually prefer my husband's gluten-free pasta over traditional pasta, because it doesn't give you that heavy feeling after eating it.''
"I feel very lucky that he was able to create this business, not only for people like me, but because John is always trying new varieties and it is something that gives him a tremendous sense of accomplishment and professional pride.''