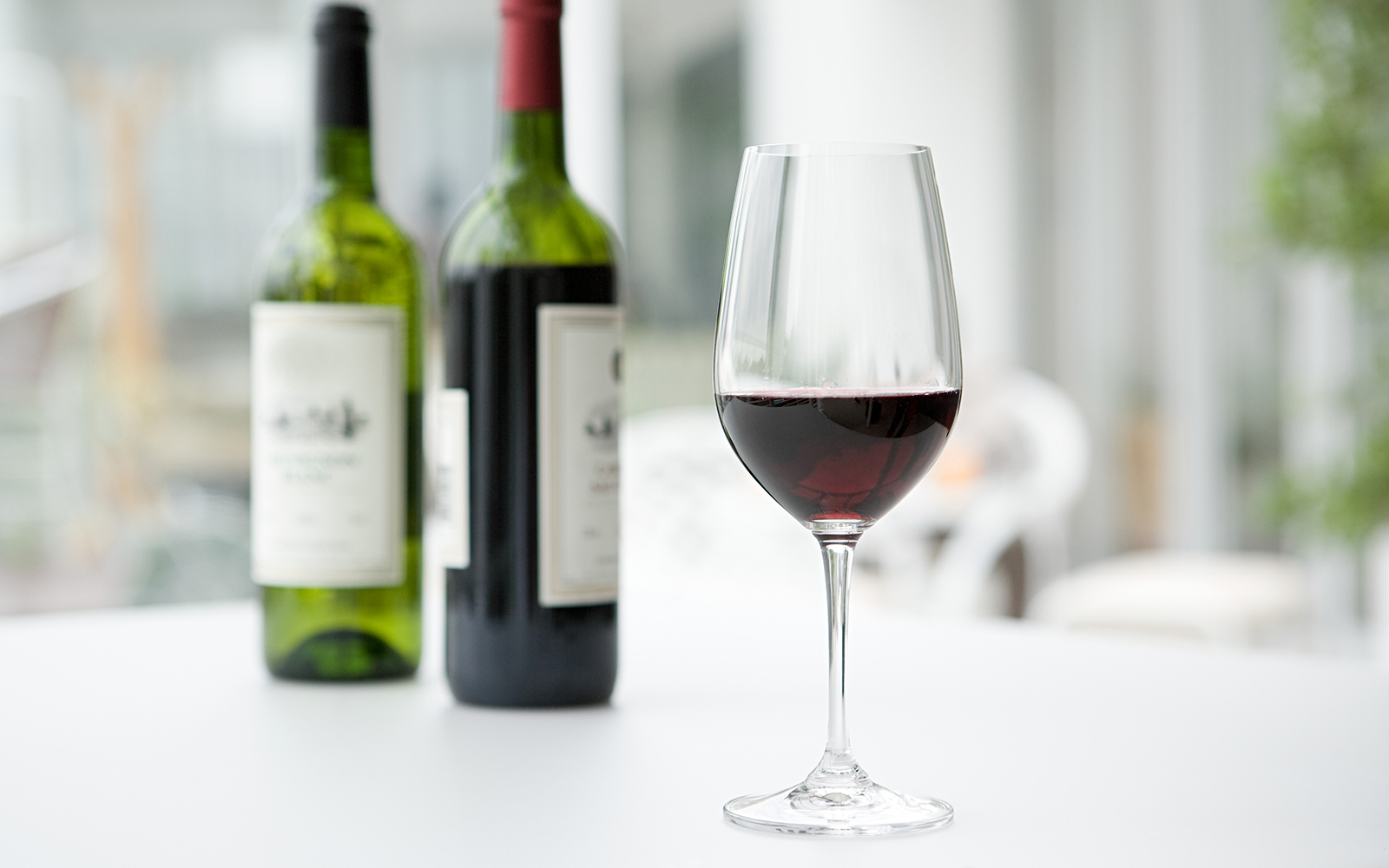 Startup VineSleuth Paired with UConn Grad Students to Revolutionize Wine Selection
Here's a toast: To a team of ambitious, hardworking UConn graduate students, whose research helped grow a revolutionary wine-selection company.
Surprisingly, the students in Marketing Professor Girish Punj's 'Big Data & Strategic Marketing' class were able to "uncork" the answers they needed, without a drop of wine dancing on their tongues.
Expert Tasters Rescue Casual Wine Drinkers
Houston-based entrepreneur Amy Gross came up with the novel idea for 'VineSleuth/Wine4.Me,' a wine advisory service that offers an objective way to assess a wine's taste and make personalized recommendations for consumers.
Vacationing in Napa Valley with her husband and two other couples in 2009, she realized how complex wine flavors can be and how little information is available to assist the casual wine drinker to discover wines that appeal to his or her unique tastes.
"When you order a pizza, you most often know what flavors you are getting," she said. "When you order or buy a bottle of wine, though, it is often a gamble."
What if there was a wine selection service that would recommend wines based on a wine-drinker's previous favorites, she thought, similar to the way that Pandora offers musical recommendations based on a customer's prior preferences?
When she was unable to find an app for that purpose, Gross, an at-home mother with a background in public relations, saw an opportunity. She began educating herself about wine, ultimately writing both wine blogs and wine columns in a print publication.
At the same time, she assembled a team of sensory scientists, wine makers and an applied mathematician to create an objective method by which wines could be evaluated. Compiling that data was the first step in making true comparisons of wines and building personal flavor profiles. Next, she recruited a team of wine evaluators which met strict requirements in repeatability to evaluate the wines in panels.
Challenging, Purposeful, Relevant to Business
The result of this work was VineSleuth's free iPhone app, Wine4.Me, which launched in 2014 and was met with success. But Gross knew that for a greater impact she needed her service to be available when consumers are in stores, making their purchases.
By 2015, Gross wanted to build an enterprise version, creating touchscreen kiosk services for retailers to offer consistent experiences in store, online, and on white-labeled smartphone apps for their shoppers. She needed to prove that VineSleuth's data was not only unique, but far superior to industry data for comparing wines.
That's where the UConn students stepped in.
In the spring of 2016, some 35 students in Punj's class–half MBA candidates; half enrolled in a master's in business analytics and project management–were assigned the task of evaluating the data's novelty and function in comparing wines. Using an IBM software program called Watson Analytics and other programs, they verified that Gross' matrix offered a robust, fresh and useful perspective for wine retailers and buyers.
"Our students were able to use their marketing and business analytics skills to validate that VineSleuth/Wine4.Me built a sophisticated tool that enables consumers to easily select a wine that satisfies their unique tastes," said Dean John A. Elliott. "This is the type of hands-on learning that our students most enjoy–challenging, purposeful and directly relevant to the business world."
"Our goal is to make sure our students have the skills and background to apply what they've learned at UConn to a business setting," said Punj. "The School's mission is 'real world, real learning, real experience,' and this assignment affirmed that."
UConn Students Legitimized Findings
VineSleuth is now actively pursuing retail partners, with plans to roll out its service in grocery stores by the end of the year. It has received great interest in the wine media and beyond.
"We developed an innovative, excruciatingly-accurate method to characterize wine. It is this data which will then enable retailers to build a consistent, personal experience in store and online—all the places a shopper buys wine," Gross said. "No one else in the industry characterizes wines like VineSleuth does."
"The UConn study has been a great help for us," Gross continued. "Our methods were already patented, so we knew they were unique, but to have students from such a reputable school investigate our data against industry data, and find ours superior for comparison, further legitimized what we believed and what we knew. Having graduate business students say, 'This data is superior,' has really enhanced our success."
Gross said it was a great experience working with the UConn team.
"For a startup like mine, working with enthusiastic students, armed with Watson Analytics, was ideal. We had access to a team of intelligent, motivated students who truly augmented our in-house resources," she said.
For Students: A Pleasing Finish
Navdeep "Navi" Cheema '16 MBA, now a consultant at Deloitte, said the project was memorable and she enjoyed helping a startup. The project reinforced the importance of harnessing business data.
"Exploring data can be challenging, and this project demonstrated why it is important for companies to be prepared with the right tools to leverage their data," she said.
Dual degree graduate Shlok Srivastav '17 MBA/MSBAPM said he found the experience professionally rewarding.
"Analytics is the driving engine behind key business decisions, and it is imperative to understand its nuances when entering the field of business," he said.
"Not only does this project enrich the learning experience, but it also helped us put our learning to practical use," he said. "Having to work for a real-world project made it more rewarding, to know that we're actually helping a company make real business decisions."
To the students' surprise, their interest in wine flourished with the project.
"This experience has absolutely changed the way I look at wine," Cheema said, adding that she now appreciates the many varieties of wine.
"I was never really much of a wine drinker before I did this project," Srivastav said. "However, I did find a change in my behavior. I find myself holding the glass differently and often swirling the wine in my mouth to note the different tastes. Perhaps I became a wanna-be wine connoisseur!"