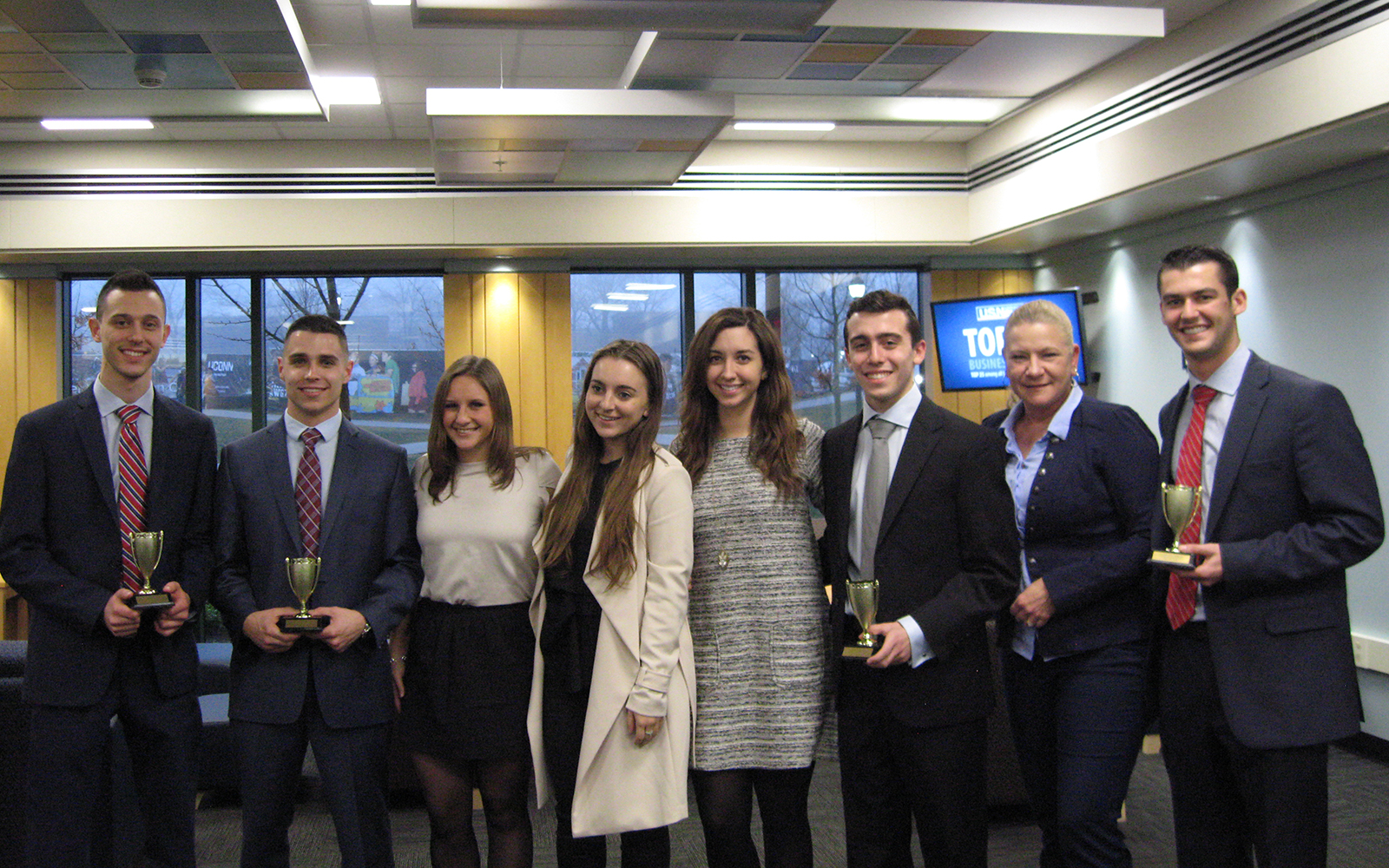 UConn Students Pitch Novel Snack Ideas for Trip to National Selling Competition
Roasted Habanero Nuts, Jalapeno/Cilantro/Lime Chips, Napa Valley Wine/Cheese Chips and Agave Sunflower Seeds were some of the ideas that UConn students pitched for a fictional private-label snack line dubbed "Simply Salt." 
Six teams participated in the Altria Group Distribution Co.'s Fourth Annual UConn C.A.S.E (Classroom Application Selling Experience) Competition on Feb. 1.
The winning team, pitching the roasted habanero nuts, included Spencer Rabin '18 (FNCE), Tyler Jackson '18 (MGMT), Matthew Sangiacomo '18 (ACCT) and Ryan Trager '19 (MGMT). Rabin and Jackson were also part of last year's 2016 winning team.
The team won an all-expense paid trip to Indiana University for the 11th Annual National Team Selling Competition this fall in October.
Hosted by the Undergraduate Career Development Office, judges for the day-long competition included Altria Territory Sales Managers Kathleen Halligan '14 (MKTG), competition coordinator, Grace Nardella '16 (FNCE), Victoria Gitelman '16 (MKTG), Brendan Fitzpatrick '13 (BUSN), and Unit Manager Karen Narciso. The judging panel also included the business school's Seanice Austin, director of the Office of Diversity and Inclusion, and Kathy Hendrickson, assistant director of the Undergraduate Career Development Office.
"Our UConn students raised the bar once again with their presentations, and the selection of one winner was indeed a challenge," Hendrickson said. "The winning team brought together all of the important elements of a successful sales pitch: data analytics, strong financial analysis, marketing strategies and a seamless presentation."