Frank Wuest '82, president of the Boston-based real estate investment firm Marcus Partners and a dedicated alumnus who enjoyed mentoring UConn business students, died unexpectedly Aug. 13.
"Frank Wuest was an exemplary alumnus of the UConn School of Business," said Dean John A. Elliott. "He engaged with faculty, staff, students and alumni. He spoke at events in Boston, he hosted visits by our students to his real estate offices, he took their phone calls, and advised them well."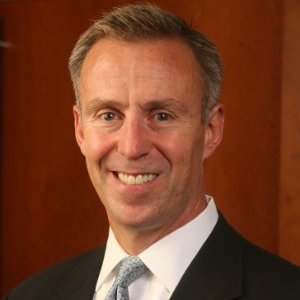 Wuest, 56, was an accomplished long-distance swimmer who apparently suffered a medical emergency while participating in the Save the Bay Swim, a charity, open-water event in Narragansett Bay, Rhode Island.
"It is hard to imagine that this genuine, enthusiastic, energetic, athletic, engaging man is no longer with us," Elliott said. "He will be sorely missed."
Wuest earned his bachelor's degree in accounting from UConn in 1982, followed by an MBA from the Harvard Business School in 1987.
Marcus Partners issued a statement describing Wuest as a "highly respected real estate industry veteran, a consummate leader, a mentor to many and, above all, a man of deep integrity who truly cared for those around him." At Marcus Partners, he directed the firm's investments in New England.
He served on the advisory board of the Boston District Council of the Urban Land Institute and on the board of directors of NAIOP, the Commercial Real Estate Development Association. He also was a member of A Better City, a group of Boston business leaders working to help the local economy as well as the International Advisory Board of the Harvard Real Estate Initiative.
Wuest coordinated and promoted the New England Masters' competitive adult swim clubs and and led the New England contingent to national championships in 2012, 2013 and 2014. He was also the top fundraiser for the Swim Across America 2014 Boston Harbor Relay, raising money to honor his stepson Elias, who had been successfully treated for melanoma skin cancer.
Wuest is survived by his wife Lyn Duncan, children Sam and Allie and step-children Micki and Elias, his parents Frank and Gail Wuest and his siblings. A funeral mass was held on Aug. 20 in Greater Boston.