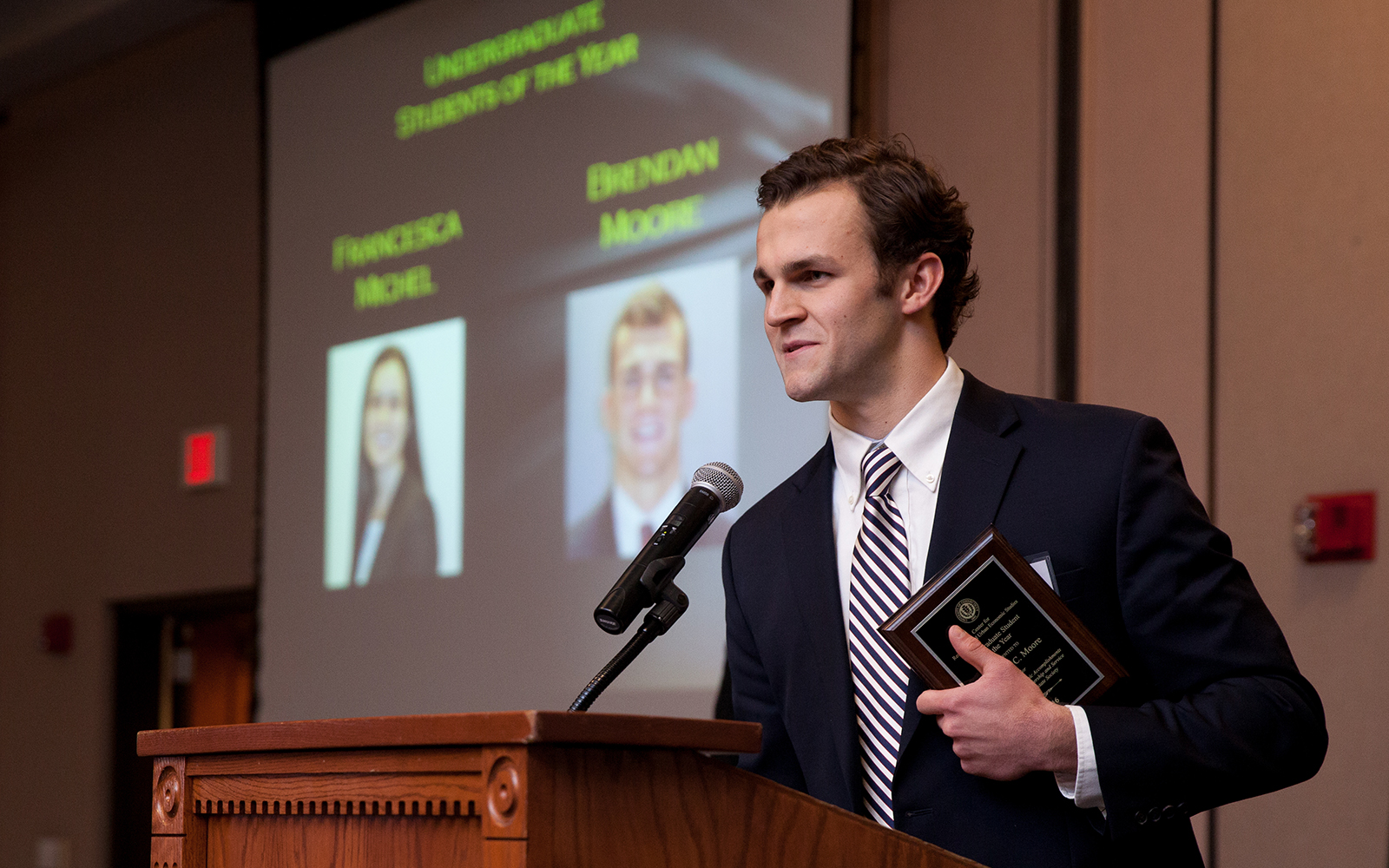 Brendan Moore: Real Estate
Graduate Plans to Bring Irish Work Ethic to Job; Mentor UConn Students the Way Others Guided Him
Having a strong network of colleagues and friends is crucial in every business, but especially in commercial real estate.
"The professors really preached to us that it is important to maintain your friends and network with your classmates," said Brendan Moore '16. "It is such a big industry, but everyone is connected in some aspect."
Moore, a native of Trumbull, was named the Real Estate Department's Undergraduate Student of the Year. After graduation, Moore will join Wells Fargo in their Boston office.
Moore came to UConn, in part, because his older brother, Colin Moore '13, was a senior majoring in accounting.
"I came into the business school undecided and wanted to explore things. I watched HGTV's House Hunters with my Mom on a nightly basis. When I heard about the real estate program, at first I thought I'd be selling houses," he said laughing.
He soon learned that the program prepares students for careers in commercial real estate, and its focus on knowledge, analysis and people skills all appealed to him.
Moore was a member of the prestigious Cornell International Real Estate Case Competition and served as treasurer of the UConn Real Estate Society, which involved coordinating many trips to Hartford, Stamford, New York and Boston, as well as other special events. Juggling work and extracurricular was challenging, but as a high school athlete, he had learned to manage his time.
A UConn Babbidge Scholar in 2015, Moore earned earned a 4.0 GPA both semesters. He has also received the Real Estate Center Award and the SIOR Samuel F. Pierson Scholarship.
During the summer of 2014, Moore studied health and nutrition in Florence, Italy. Although being knowledgeable about the Mediterranean diet may not directly link to a real estate job, Moore said he found that many of the people with whom he interviewed have traveled to Florence and it is a good icebreaker. They also appreciated that his experiences extend beyond the U.S.
In the summer of 2015, he completed an internship at Cigna Realty Investors in Bloomfield. The internship, which allowed him to work in many facets of the field, broadened his knowledge and even allowed him to conduct analyst work, pitching an investment opportunity to company executives.
Some of his best career advice came from his family, who embrace a strong Irish work ethic. "They said there may always be people who are smarter than you, but you control your work ethic and you should always work harder than anyone else," he said.
What will he miss the most about UConn? "Definitely the Dairy Bar ice cream! I'm a big fan of the Senior Scoop flavor. I've kind of fallen in love with it," he said with a chuckle.
"Seriously, I will miss the great relationships with the faculty and my friends, the Real Estate program trips and just being a student," he said. "But I hope to be an active alumnus who hosts UConn Real Estate students where I work."
Related Commencement 2016 Stories
2016 School of Business Undergraduate Commencement Ceremony (Video)
View a copy of the 2016 Commencement Program
Listen to Your Mother! New York Life President John Y. Kim '87 MBA Delivers Light-Hearted, Advice-Filled Commencement Speech
2016 Commencement Student Speaker: Parth Rajesh Rana '15
Graduate Profiles