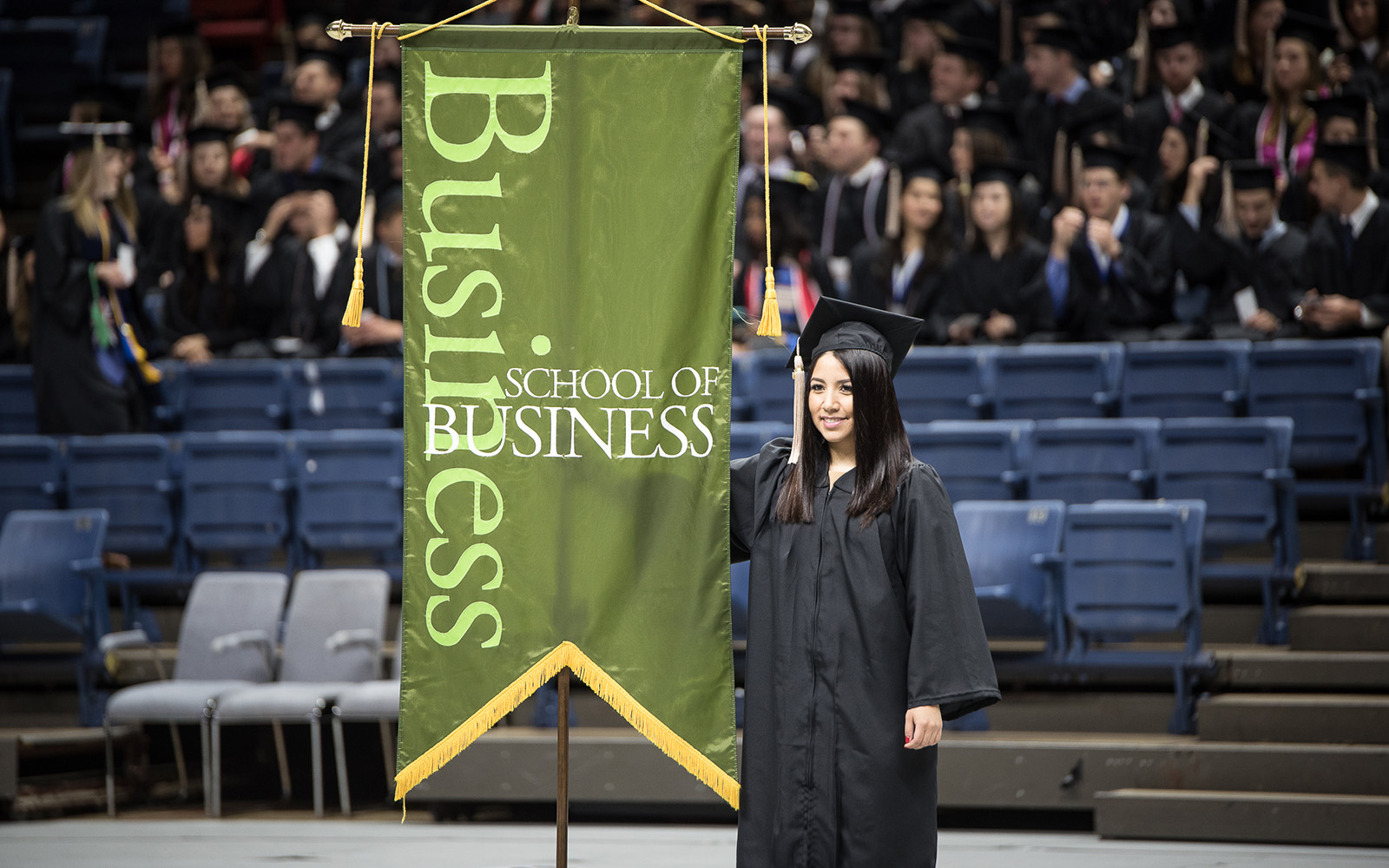 Andrea Jimenez: Financial Management
Graduate Took Time to Reflect on Family's Sacrifices That Provided Her with a Brighter Future
It would be an understatement to say that earning her college degree was profoundly important to Andrea Jimenez '16.
"Graduation is such a special moment and it has made me reflect on where I came from and what previous generations did to allow me to be here," said Jimenez, a native of Mexico, who has earned a bachelor's degree in financial management.
Jimenez has lived in Connecticut since she was 2. But several years ago, she traveled to Oaxaca, Mexico, with her father and her brother to visit the poor village in which her grandfather had grown up.
"My father wanted my brother and me to see where we came from. He showed us the poor conditions in which they lived and the distance my grandfather had to travel to get to school. He explained to us that their family was so poor that they could only afford to send one child to school," she said. Her grandfather worked hard and eventually became a history professor in Mexico City.
"My grandfather always encouraged his children to get an education, which most of them did," she said. He traveled to Connecticut in May to share the excitement of graduation with his granddaughter, after watching her brother's commencement from Central Connecticut State University a few years ago.
Jimenez interned at Prudential Annuities in Shelton, the summer of her junior year. She has accepted a job offer there and will work as a project manager. She explained she is a little nervous to enter the workforce but is excited and comforted knowing she will be working beside "a great group of people."
One of her favorite UConn professors was Bill Ryan, in the marketing department, who taught students to constantly be searching for a position, and was very encouraging. His constant encouragement drove Jimenez to apply to several internship positions. "I focused a lot on cleaning up my resume during this time and Bill was there to help, even after class," she said.
During her time at UConn, Jimenez participated in a mentoring program between the University and GE that offered everything from interview tips to leadership training for students of Hispanic background. It was inspiring to learn from those with similar cultural experiences, she said.
In addition, she helped with the Waterbury Business Society, setting up workshops for students in resume building, using LinkedIn to its full advantage, and more. On the Stamford campus, where she completed her degree, she started an Economics Club.
"UConn was such a good learning experience," she said. "The professors were really encouraging. I'll miss it, but I may come back for the graduate program in financial risk management."
"I've seen how people struggle without a college degree, and it is a privilege to be graduating with one. I feel very lucky to have attended the University of Connecticut," she said. "When people ask 'Where did you go to school?,' they smile and are in awe that I attended UConn. It is such a respected university and well viewed in the community. There is a sense of pride here. UConn is one big family."
Related Commencement 2016 Stories
2016 School of Business Undergraduate Commencement Ceremony (Video)
View a copy of the 2016 Commencement Program
Listen to Your Mother! New York Life President John Y. Kim '87 MBA Delivers Light-Hearted, Advice-Filled Commencement Speech
2016 Commencement Student Speaker: Parth Rajesh Rana '15
Graduate Profiles