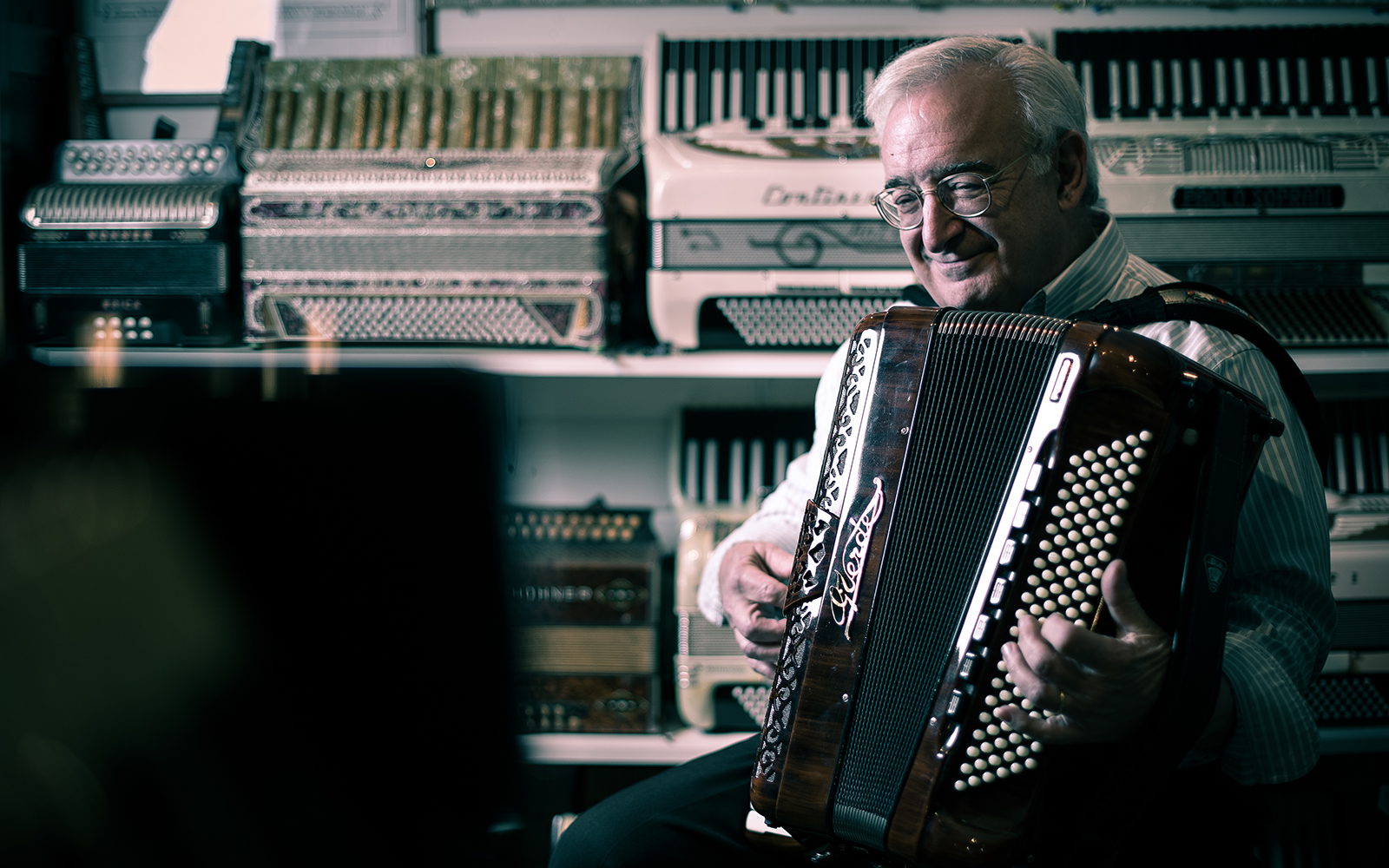 Lessons in Patriotism, Family, Perseverance Resonate in Connecticut Accordion Museum
When Paul Ramunni was just 10 years old, his mother announced that he was going to learn to play the accordion.
His reaction was instant disdain.
"No Mom! Anything but that," he said.
But his mother insisted, and play he did. He rarely practiced and, consequently, wasn't very good. He considered the instrument a burden. Competitions were stressful. And, worse, it didn't boost the social status of Ramunni, a glasses-wearing, Italian kid from Long Island. A few fights broke out on the school bus because of the teasing.
Ramunni was more than happy to banish the Enrico Roselli accordion to his closet when he left for Fairfield University at age 17.
But 42 years later, on a vacation to Vermont with his wife Marcia, Ramunni awoke with a powerful and unrelenting urge to play the accordion again. No one was more surprised than Ramunni himself. A CPA, now retired from public practice, Ramunni has taught introductory accounting courses and financial literacy at UConn's Waterbury and West Hartford campuses since 1998.
The longing, which he now dubs 'accordion fever' was so strong that Ramunni tracked down an accordion seller in Vermont and purchased an accordion that day. But, in a moment that foretold what was to come, the merchant had a pile of 20 small, broken concertinas on the floor. They just came in, he explained. The small accordions were from a Nazi prison camp, and the guards had allowed the prisoners to keep them so they would keep themselves occupied. It was the first of many times when Ramunni was moved beyond words.
In 2011, Ramunni opened the New England Accordion Museum, a cheerful, converted two-car garage adjacent to his home in Canaan, Conn. With more than 400 accordions (as well as sheet music and photos of great accordionists), it houses the largest private accordion collection on the East Coast. He has acquired his collection through pawn shops, tag sales, eBay and word-of-mouth.
"After 1900, the accordion was like the iPhone; it was your home entertainment center," said Ramunni, a soft-spoken man with a ready smile. At first, Ramunni felt like the collection was helping to save a piece of Americana. He soon realized he was really capturing fascinating human stories, told through the instruments.
The accordions fill the walls of the museum and each are unique. Some are elaborate and ornate works of art; others have a small photo of the craftsman embedded inside. One has a curved keyboard, another has the curves of a shirtless woman ("That's our 'porn accordion.' They got wild even back then.") One of his favorites is a bright blue 2003 Peppino, which means Little Joe in Spanish. ("My grandson is Joey. That's his accordion.")
His Luttbeg is one of only 13 in the world with two rows of piano keys, while the 1905 "Echohorn" had an actual horn attached ("It wasn't a big seller!"). A red accordion, nicknamed Mike, was created in 1937 for the owner, who entertained during the Christmas season. That instrument was made by the Galizi Brothers, who sold accordions in the front of their store and booze in the back—during prohibition. They got raided by the Feds and that was the end of the moonshine—and the instruments, Ramunni said.
"I think of accordions as being like a human being. It's the only instrument you have to embrace to play," he said of the accordions, which typically weigh about 25 pounds. "You can't play it when you're in a bad mood or when you're angry. Each instrument has its own voice, personality and way of behaving."
Take, for instance the accordion called Walter, named after Walter Mackiewicz of Bristol. Mackiewicz was a tank driver for U.S. General George S. Patton during World War II. After shelling a German building, it collapsed to the ground and the only thing that remained was a desk with an accordion on top. Mackiewicz ran in, without a helmet, and saved the instrument, which he later played for the general. Subsequently, he earned the Purple Heart for a war injury, and the 2-inch chunk of shrapnel, removed from his body, rests with the accordion today.
"I'm so much enjoying the stories of how people lived. You're reaching into the past and touching something that's sacred to people," Ramunni said.
Perhaps one of the most patriotic of Ramunni's collection is a Chiusaroli accordion that Barbara O'Connell's family purchased for her in 1935. The instrument cost $750, the price of a small house. Her father made only $20 a week and the whole family pitched in to get her the instrument.
In 1942, she played in Europe through the USO. In just one night, she learned songs that would be familiar favorites to the international troops. Just a few years earlier, Irving Berlin had written "God Bless America," and she played it to close every show.
"God knows the impact that had spiritually and emotionally on those guys, who were, at that point, losing the war," he said. "Did that give them the will to fight? The will to win?"
Ramunni shares these lessons in family, patriotism and perseverance with his students.
"The assumption is that life today is much harder, with terrorism and so many other challenges," he said. "But a lot of these instruments are salvaged from war zones. I wonder, how did these people get through situations like World War I or World War II? They had strong values that didn't change. A lot of it was faith-based. They were tethered to their core values. Today, we're like hot air balloons without tethers, blowing in the wind."
"I tell my students that human nature is still very much the same, but the conditions change. We encounter challenges every day, whether you're 10 or 80, whether you're getting divorced or facing a health issue. I try to give them the best advice I can."
The accordion was invented some 200 years ago, and its heyday stretched from 1925 to 1960. Its demise is blamed mainly on the guitar and the Beatles.
"People were looking for something fresh, new and cool," he said. Accordions are still popular instruments in Eastern Europe, South America and China, he said. They've receded in popularity here, but some some bands are adding accordions because "they've been gone for so long that their sound is new again."
The tour concluded, Ramunni picks up his favorite accordion, a Giuseppe Verde. He plays a polka. Smiling and calm, his fingers fly over the dozens of buttons, showing no sign of the detachment that characterized his younger years.
"I used to do tax returns and, generally, that doesn't make people happy," he said. "But this—it does. Why is this my favorite one? It's like your favorite pair of shoes. When you put them on and they fit and you feel good."
The master craftsmen who make accordions haven't changed their techniques much in 80 years. Ramunni said he is reluctant to go to Italy to see them in production.
"It would be like letting your kids loose in Santa's workshop," he said. "You have no idea what they'll bring back!"

The museum is open by appointment only. Call 860-833-1374 for more information, or to donate or purchase accordions or memorabilia visit the web at http://www.newenglandaccordionmuseum.com/.