Dylan Deleon is a marketing senior who currently has an internship with Nerac, a research and advisory firm for companies developing innovative products and technologies. He is an Account Development Intern who consistently communicates with team members and clients, builds rapport with clientele, sets up meetings for future senior analysts and sales representatives, and looks for new clients in the biotech, medical device, and pharmaceutical sectors.
Dylan found this internship by researching firms near Storrs and coming across Nerac. He saw the CEO is Kevin Bouley, a UConn graduate, which was a great connection. He found the recruiter on LinkedIn and applied on Nerac's website.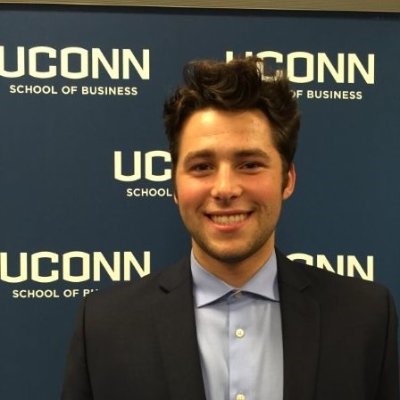 Dylan's marketing classes helped him tremendously with his internship. Two professors that stood out were Mary Caravella and William Ryan. Both professors addressed key tools and gave useful advice to students succeed in their internships and careers. The two classes taught him a very applicable concept: the unique selling method (Approach, Probe, Prove, and Close). He uses this method every day at his internship.
Lastly, Dylan's internship at Nerac helped him realize what he wants out of his career. He stated "This is an opportunity to meet great people who have been in the industry for decades and have a wealth of advice to give if you can just pick their brains a little". Dylan is really enjoying his internship and is glad he is applying marketing concepts to real life experiences.
Dylan's advice to others: "I don't care what major you are- take Professor Ryan and Caravella's classes. They are extremely intelligent, friendly, and they give the best advice. They had successful careers in their respective industries before they came to teach at UConn. They've both helped me out tremendously with regards to jump starting my career."