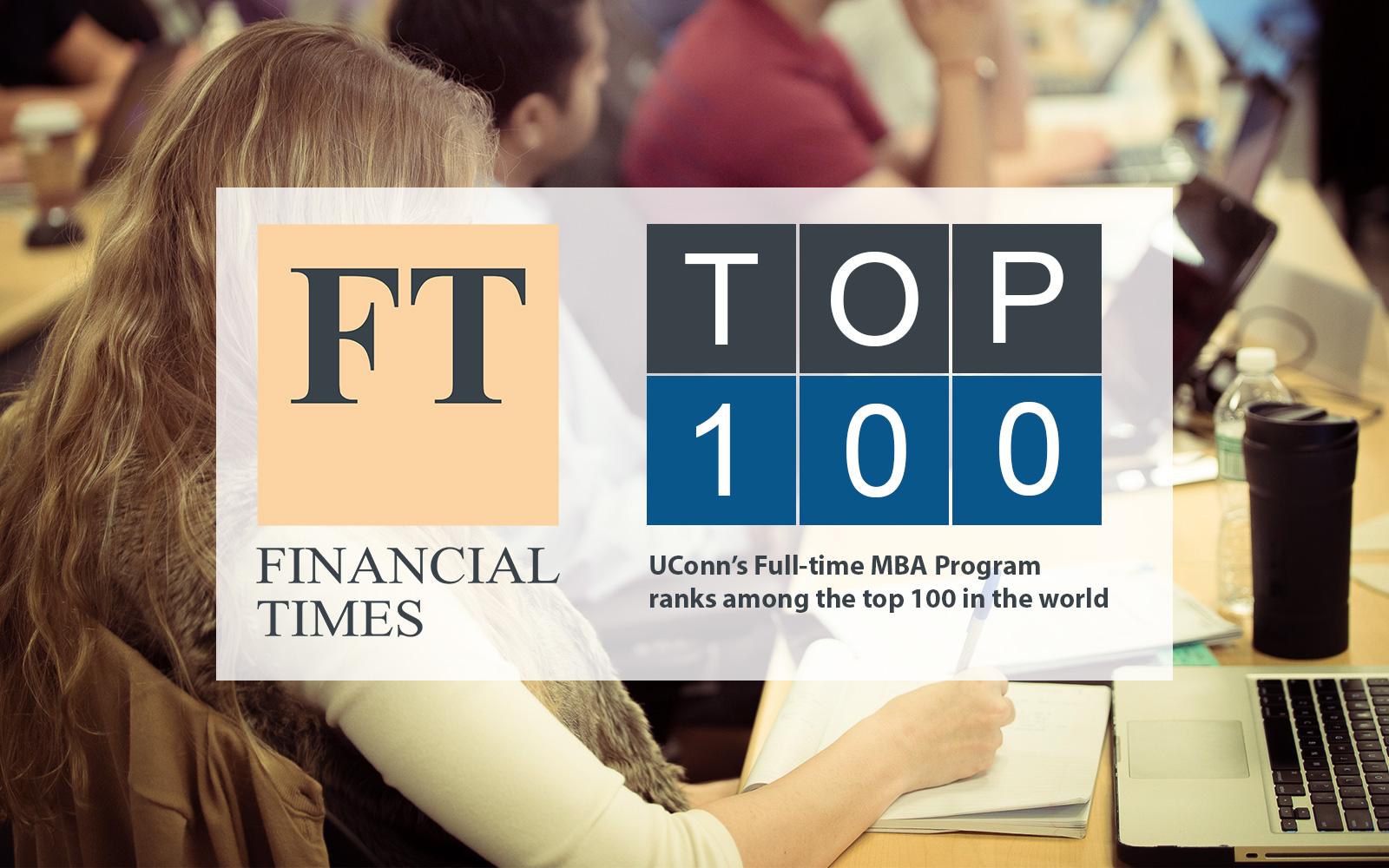 Financial Times: UConn's MBA Program Ranks Among Best in the World
UConn's MBA program has been ranked among the Top 100 in the world, according to a prestigious new report released today by Financial Times.
This is the first time that the program has received the honor in the short history of the report. UConn's Full-time MBA program ranked No. 46 nationally (No. 19 among public institutions) and No. 96 in the world. The rankings were determined in part by responses from members of the Class of 2012, evaluating the program and its contribution to their career growth.
"The Financial Times ranking validates what we know, that we have something special here" said Meg Warren, program director. "We intend this MBA program to be transformational for our students. The Financial Times ranking recognizes that it is just that."
"Graduates from the UConn MBA Program have consistently accepted competitive job offers within three months of graduation and have earned top salaries," she said. "This, coupled with the fact that our program is priced competitively, allowing students to graduate with little or no debt, contributes to reputable publications such as Financial Times and U.S. News & World Report to determine UConn's place amongst the nation's Top 50 MBA Programs."
The program clearly impacts its graduates' career trajectories, Warren said. The Financial Times evaluates the difference in salary pre-MBA versus three years post-MBA, in addition to measuring the career progression during those three years.
Darko Nikolic '12 MBA, an audit leader at MasterCard, participated in the survey.
"The best part about UConn's MBA program was the small cohort," he said. "With just 50 people, you got to know everybody by name and the professor knew yours. They were available at any time. You're not one out of 800."
The comraderie was exceptional, said Nikolic, who still keeps in touch with many of his former classmates.
Nikolic said he was pleased to see the program earn global recognition. He recently heard UConn President Susan Herbst speak about the university's plans to grow, both nationally and internationally, and he thinks this honor is a step in that direction.
"The MBA program is getting better and better. I think this new ranking will bring new names to campus. I believe more financial institutions will be coming to UConn to hire our students," he said. He is even working with his MasterCard's human resources department to recruit on campus.
Melissa B. Cummings '98 MBA, senior vice president and chief customer officer at Blue Cross/Blue Shield of Rhode Island, said she felt her UConn education was outstanding, in part because the real-world projects gave students very tangible experiences.
"As an alumna, I'm very excited about this recognition," she said. "This proves the value of the degree and affirms the experiences that I continue to have. It validates the School of Business' continued improvement and growth."
Nikolic agrees, and hopes that alumni will spread the word about the excellence of the program. The best is yet to come, he predicted.