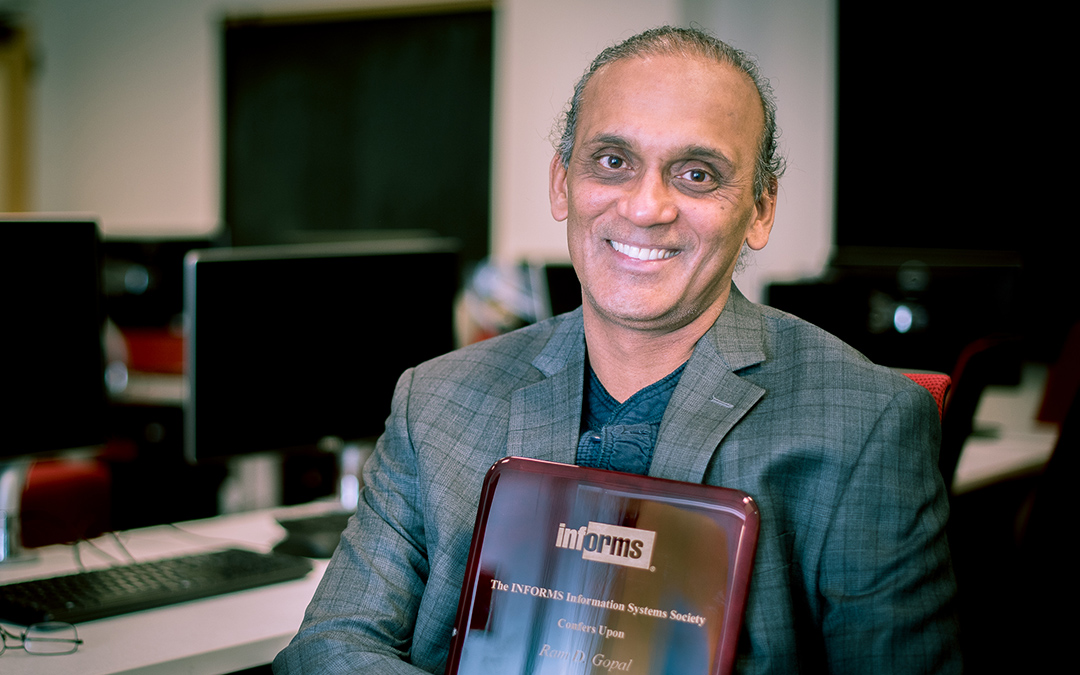 Professor Ram D. Gopal Noted for Intellectual Leadership, Stewardship, Impactful Research
Professor and OPIM Department Head Ram D. Gopal has received the prestigious Information Systems Society's Distinguished Fellow Award, recognizing his intellectual leadership, stewardship and impactful research.
"This is like winning the 'Nobel Prize' for information systems," said Gopal, beaming after collecting his award on Nov. 2 at a conference in Philadelphia.
Gopal said he is honored and greatly humbled to receive the award, especially when past recipients are those upon whom he looked with great admiration, and for inspiration.
Although an individual award, it is a crowning achievement for UConn to be viewed by colleagues throughout the nation as one of the top programs in the country, he added.
The Distinguished Fellow Award recognizes individuals who have made outstanding intellectual contributions to the information systems discipline. The successful candidate must have scholarly contributions that include publications that have made a significant impact on theory, research and practice; intellectual leadership through editorial appointments and intellectual stewardship in mentoring doctoral students and young researchers.
Gopal, who is the GE Capital Endowed Professor of Business, has been a member of the UConn faculty for 20 years. He has served as head of the OPIM Department for the last seven years. Gopal earned his Ph.D. in Management Information Systems at State University of New York at Buffalo in 1994.
After two decades in the profession, he has witnessed much change, including the emergence of Big Data as one of the key resources in organizations of all specialties.
"When I see the younger generation of scholars entering our field, I feel very optimistic," he said in his acceptance speech. "I see that they are well prepared, well rounded, and capable of tackling important problems in our field."
See related story: Two OPIM Ph.D. Candidates, One Alumna Also Receive Scholarly Recognition
In his acceptance speech, Gopal credited the environment, the people and the associations he has made at UConn for his career success.
At first unsure if it was the right fit, Gopal said UConn proved to be a "happening place" with great ideas, new initiatives and programs, and research that proved  intellectually stimulating.
"My colleague Rob Garfinkel used to joke that it is more important to pick the right colleagues than to pick the right spouse—because you spend more of your waking hours with colleagues," he said. "There is a kernel of truth to that. People who are intellectually compatible … [and] have similar interests, and are fun to be with can boost your professional success and personal happiness."
In his acceptance speech, Gopal also offered advice for young researchers.
"First, tackle problems that interest you," he said. "Good research comes from interest and passion."
Gopal's areas of expertise are in the areas of big data analytics, information security, health care information management, privacy and valuation, intellectual property rights, online market design and business impacts of technology.
In addition to his latest award, Gopal was the MBA Teacher of the Year in 2003, 2009, and 2012-2013, received the School of Business Research Excellence Award in 2008 and 2012, and was honored as an Ackerman Research Scholar from 1998-2007.