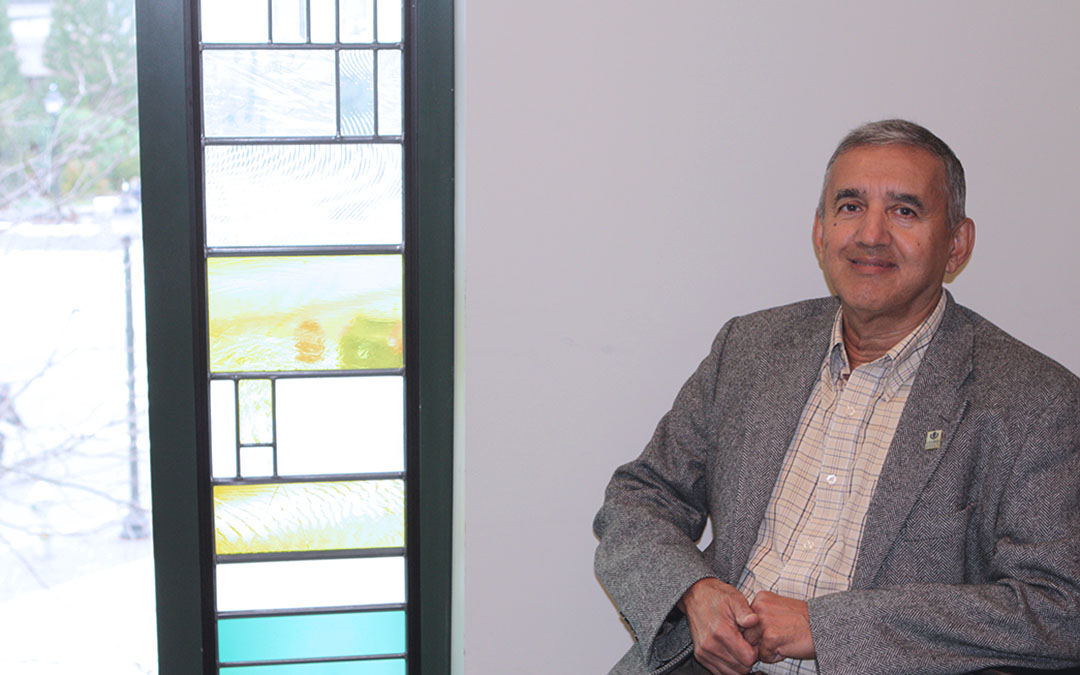 Shantaram Hegde Will Teach, Mentor, Encourage Colleagues in India
One of the most respected and accomplished faculty members in the Finance Department has received a Fulbright Specialist Award to mentor doctoral students and faculty in India.
Professor Shantaram 'Shanta' Hegde said he is pleased to have received the Fulbright, which is one of the most competitive, prestigious and selective awards in the world. His assignment is to instruct some 30- to 40- students and faculty on financial research, a field in which he is considered one of the most prolific journal contributors in the United States.
"Often times we go to wonderful universities as guest speakers, discussing some very specific research topic," Hegde said. "This is exciting because it is much broader and involves teaching, coaching, encouraging and supporting colleagues across the world in their effort to become better, more effective researchers."
Hegde, who is a native of India, will teach at the Indian Institute of Management Kozhikode on the western side of southern India from Nov. 11 to Nov. 24. The Indian Institute, which selected Hegde from a pool of highly qualified applicants, is a well-regarded university, modeled after some of the United States' top universities. He will offer seminars as well as one-on-one instruction.
Professor Chinmoy Ghosh, head of the finance department, predicted Hegde will impress all whom he encounters at the Indian Institute.
"Professor Hegde is an accomplished and highly respected academic, with publications in major academic journals of finance.  He has presented research papers in academic conferences all over the world.  He has taught undergraduate-, MBA- and Ph.D.- level classes, and earned the respect of students as a knowledgeable, conscientious and caring teacher," Ghosh said.
"In the finance department, we are very proud that he has been chosen for this highly competitive award.  It is a fitting tribute for his long years of contribution to the profession and the programs in our department," he said.
While India is very advanced in technology and medicine, statistics and math, it lags behind other nations when it comes to financial research, Hegde said.
To augment his presentation, Hegde will focus the workshops on four research papers that he co-authored which are in various stages of development. One of these papers is under submission at a top accounting journal, two papers are under promising 'revise and resubmit' status from finance and management journals, and the last one is a recent rejection that is awaiting restructuring. He will discuss the research process, the importance of constructive criticism and revision, and lessons that can be learned from a rejection.
The top research journals accept only 5 to 10 percent of the submissions they receive, so Hegde wants his counterparts to be aware of the probability of rejection and he will offer them insight about common mistakes to avoid. He will also discuss building a top-flight academic career and the challenges and opportunities that are inherent.
Hegde earned his Ph.D. from the University of Massachusetts. He specializes in corporate finance, market microstructure and risk management. He joined the UConn faculty in 1990 and served as a visiting scholar at Yale School of Management during 1996-1997.
His work has been published in top financial journals. He has been awarded the MBA Teacher of the Year (1998), School of Business Ackerman Scholar (2006-07), School of Business Best Research Paper Award (2006), School of Business Life-Time Research Excellence Award (2008) and School of Business Teaching Innovation Award (2014).
During his time at UConn he has served as associate dean of graduate programs, coordinator of the finance department Ph.D. program and director of executive education.
In preparation for his trip, Hegde received permission to condense his classes into a shorter time-span, so that his teaching for the fall semester is already completed.