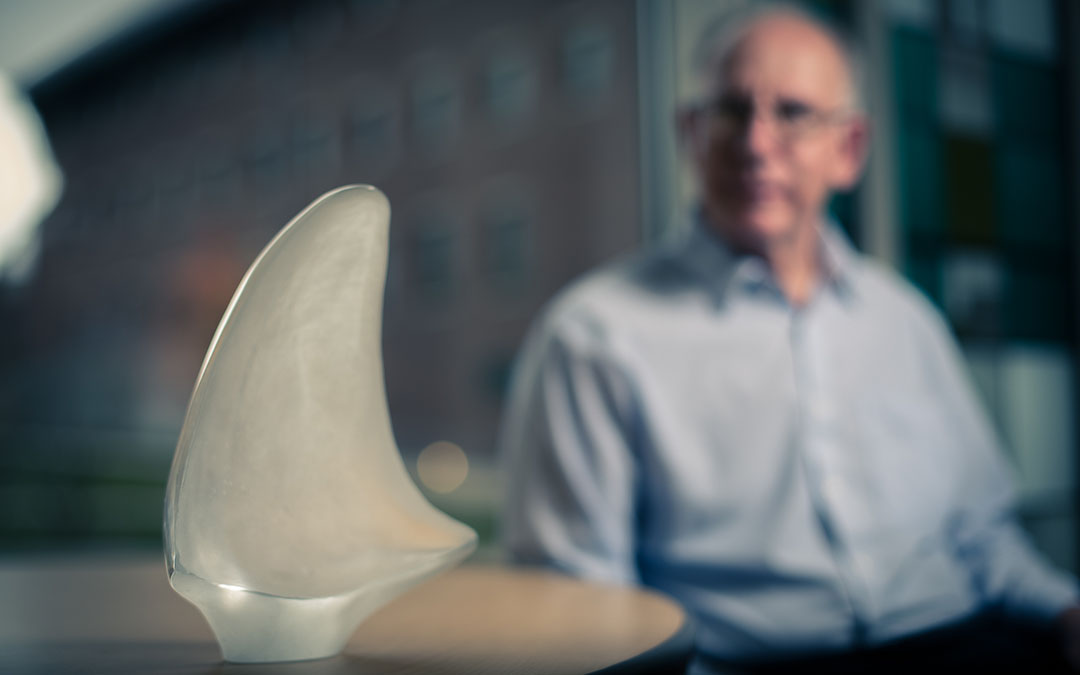 Wins Prestigious Award Named After His Career Mentor
When UConn accounting professor John Phillips received the 2015 Ray M. Sommerfeld Outstanding Tax Educator Award, his peers and students described him as a great teacher, researcher, colleague and all-around good human being.
The prestigious award, given by the American Taxation Association and the Ernst & Young Foundation, was humbling, said Phillips, who is also the coordinator of the School of Business Accounting Ph.D. Program.
But what made the award especially moving is that it is named in memory of Sommerfeld, a professor at the University of Texas at Austin, whom Phillips credits for inspiring his tax accounting career. Sommerfeld was someone whom Phillips admired and respected. Shortly after Sommerfeld received the association's inaugural award he died tragically and the award was renamed in his memory.
"It's wonderful to receive the award named in honor of Ray," said Phillips, who credits his mentor with the growth of tax accounting within academia. "Ray was instrumental in my going to a master's program in accounting instead of law school. He was one of three professors who made me love tax accounting."
When he accepted the award, Phillips not only credited Sommerfeld, but also his wife, UConn Accounting Professor Amy Dunbar, as being extremely instrumental in his success. He also gave recognition to Dan Collins, who was his dissertation chair, crediting him for his success, particularly in mentoring doctoral students.
"I feel lucky to have received this honor," said Phillips, who has been a faculty member at UConn for 16 years, after working as a tax manager at Arthur Anderson. "There are several people—not a short list—whom I would have expected to get it before me. I'm extremely grateful."
George Plesko, accounting department head, said he is pleased that the national spotlight has been shined on one of UConn's finest.
"John's award recognizes nationally what we have known locally for years–the extent of his intellectual contributions and his dedication to students," Plesko said. "The award also reinforces the continued strength and growth of our Ph.D. program, which John has guided for the past eight years."
Adding to the excitement of the Chicago conference was the announcement that UConn alumna Erin Henry '14 Ph.D., received the ATA/PricewaterhouseCoopers Outstanding Dissertation Award. Henry, whose dissertation addressed "The Information Content of Tax Expense: A firm and market-level Return Decomposition," is working as a professor at the University of Tennessee.
Editor's Note: See related article here.
In presenting the Outstanding Tax Educator Award, Anne Christiansen, a past president of the ATA and a professor at Montana State University, said Phillips displays many of his mentor's qualities, including being a methodical researcher and serious thinker.
Phillips had already made a mark in the field as a graduate student, winning two teaching awards, having articles published in prominent journals and receiving the ATA/PwC Outstanding Dissertation Award, she said.
Another colleague and co-author said Phillips "always pushed me to more clearly articulate research questions and hypotheses. He seemed to enjoy playing the 'devil's advocate' on several of our projects! He has very high standards, but is intellectually curious" and willing to explore questions that other researchers wouldn't.
Phillips has an excellent research record, with publications in both The Accounting Review and Journal of the American Taxation Association (JATA), as well as other prominent publications. He has made 31 invited research presentations and has chaired five dissertation committees.
"Working with someone who believed in me, made me want to do well," said one of his Ph.D. students… He has a special gift of being able to help people learn in a genuinely supportive way that makes others want to do well, without fear of disapproval."
Phillips has won multiple teaching awards as well as the Professor of the Year at the School of Business. He is also the recipient of the 2010 ATA/Deloitte Innovation in Teaching Award. He has served as coordinator of the Accounting Ph.D. Program for the last eight years. For 10 years, he helped supervise Volunteer Income Tax Assistance program students. He has also been active in many professional capacities. Recently, he served as editor of JATA, an experience he describes as the "most difficult yet rewarding experience of my academic career."
At the award ceremony, it was clear that Phillips has inspired many.
"He deserves to be recognized so very much, and not just because he is a great researcher, teacher, and colleague; he deserves it because he's a good human being, one of the best, in fact!" one doctoral student wrote. "And that is what I learned the most from him—how to be a good person."
"As a person, he is difficult not to like. He's open, welcoming, thoughtful, unassuming… supportive and generous," said another colleague. "His strength and tenacity are inspiring."
The $5,000 cash award that accompanies the honor will be donated to UConn students pursuing a Ph.D.