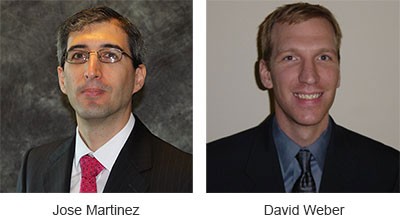 The School of Business has awarded its 2015 Best Paper Award to professors David Weber, from accounting, and Jose Martinez, of finance, for their exceptional research articles that will appear in esteemed academic journals.
Weber's research paper is titled, "Does SOX 404 Have Teeth? Consequences of the Failure to Report Existing Internal Control Weaknesses."
"Picking Winners? Investment Consultants' Recommendations of Fund Managers," is the title of Martinez's work. His paper also recently received a prize from the University of Cambridge and the Commonfund Institute.
"Both papers are to appear in very prestigious journals in their respective fields, The Accounting Review and Journal of Finance," said Sulin Ba, associate dean of academic and research support. "The selection committee was particularly impressed by the public policy implications that came out of both research projects. These implications will have an impact on our society in the years to come."
The competition was intense this year with 10 nominations, all papers accepted in top academic journals, Ba said.
"Dr. Weber's paper, co-authored with Ph.D. student Biyu Wu, addresses the requirement that corporations and their auditors publicly disclose internal control weaknesses, which is one of the most contentious and costly provisions of the Sarbanes-Oxley Act," said Mohamed Hussein, accounting department head. "The study is important because it shows that the enforcement mechanisms surrounding internal control reporting are often ineffective and in some cases may even provide disincentives for compliance."
"This paper is one of many research projects conducted by the UConn accounting faculty that addressed critical accounting and tax issues," said Hussein, noting that UConn accounting faculty research has been cited in Congressional hearings and in the British Parliament.
Chinmoy Ghosh, department head in finance, said he is pleased with his colleague's success.
"Within a very short period of time since arriving at UConn in August 2014, Jose has made a significant contribution in almost every aspect of the job. Acceptance of his paper by the Journal of Finance, the top journal in the discipline, brings tremendous visibility and prestige to the department and the school," he said. "Very recently, his research has been recognized by a leading academic group in Europe. His style of teaching and knowledge drew great praise from the Risk Management students at both our Hartford and Stamford campuses.
"Jose has also shown great interest and objectivity in various academic issues currently under review by the department faculty. We are very pleased to have him as a colleague and look forward to many more productive years from him at the School of Business."
The Best Paper Award is funded by the generous support of the Arnold M. Robin & Rochelle M. Robin Excellence Fund.
Related articles:
Professor Jose Martinez Earns Triple Recognition for Work on Dubious Investment Management
Professor David Weber Finds Lack of Enforcement Surrounds Key Provision of Sarbanes-Oxley Act