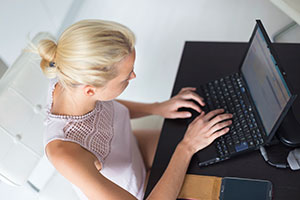 A study released today by U.S. News and World Report ranked the UConn School of Business' online Master of Science in Accounting Program (MSA) among the top three in the nation.
The highly competitive program, which typically draws up to 200 students each year, was recognized as one of 2015's Best Online Graduate Business Programs (excluding MBA programs). UConn tied for third place in the ranking with Arizona State. Indiana University and University of Texas at Dallas filled the top slots.
"Our master's degree in accounting program is highly regarded, well established, and committed to meeting the needs of accounting professionals, as indicated by its strong enrollment," said John A. Elliott, dean of the School of Business.
"The leadership team is committed to excellence and a process of continuous improvement," Elliott said. "We are delighted that U.S. News and World Report recognized the success of our efforts and of our students."
The perpetual effort to improve the program may explain the rise in the program's status from #23 in 2014, said Amy Dunbar, academic director of the MS in Accounting and Accounting Certificate Program.
"U.S. News focuses on characteristics like course design, instructor qualifications, student/instructor interaction and student retention," Dunbar said. "We have invested time and money on all those fronts.
"We use a course designer who works with the instructors to develop learning objectives, and then design instructional materials to help meet them," Dunbar said. "At the end of every trimester, we survey the students to ask specifically if they achieved those learning objectives. We end the survey with an open-ended question asking how we can improve our courses. I meet with instructors to review the student feedback. Thus, we have an ongoing loop of feedback and redesign."
Students from 19 states are currently enrolled in the program. Its fastest-growing segment is experienced, licensed CPAs who are looking to become more current and obtain new skills.
"I wanted to get a master's degree for my own sense of accomplishment," said Michael Ziebka, a CPA and managing partner at Budwitz & Meyerjack in Farmington, who will complete his degree work in April. With 18 years of accounting experience, he said he was looking for an exceptional program that would challenge him.
"I was impressed by UConn's reputation and the quality of its curriculum, which is world class. There were courses on forensic accounting, non-profit and governmental work, contemporary accounting theory and much more. It went way beyond my expectations. The program delved into senior-level accounting and extremely advanced issues," he said.
Ziebka said he appreciated the flexibility of the online format, which enabled him to complete classwork and tests around his work schedule, as well as learn with students from across the country.
"The talent of the faculty and the quality of the curriculum is fantastic. I tell everyone in my field about this program. I feel like its ambassador," Ziebka said. "To be #3 is an honor, but a well-deserved honor. I think the program will be the undisputed #1 before long."
The MSA program has been offered online since the 2003-04 academic year and accepts students in the fall, spring and summer.
"We are so fortunate to have instructors who are not only content experts, but also who are willing to invest the time to learn the technology necessary to deliver the content," Dunbar said. All students have a "chat tool" that allows them to meet during scheduled office hours. They all have access to Dunbar's mobile number and are encouraged to call at any time.
Ricki Livingston already had an MBA when she pursued her MSA at UConn. She enjoyed the experience so much, that she ended up joining the UConn faculty.
"I can say firsthand that the superior experience I had with the program completely dispelled any skepticism I held about the effectiveness of distance education. Not only did I find the faculty to be highly qualified in the accounting profession, but also highly skilled as educators, considering each student's needs at an individual level.
"I was impressed with the level of rigor, use of innovative technologies for content delivery, and the diversity of course offerings," she said. "I was pleased with the accessibility of the instructors, who readily gave assistance when I struggled with a concept.
"Another beneficial attribute of the program is the emphasis on collaboration. Though I am a resident of Georgia, far removed geographically from most of my classmates, the collaborative focus of the program allowed me to expand my professional network and forge friendships that continue to this day."