Push yourself out of your comfort zone, don't be afraid of spreadsheets, never let your professional network grow cold, and don't let anyone tell you that you can't succeed.
That was some of the advice that close to 400 women entrepreneurs and executives heard during the second annual, sold-out, Connecticut Celebrates Women Entrepreneurs conference Sept. 19 at the UConn Stamford campus.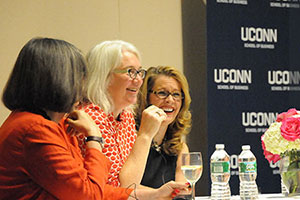 The forum, sponsored by the UConn School of Business, drew some of Connecticut's most powerful and successful women entrepreneurs and business leaders, and also featured a contingent of financial experts and advisers from both the United States and Europe.
The lunchtime keynote presentation featured Jenny Lawton, CEO of MakerBot, a leader in 3-D printers and Linda Scott, Ph.D., World Chair for Entrepreneurship and Innovation at the Said Business School at the University of Oxford and creator of the Double X Economy concept.
The panel was moderated by Pat Carroll, morning anchor at WCBS Newsradio 880. Also offering remarks at lunch were UConn President Susan Herbst and Sharon White, director of the UConn Stamford Campus. School of Business Dean John A. Elliott announced the recipients of $6,500 in UConn Business scholarships awarded to five women MBA students who have demonstrated a keen interest in entrepreneurship. The funds were generated from proceeds from last year's event.
Lawton described her career journey from running a technology consulting firm, to owner of three bookstores, to her current position as chief executive officer of MakerBot, a world leader in 3D printing. Her strength, she said, comes from a mother who taught her she could do anything.
"I don't think it is as hard on women in business as it once was," she said. "I think there are many women who want to help other women along and make them part of the entrepreneurial world.
"I don't think the glass ceiling has completely gone away, but it is a lot more fragile than it used to be," Lawton said. "I think it is still hard to get to the top, whether you're male or female. The mistake people make in life is not to ask; not to push."
She has been with MakerBot, which is based in Brooklyn, N.Y., since 2011. Under her leadership, the company has grown from 40 to 620 employees. Three-dimensional printing, she predicts, will be as game-changing as the industrial revolution. Her company has set the ambitious goal of getting its device in every school in the country.
Lawton, who owned the bookstores while raising young children, said the sour economy and a divorce steered her back into the corporate world. Fortunately, she said, she never let her corporate network go cold.
"I kept current with people from my past and tied in people from my present," she said. "I always let people know my background&emdash;while I was helping them find books or serving them coffee."
Scott spoke about the inequality in access to capital for women business owners throughout the world. But there is a world-wide effort to nurture women-owned businesses, and this holiday season, for instance, Walmart will put a special tag on products made by women-owned companies.
She predicts the rise of women in business will not only be enormously impactful to the business community, but will also revolutionize family policies in the workplace.
The annual event was co-founded and run by Valarie Gelb, serial entrepreneur, CEO of TheBarnYardGroup and former senior MasterCard executive. In addition, Janis Collins, entrepreneur in residence at the Stamford Innovation Center and founder of The Refinery, played a major role in the event's success.
"Everyone, including our keynote speakers, workshop moderators and panelists all volunteered their time and talent to make this event a success," said Brian Brady, director of the Stamford Learning Accelerator and co-founder of the event. "Their participation and the generosity of our sponsors allowed the UConn School of Business an opportunity to award scholarships to future entrepreneurs."
Claire Leonardi, CEO of Connecticut Innovations, a leading source of funding and support for the state's innovative companies, opened the conference saying there are 98,000 women-owned businesses in Connecticut.
Throughout the morning, in panel discussions, experts offered their best advice to those eager to make their mark in business.
Lisa Bair, CEO of Quantuvis, a healthcare IT company, said women tend to be relationship-based and somewhat emotional in their decision making. She described the gut-wrenching task of having to fire a business partner "who was like a sister to me," but wasnet the right fit for the job. She urged entrepreneurs to seek advice outside their industry to broaden their knowledge. Know your weaknesses, she said, and hire people who will bring those strengths to your organization.
Carissa Ganelli, CEO & Founder of LightningBuy, an app that allows quick mobile purchases, told the audience they have to make themselves business savvy.
"Women approach the whole financial aspect with fear. You shouldn't. You have to get the numbers," she said. "Don't be afraid of spreadsheets!"
Don't partner with people who are unfamiliar with your business, she said. She walked away from a $1 million 'term sheet' because nobody in the investment group was knowledgeable about technology.
She also said she learned over the years that it isn't enough just to be great at your job, you have to be likeable. "People will buy from someone they like, even if the product stinks," she said, to the audience's laughter.
"Feel free to ask for help," advised Anne Ravanova, Founder and CEO of Global Invest Her and another guest panelist. "It's something that women find hard to do. The only thing they can say is 'No.' You'll be surprised where help is available."
Susan White, CEO of TurqSport, a men's athletic underwear firm, said women entrepreneurs must be open to new ideas and willing to assess them, but also be strong enough to say, "That plan is not for me."
Ganelli said a woman in business must keep a sense of humor. She has also kept a list of people who told her, "No one's going to buy something from a mobile phone!" Back before she launched her business, she helped a friend build a small, church web-site. That act of kindness ultimately led to a connection that landed her a deal with an angel investment group.
She chided women business owners for being too humble, something that doesn't serve them well in business.
"I think women, in general, don't take enough credit," she said. "Don't be wishy washy. When you do something well, take the credit!"
Other conference speakers included: Deborah Jackson, CEO and founder, Plum Alley; David Heath, founder of Bombas Socks; Christy Prunier, founder & CEO of Willa Inc; Jeanne Sullivan, founding principal of StarVest Partners and one of Forbes magazine's five most powerful women in venture capital and entrepreneurship; Julie Cottineau, founder and CEO of BrandTwist; Amy Hourigan, vice president of marketing and communications at Connecticut Innovations; Sheila Hummel, development manager, Office of Business and Industry Development, Department of Economic and Community Development and Kimberly Cranston DeSousa, senior manager, Women's Business Development Council. The event also featured nearly 70 exhibits of women-owned businesses, promoting their products and services. In addition, a special pavilion included representatives from the Business Council of Fairfield County, and representatives from the State of Connecticut who explained the resources available to women entrepreneurs.
Corporate sponsors included Webster Bank, The Connecticut Small Business Development Centers, First County Bank, Connecticut Innovations, Coca-Cola, the Financial Times, Conair Corp. and HB Communications. Hearst Media Services was the media event sponsor.
Next year's event has already been scheduled for Sept. 18, 2015 at the UConn Stamford campus.