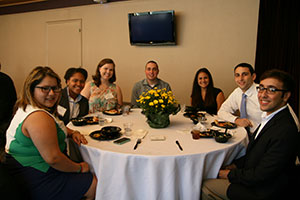 The 7th Annual School of Business Undergraduate Networking Skills Forum on Sept. 24 gave freshmen from the University's Business Connections Learning Community (BCLC) the opportunity to meet and mingle with Connecticut business leaders, many of them UConn alumni.
Some 40 business people spent time encouraging the 87 freshmen, and sharing career advice, insight and suggestions about how to make a good first impression.
"Our alumni said they were very impressed," said Fran Graham, manager of alumni relations for the School of Business. "They also commented that the students didn't appear to be nervous, and that they were surprised that incoming freshmen could be so poised."
"This is my second year attending this event and it is one of my favorites," said Kirstin Ferreira '12, a business analyst at Cigna. "I am heavily involved in the UConn Recruiting team for Cigna's Technology Early Career Development Program (TECDP). I think it is incredibly important to teach these kinds of skills as early as possible, as I know the impact of a first impression.
"I got to where I am with the support of UConn's Career Services department, and I want to do what I can to continue to help students find opportunities," said Ferreira. "I was so impressed with the students, from their sharp attire to their career aspirations."
Alyssa Kafka '11, a business and technology senior analyst at Accenture, agreed.
"I come to the undergraduate networking forum because I know how intimidating it is to speak with professionals," she said. "At any stage of your career, there's always going to be someone more senior than you. And the more practice you have, the more comfortable and prepared you will be to speak to them. It's my job as an alumna to help UConn business students find success and best represent our school. After all, I'm proud to call myself a Husky and I want them to be too!"
Among the pointers that the mentors offered included: encouraging students to make eye contact, present a firm handshake, wear comfortable shoes and, in some cases, be a bit less formal, Graham said.
—photos by Aileen Tobin