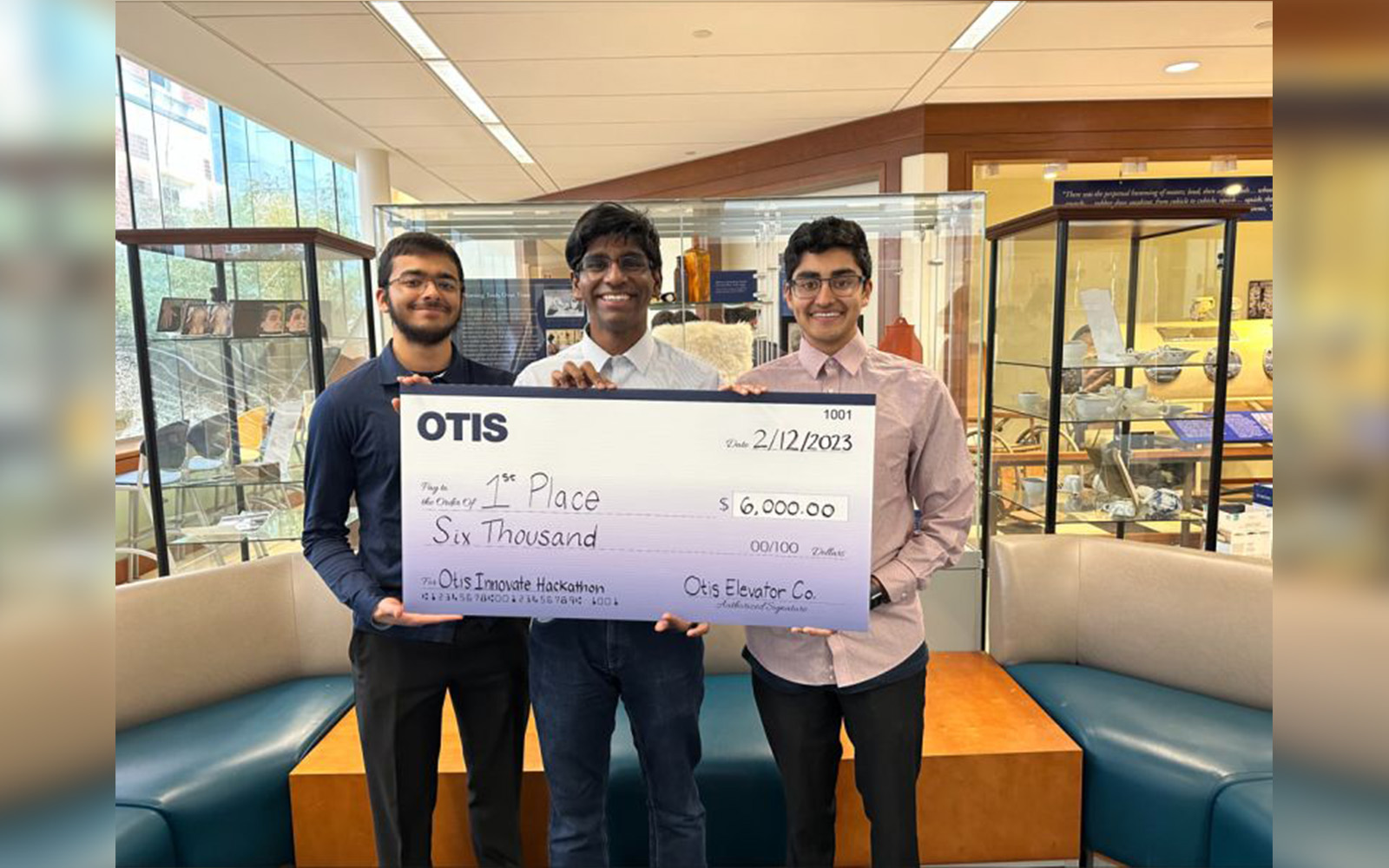 World's leading elevator company gives winning participants $10,000 in scholarships
Imagine using your voice to summon an elevator—or several of them—to take you and your colleagues up to a meeting or asking the elevator for personalized directions to a nearby restaurant that could then be transferred to your cell phone.
Those were some of the innovative ideas that helped a team of UConn undergraduates win the Otis Innovation Hackathon in Storrs earlier this month.
"Our competitive edge was the creation of a website prototype which is something I routinely do in the UConn Husky Developers Club," said Aditya Chandraker, a sophomore physiology and neurobiology major on the winning team. "We also have experience competing in past hackathons and developing prototypes of our ideas."
But what Chandraker believes will most benefit him and his teammates, sophomores Priyanshu Agrawal and Niteesh Saravanan who are computer science engineering majors, was the experience of presenting to a team of executive judges from the company.
"The biggest professional take-away was giving a strong presentation," Chandraker said. "Public speaking is a skill that we don't often get a chance to practice, and this event gave us that opportunity."
Otis Executives Impressed by Students' Creative Ideas
The Otis Innovation Hackathon was a three-day competition, held on the Storrs campus, that drew more than 30 UConn undergraduate students. Their challenge was to create a solution that leverages emerging technology to enhance customer experience, increase mechanic productivity, or develop a new source of revenue for the company.
The competition allowed students to meet and network with top Otis executives, apply classroom learning to a real-life project, and demonstrate their teamwork abilities.
Otis, a Fortune 500 company and the world's leading company for elevator and escalator manufacturing, installation, and service, is based in Farmington, Conn.
"At Otis, we're committed to innovation that pushes boundaries of what's possible for our industry, and we believe in engaging with the communities around us to make a difference – including in STEM education," said Ezhil Nanjappan, Otis Digital Technology Executive Director and Chief Technology Officer.
"I'm inspired by the creative ideas from these UConn students and look forward to seeing what they can accomplish in their academic and professional careers," Nanjappan said.
In addition to the competition, Otis executives offered workshops for students that were well attended, and ranged from data analysis to team mentoring.
Professor Jon Moore, who helped organize the Otis Innovation Hackathon, one of several experiential learning programs supported by the team at OPIM Innovate, said the experience will offer many career advantages for students.
"These are accomplishments that they will be able to speak about in interviews and further their goals of having experiences that set them apart," he said. "This was also a tremendous opportunity for our students to talk and network with executives, and for students from different disciplines to apply what they've learned in the classroom to the real world."
Moore said he thinks the hackathon also served as a great opportunity for Otis to introduce itself to future job-seekers.
"This is a great example of how companies can be innovative in the way they recruit students, in building a pipeline of talent, and spreading their brand to a younger generation," Moore said. "We hope to build on that partnership in the future."
Other Winners Focused on Elevator Maintenance
Other student teams focused on elevator maintenance ideas.
Student Ryan Lagasse, a member of the team that placed third, said they proposed a sensor package for elevators that would communicates vibrational data to Otis servers to assess problems in elevators that usually would require a technician to be on site.
"Our solution would keep customers and technicians more informed and enable us to program significantly better failure-prediction algorithms for elevators, making an incredible leap in efficiency," said Lagasse, a freshman majoring in computer science. His teammates included freshmen Mubarak Oshomah, a computer science major, and Logan Lee, who is studying computer science engineering.
"The best thing about the event was definitely the time pressure and research that gave me a great look into industry-level work," Lagasse added. "I think our research is what set us well ahead of many of the other teams, from reading through patents, and elevator diagnostics, and our thorough understanding of Otis' current precedents. I definitely want to apply this same analytic approach to my work as I pursue a job in machine learning and data analysis."
The team that took second place offered ideas for robotic elevator maintenance. That team included sophomores Julian Setiadi and Aayush Gupta and junior Ibrahima Capo-Chichi, all computer science majors.
Hackathon Proposed by UConn Alumnus
Two-time alumnus Wally Namane, Otis' Associate Director of Digital Technology, was instrumental in creating the hackathon. As an undergraduate MIS major, he enjoyed and benefitted from case competitions and wanted to offer that opportunity for those who followed him.
"This was an incredible opportunity for UConn students to get exposure and experience with rapid prototyping, design thinking, hands-on learning, and problem solving with limited information," said Namane, who also has a UConn MBA degree. "The spirit of the event was up-beat, entrepreneurial, and educational. And it was a great way for Otis to continue to engage our local community and partner with UConn."
Business majors Dylan Wiafe said he and teammate Amy Akel, both seniors, didn't finish in the Top 3, but learned about new software tools and an industry that was previously unfamiliar to them.
"This hackathon pushed me to do a lot of things I had never done before," said Wiafe, who builds apps in his free time.
The combination of networking, problem solving, and addressing emerging technology under a tight timeline proved to be an opportunity for personal and professional growth, Akel said. She said it was a fitting way to celebrate the International Day of Women and Girls in Science, which coincided with the event.
Otis awarded a combined $10,000 in scholarships to the winning participants from the top three teams.
"With the rising cost of higher education, opportunities like these are important to incentivize our highest achieving students and provide them with opportunities they wouldn't normally have," Moore said.