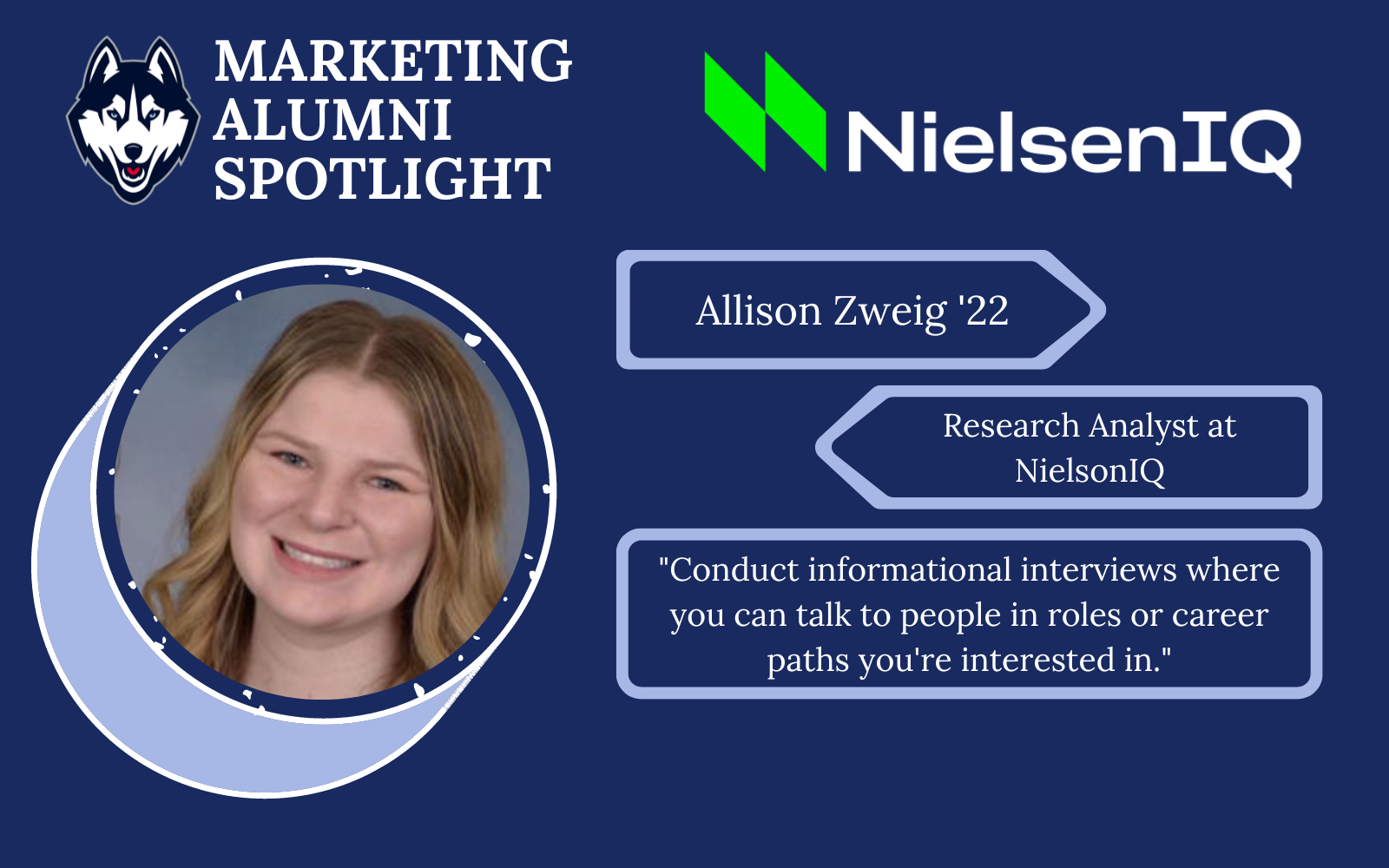 Allison Zweig graduated from UConn in Spring 2022 as a Marketing major with a double minor in Communication and Spanish. Allison now serves as a Research Analyst at NielsenIQ (BASES), a global information services company. Allison was introduced to NielsenIQ when Tyler Delano, a UConn alum, came into her Marketing Research class (MKTG 3260). Tyler spoke to the class about the exciting life within BASES and the company culture. "It really inspired me to hear about how fun and rewarding a career in marketing research could be." Allison recalls; she then applied for an internship at NielsonIQ. "My interview process consisted of two different video calls where they asked me a lot of situational interview questions like 'Tell me about a time when…', as well as an online exam.". Allison was able to secure an internship with NeilsonIQ for Summer 2021, and went on to receive a full-time offer for July 2022.
A typical day for Allison is surrounded by analytical work and meetings. Most of Allison's work consists of configuring the survey information and consulting with her team on how they want to present it to the client. As an analyst, she takes full control over projects where she interprets survey results and helps formulate them into insights that NielsonIQ delivers to one of their Fortune 500 clients. Allison has worked on a lot of fun projects during her time at NielsenIQ so far, but she claims her favorite thing about this role is the people. "It sounded cheesy to always hear how everyone's favorite thing about this company was the people, but I have met some of the best people in this role. I've had the most supportive managers and mentors, who not only provided career advice to me but have made me feel valued as a person.' she states.
At UConn, Allison took advantage of all the resources available to her. She was involved in different organizations and took various positions that helped to explore my career goals. Allison also took advantage of the UConn current student and alumni network. As mentioned earlier, she was introduced to her current role from a UConn alum who came to present in one of her courses. "There are so many hidden gems at UConn that you should take advantage of before you enter the working world.", she advises. One piece of advice Allison would offer is to conduct informational interviews where you can talk to people in roles or career paths you're interested in. Allison says this was "one of the most beneficial things I did while looking for a role". Not only does it show interest, but you are able to gain additional perspective and insight into various roles and companies.