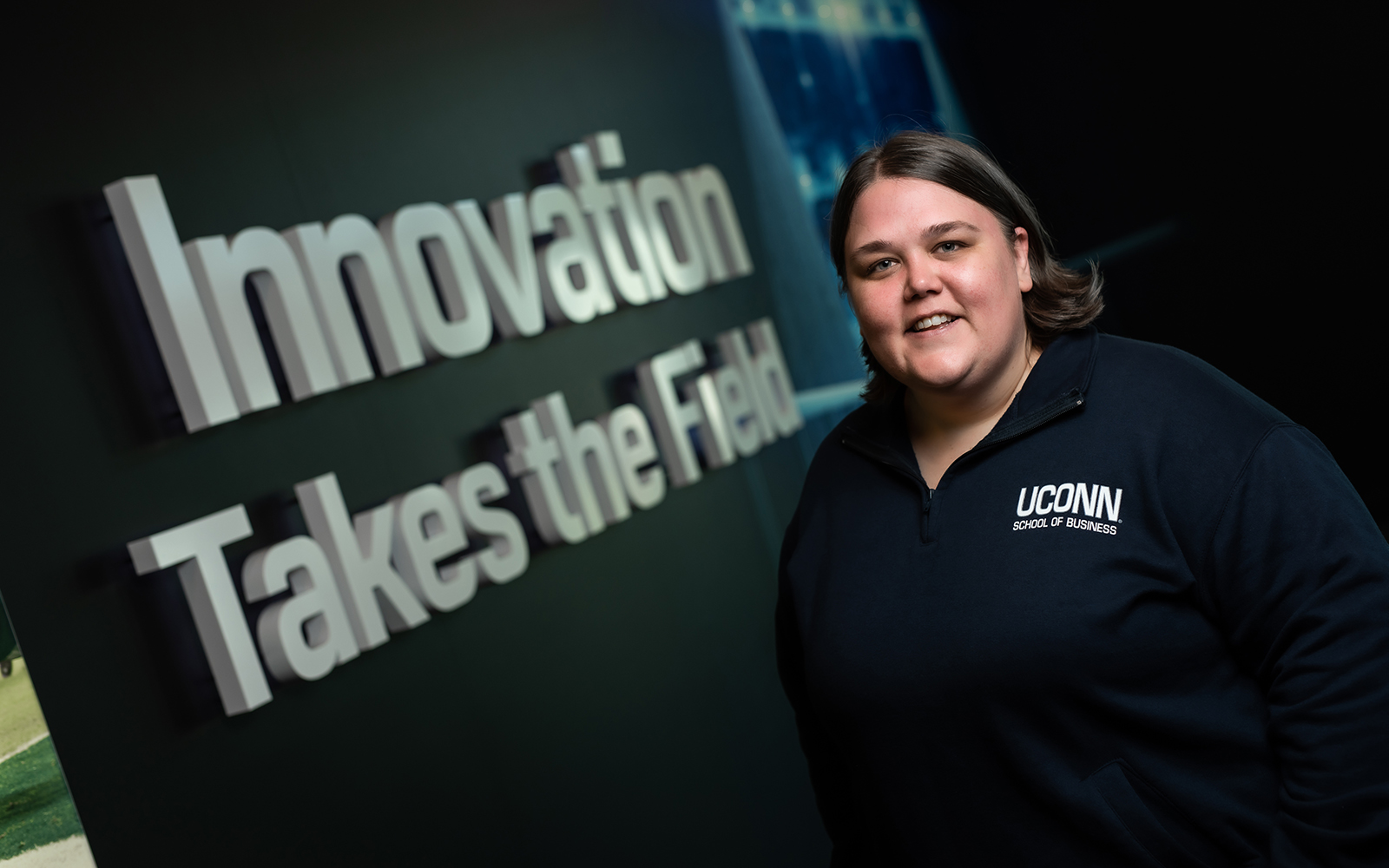 If you're a fan of college basketball's March Madness, professional hockey, or football, you can thank UConn alumna Jenny Gaffney '17 MBA, and her colleagues at ESPN/Disney for giving you front-row seats to the game, right in your home.
Gaffney was instrumental in the rollout of ESPN+, the subscription service that now has over 22 million customers and streams thousands of live events, as well as sports news, scores, and game highlights.
Gaffney, a former college-scholarship athlete, a relentless optimist, and a fervent advocate for women in technology, served as the 'release coordinator' for the service's debut.
"I always wanted to become an astronaut, and the night of the ESPN+ launch is probably the closest I'll come to working in 'mission control,'" she said, laughing. "It was by far the best day and night of my career, and the one with the most adrenaline. I worked from 11:30 p.m. until 3:30 p.m. the next day in the 'war room,' calling out the launch sequence from our playbook, and I wasn't ready to go home when my colleague came in to take over post-launch."
Hundreds of ESPN, Disney, and Disney Streaming employees worked on the project from inception to launch. Few enjoyed the teamwork, the timelines, the milestones, and the testing as much as Gaffney did. "I loved the innovation of that project, from start to finish," she said.
As the Manager of Technical Program Management for Disney's Technology Strategy and Business Operations Team, Gaffney has been responsible for the sports portfolio, including the ESPN App, Fantasy App, and ESPN.com, reaching over 100 million users every month across ESPN Digital.
Earlier this month, she accepted a new role with Disney's Next Generation Storytelling division, which will guide the entertainment giant into the next phase of its growth.
"While I have thoroughly enjoyed working on our sports portfolio for the last six years with incredibly talented cast members, I'm excited about the opportunity to learn, grow, and innovate. I'm extremely passionate about innovation and technology, and it's an honor to accept a position on the Next Generation Storytelling team to help define the future of Disney."
Workstyle: Negotiator, Mediator and Occasional Therapist
So how did Gaffney, with a background in EdTech, social-media management, and healthcare, work her way up from a limited-time project employee to this new role? She credits a strong career focus, a willingness to grow, and her UConn MBA for her success.
"I think it is vital to focus on your strengths and passions and become as close to indispensable as you can be," she said. "Build a brand and reputation so that when the next big opportunity comes along, senior leadership will call on you to help get the job done. That involves a bit of self-advocacy, branding, leadership and communication skills, and then, of course, actually delivering."
Gaffney describes herself as a lifelong "organizer of chaos," the type of person who loves a challenge. At work, she's the one who asks for a complicated assignment or to lead a project that is flirting with a missed deadline.
"The No. 1 thing you can do to mess it up is come in and tell people, 'I did this on my last project' or 'I did that in my last company and that's how we're going to do it now,'" she said. "That's not how you build trust, that's not how you get people invested."
She doesn't make any decisions until she meets with all the stakeholders, works on building relationships and trust with them, and only then does she make a plan. She noted you can't come in dictating how the project will work, rather you have to respect the work that's been done prior to you joining the team, the team's culture, and the team's communication preferences.
"I try to be as transparent as possible and say, 'Here's what could go wrong and here's how were going to mitigate the risk,'" she said.
One of the ways that Gaffney distinguishes herself as a leader is by capitalizing on her sense of humor and forming a true connection with her colleagues.
"I'm a negotiator, a mediator, and a therapist," she said. "I have the soft skills and I enjoy brokering relationships between my team and the others that we work with."
"The ability to connect with people on a deep level, knowing people personally, knowing their story, understanding what's important to them, and how they like to collaborate makes a big difference. If you can make them laugh and bring them joy too, even better," she said.
Aaron LaBerge, Chief Technology Officer at Disney Media and Entertainment, describes Gaffney as a key contributor, and recognized for her passion about mentoring, teaching and results-oriented leadership.
"Jenny has been an asset since she joined—hitting the ground running," he said. "Jenny is a trusted colleague, she's well organized and has excellent communication skills."
In 2021, Gaffney received a '40 Under Forty' award from the Hartford Business Journal. The award recognizes outstanding young professionals in Greater Hartford who are excelling in their industries through their leadership roles and serve as a model for their peers.
This year, the Cystic Fibrosis Foundation selected Gaffney as one of 20 'Hartford's Finest' honorees, highlighting those who show exemplary leadership, are active in their communities, and excel in their profession.
Helping Women Advance In Tech
One of the things that Gaffney focuses on is helping other women enter and succeed in the tech field. She is on the leadership team for all of Disney's Women in Tech organization which focuses on the recruitment, retention, and promotion of women in technology.
Ashley Irizarry, an Associate Product Manager at Disney, raised her hand last fall looking for a mentor in tech, and Gaffney reached out and quickly became Irizarry's mentor. Gaffney's guidance helped Irizarry identify her goals and apply for a technology role with more responsibility.
"Jenny asked me about my personal and work life, helped me improve my resume, and create a LinkedIn account. She even gave me homework and suggested career books to read," Irizarry said. "I don't think I would have this job without her, and for me this job has been life-changing!"
Irizarry said she hopes to do the same for another woman down the road. "Jenny is so busy with her career and her family life, but she has always found time for me, even making time the day before her vacation," she said. "She uplifts me and she says I uplift her. She believes in giving back what we've received. I want to continue her legacy and inspire others, just like she does."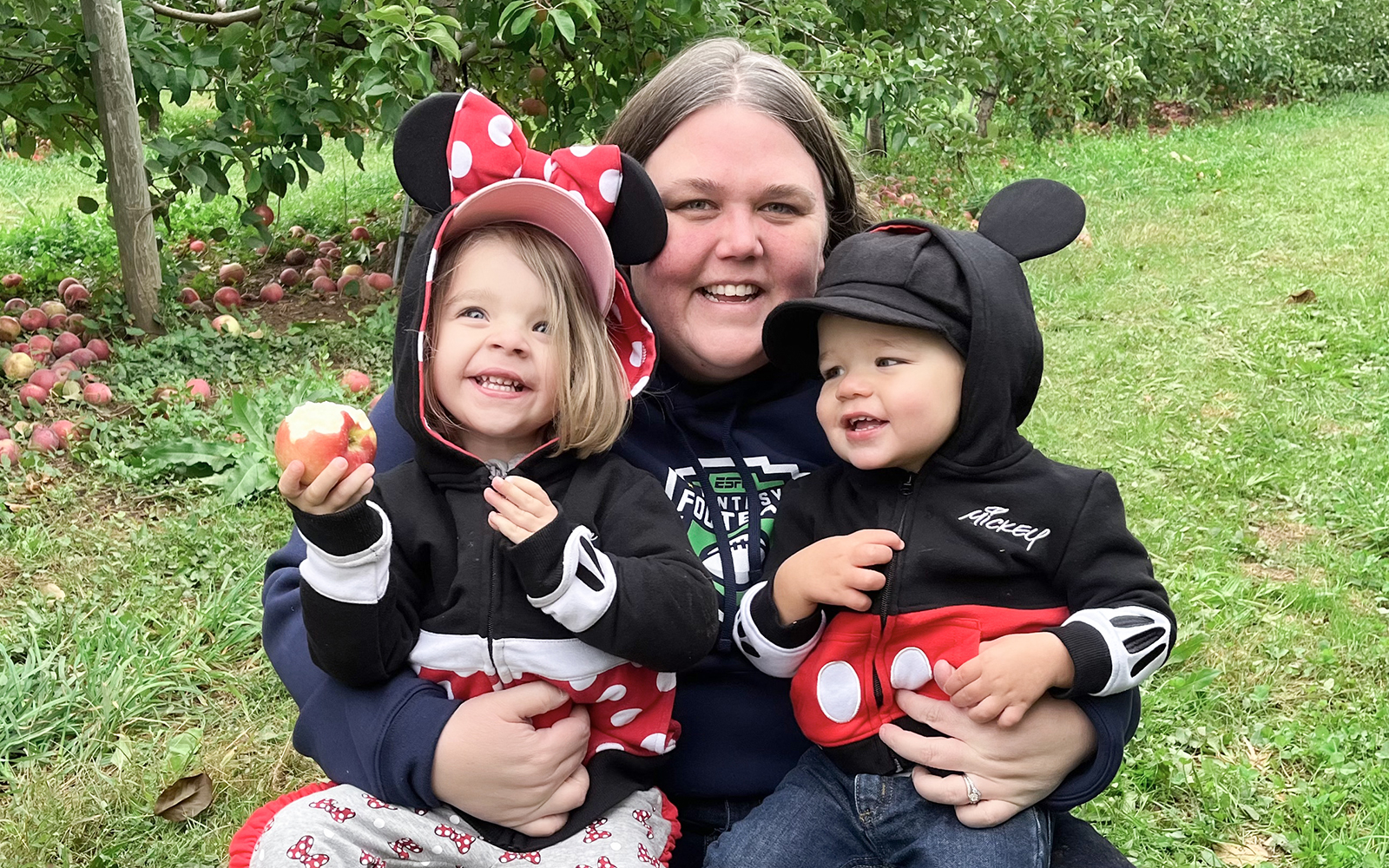 UConn MBA Program Connected Gaffney with Other Ambitious Peers
One of the greatest advantages of her UConn MBA program, was meeting a powerful new network of innovators, Gaffney said.
"What was most valuable to me was getting to know people in Connecticut, people who are ambitious, focused, creative and driven," she said.
One of them was Brian Kerr, now Associate Director of X Games Competition. At the time, Gaffney was working in healthcare, analyzing data, and was uninspired.
He said, 'Do you know that ESPN is right in your backyard?' She didn't, and he encouraged her to apply to a role there.
Growing up, Gaffney aspired to be an astronaut, but 13 knee surgeries (some from playing softball; some from genetic bad luck) made her rethink her career goals. A native of Columbia, Tenn.—known as the mule capital of the world—she attended Cumberland University in Nashville and majored in business. Her sister was a Ph.D. student at UConn, and Gaffney spent a summer at UConn taking a calculus class, which enabled her to graduate a semester early.
After completing her college degree, Gaffney's first significant professional experiences was helping to run an educational startup, based in Avon, Conn. Working for a small company was a valuable experience because she learned every aspect of the business.
"Working at the startup allowed me to figure out what I liked—leading products, projects, and people —and what I didn't—like firing people and doing payroll. There's magic when your interests, passions, and strengths align with your career," she said.
In 2010, the EdTech startup was sold, just as she was about to lease a condo and become engaged to her now-husband. Those plans were abruptly put on hold and she moved to Texas to work at the new headquarters. It was a choppy path, both personally and professionally.
"My Dad had worked at General Motors for 30 years, and I thought I would also work for one company my entire career," she said. When she was laid off just two years after relocating, she had no resume, no LinkedIn account, and no network.
"It took three months to find a job, and those were dark times, but I forever learned the value of always having a current resume, active LinkedIn, and wide network," she said. "Now I try to pass on those lessons learned to others so that they are better equipped than I was during career transitions."
"I see all these young people—some outstanding interns—who feel they have to have their lives all planned out with all the things they want to accomplish in the next five or 10 years. I want to say, 'Life will throw you curve balls. Life will happen in unpredictable ways.'" Gaffney advises these interns that while it's great to have goals, you also need to be agile and not tie your value, worth, or happiness to accomplishing all those goals in a set time frame.
Based on her experience, she urges other professionals to have a deep network to draw on. Today, Gaffney tries to be a "super connector," introducing new acquaintances to at least three people who would be valuable additions to their networks.
Cheryl Fair, president and general manager of KABC-TV in LA, has mentored Gaffney.
"What I love is her energy," Fair said. "She has incredible energy and organization, and she's a hard worker, focused on accomplishing what she sets out to do. She's also an incredibly positive person and that manifests in lots of ways. Her positivity is infectious. She's the kind of person you want in an organization, someone with a can-do attitude and a willingness to collaborate."
Fair said she's impressed by Gaffney's efforts to mentor others. "It can be a tough world for women in tech, and she's amazing at that," she said.
"Jenny is really very selfless," Fair said. "I'm amazed at what she can do. She organizes women in tech gatherings and she is the glue. She knows everyone and she connects with everyone. It's refreshing to see her take ownership of something she loves."
The Importance of Promoting Accomplishments
Gaffney said she never wants women to feel less-than at work.
"Even with all the progress we've made to recruit, retain, and promote women in tech, there are still meetings where I'm the only woman or one of the only women in technology represented," she said. "I don't want my daughter to be the minority representative if/when she joins the tech world one day. I hope I have more success at that than I do teaching her softball, because when I toss her a softball, she holds out her arms to catch it but closes her eyes! She's only 3, so we still have time," Gaffney joked.
"I feel like with the pandemic and the increase of remote work, there is an even bigger need for self-advocacy," said Gaffney, who primarily works from her home office. "In these times, you need to make sure that people recognize you and remember your name. I work hard to be visible. When I have accomplishments, I share them. I think women, especially, need to amplify their work and successes."
She also urges people to invest in themselves by setting aside 3 percent of their salary to enhance their professional development, whether that's attending a conference, reading professional books, or purchasing a subscription.
"And another piece of advice I like to share is to ABP—always be positive," she said. "It's not always easy sometimes. But people don't want to be around you if you're negative."
Gaffney's husband alumnus Chris Gaffney '09 JD is a stay-at-home Dad, non-practicing attorney, and Board of Education member in Wolcott. They try to balance family, work, and hobbies.
"In my free time I like to quilt, bake, and spend quality time with my two kids," she said. She also serves on the Yale NICU Family Advisory Board, in gratitude for the care her two children received there, and makes a yearly donation of homemade baby swaddles. Gaffney noted when her daughter Grace was in the NICU, the bright green ladybug swaddle her daughter was wrapped in brought her and her husband so much joy. Now, she makes and donates them so that other NICU families can experience a bit of happiness during extremely tough times.
Eventually, Gaffney said, she would like to become a CEO, write some business and leadership books, perhaps start her own business one day, and eventually earn a doctorate. But for now, she's right where she wants to be.
A three-time finalist for the Connecticut Technology Council's Women of Innovation award, Gaffney has lost to women who are trying to cure cancer.
"I can accept that," she said smiling. "I'm not curing cancer, but I'm building a community and bringing joy to people every day."