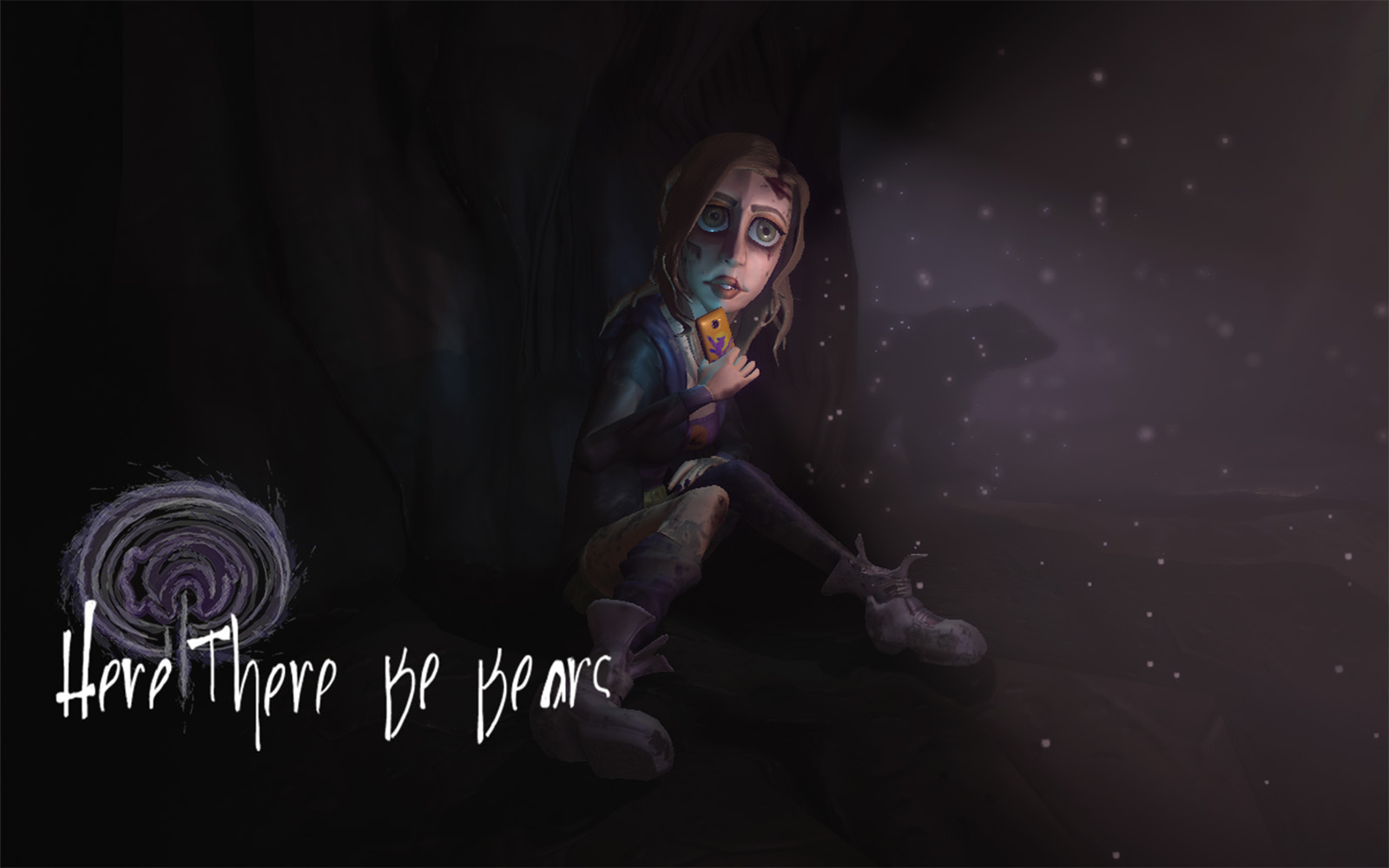 At 11 years old, Mary "Lexy" Vecchio had a traumatic, life-changing ski accident.
She was skiing alone, without a helmet, and hadn't told her family which trail she would be on. She had a terrible crash, and broke her hip. She was alone in the snow, stranded, frightened, and seriously injured. Her screams for help went unheard for a long time.
Although she's fully recovered from the accident, she suffered from years of PTSD. Out of the blue, and usually when she was home alone, something would trigger her memory of that horrible day and the emotional anguish would return like an unwelcome guest.
Today, Vecchio is creating a videogame called "Here There Be Bears," to help humanize the experience of PTSD.
Her business startup, called Ursa Mayhem Media, has taken first place in the UConn Innovation Quest (iQ) entrepreneurship competition, and Vecchio won the $15,000 grand prize.
She and eight other top entrepreneurs have begun the invitation-only iQ Summer InQbator, which will help to further develop their startups.
Videogame Features Woman Trapped in a Cave
Many people think that PTSD only impacts military veterans and rape victims, when in fact that's only a portion of those who suffer, she said. Her startup– which she describes as part film, part escape room, and part virtual-reality videogame– features Sam, a young woman trapped in a cave and fearing the bear within. She battles out-of-body experiences, flashbacks, and panic.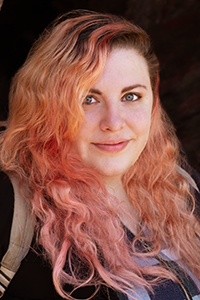 Vecchio, a Tolland, Conn. native is a graduate student pursuing an MFA in Digital Media and Design at UConn in 2023, and an Instructor of Record teaching film and video editing. She is marketing the game to mental health providers who want to connect with a young adult audience, and to people who want a better understanding of PTSD, as well as a diagnostic tool that players can use as a way to approach mental health specialists and find the appropriate treatment for their needs.
"I wanted to do something with mental health, and games with storylines that were relatable and where the main character wasn't vilified," she said. "I liked the idea of creating a humanizing experience about PTSD. The way people typically think about flashbacks is wrong. They think someone relives the whole experience. But it is about flashes and fragments and feelings that come back in bits and pieces."
"Here There Be Bears" is not designed as a therapeutic tool, although there are some calming breathing techniques embedded in the game. There really is no direct competition on the market. Vecchio, a former stage manager, wrote the script in December 2020. Originally a solo project, she now has a strong team of assistants.
"I was shocked to win iQ," she said. "I thought the big prizes would go to engineering and science inventions. Coming from fine arts, it's both humbling and exciting."
Her next steps will be to design a more sophisticated prototype, begin getting feedback from users and seek private investors. She hopes to release "Here There Be Bears" by this time next year.
Powerful Ideas, Incredible Energy
Now in its 11th year, UConn's Innovation Quest (iQ), a student-focused startup competition, has developed a commanding reputation that attracts students who are serious about creating their own businesses.
"This year's participants were bright, engaged, creative, hardworking and inspiring," said Rich Dino, associate professor emeritus and director of the iQ program. "They arrived with powerful ideas, incredible energy, and an eagerness to 'learn the ropes' about business and entrepreneurship. Thanks to a phenomenal team of mentors and advisers, they are moving quickly to take their startups to the next level."
"We are particularly excited that our Top 3 finalist teams are led by women entrepreneurs," Dino said. "This is part of an exciting trend across the nation, where 42 percent of all U.S.-owned companies are owned by women, and generate $1.9 trillion annually. More than 47 percent of our finalist teams were led by women, and we're proud of that distinction. These young women are excited to be their own bosses, to set their own career paths, and to bring economic vitality to their communities and beyond."
Webequity! To Help Dyslexic Students
The second place winner is Kianji "Kia" Huggan '22 of Danbury, who just earned a master's degree in engineering in global entrepreneurship.
Her invention, called Webequity!, is a universal accessibility web plugin that aims to ensure equitable access to online education for differently-abled learners. The invention won $10,000. She is initially trying to target college students with dyslexia. Her invention tests fonts, spacing, foreground and background colors to help students comprehend. There are 2 million college students in the U.S. alone who might benefit from the technology.
"I've always been interested in how technology can be used to help people," she said, even working on a Braille reader in high school with one of her mentors, which sparked her interest in assistive technology.
"The focus on accessibility is really expanding," she said. "Most of my competitors are focused on the website. My product is much more focused on the student."
Her next step is to refine her prototype, validate its usefulness, and then seek product feedback. She has worked on the project solo but has many advisers.
"The iQ program team was supportive and helpful, and we were all able to relate to each other's challenges and get guidance from each other, even if our products were very different," she said. "It's been great to build a community of support within that program."
"What's been most important to me is to be able to see a pathway forward," she said. "Lots of people have good ideas but iQ put the value into my ideas."
One of the best things she learned from the program was to communicate in a concise yet powerful way.
Most Challenging Competition to Judge
"This year was probably the most challenging to judge," said alumnus Keith Fox '80, who brought the iQ program to UConn. "The UConn ecosystem around entrepreneurship is so strong now that most teams have had access to resources that their predecessors didn't. The quality of applicants over the last 11 years continues to improve. They are outstanding, actually."
"What we set out to do a decade ago has taken hold. The ecosystem at UConn and throughout the state continues to grow. It's great news for the state, the university, and most importantly for the students. They will come out well prepared for their life's journey. I couldn't be happier for them."
The next phase of the challenge, known as the Summer InQbator, an-invitation only program, started Wednesday. The three iQ finalists will be joined by six other promising startup owners. Fox said the program features an expert team of mentors, many of whom are previous winners, who are returning to encourage the next cohort of entrepreneurs.
The Plant Monitor Born from a Brown Thumb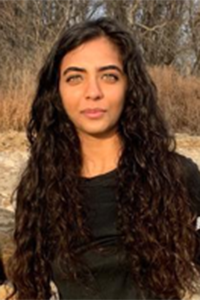 The third place winner, new graduate Harsha Jain '22, said she is excited to grow her business, called The Plant Monitor. She was awarded a $5,000 prize.
"The idea came from my own struggles," she said. "My family loves plants, and we have them everywhere. When I got to UConn, I started decorating and purchased many plants, and I killed them one by one."
She came up with an idea for an indoor-plant monitor, that tracks statistics of plant health, including sun exposure, moisture, humidity and temperature, and sends the results to a mobile app. She hopes to sell it to gardening enthusiasts through gardening centers.
"There are competitors out there, but I tried their products and didn't think they worked. They cost $40 and didn't give me the right data," said Jain, an Honors student who majored in Physics Engineering and Computer Science Engineering. "I think I can create something that works much better."
Harsha is the older sister of entrepreneur Raina Jain '24, who won the iQ competition in 2021 with her startup The QueenBee, an all-natural, organic, immune-support beverage infused with honeybee products. The sisters, who grew up in Greenwich, were both raised in a family that values nature and caring for the Earth.
Jain said she is grateful for the talented mentors that she met through iQ who were helpful, engaging, and created a strong business network for her. Currently a solo project, Jain hopes to focus more on her prototype, test her idea with consumers, and take other steps to bring it to market. She is also starting to build a business team.
"My family is new to entrepreneurship and they were a little resistant to my sister creating a business during college. But I started seeing the growth of her business, and that catapulted me into something of my own," she said.
Jain said she is excited to be part of a growing wave of women business owners.
"You can definitely see the movement in recent years," she said. "I've seen women becoming more empowered, especially at UConn. Women are taking risks and being bold. I've always felt supported at UConn. I haven't found someone who pushed me aside. Everyone is so helpful and any criticism I've been given has been designed to be constructive."