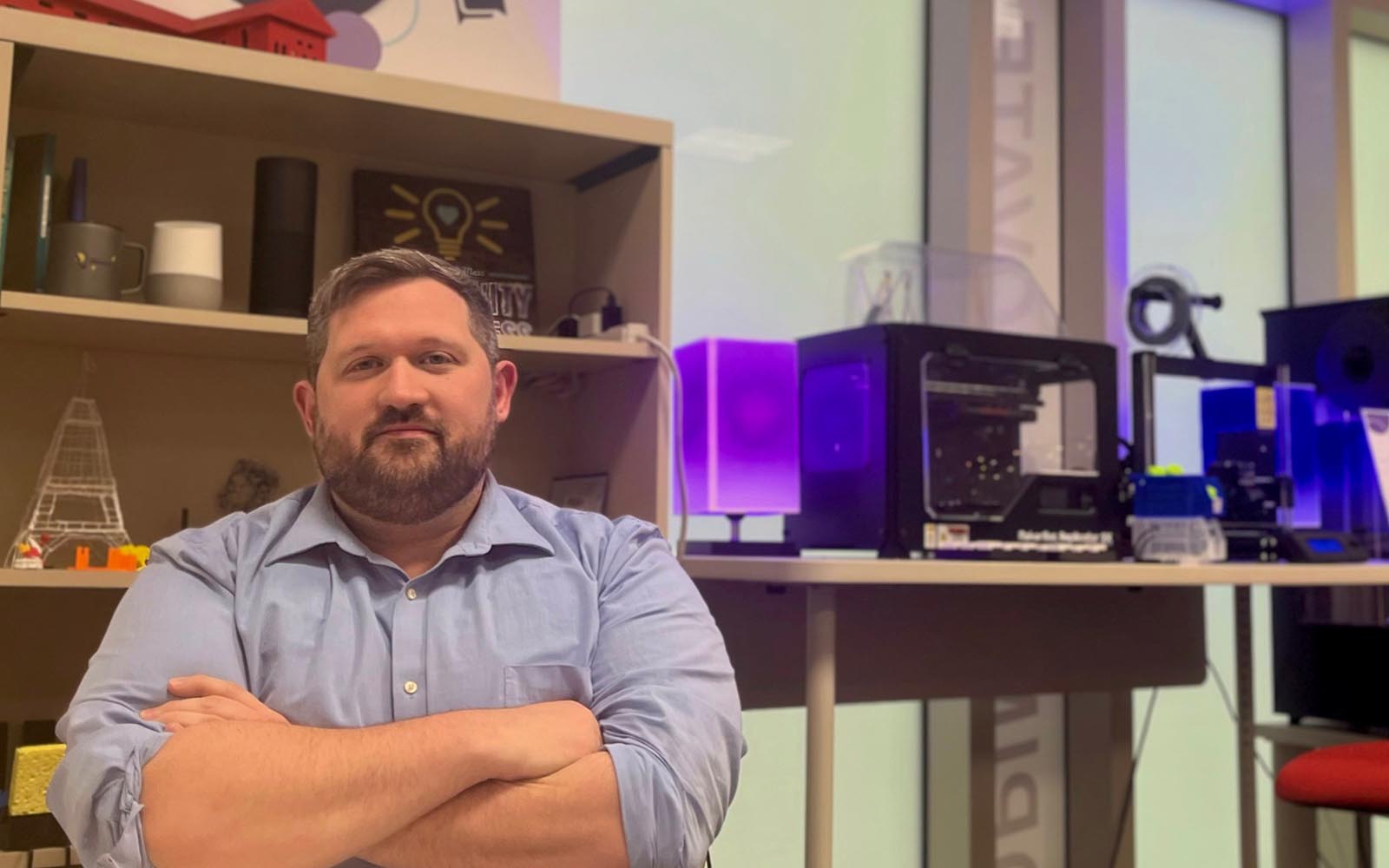 When OPIM professor Jon Moore wanted to teach undergraduates the significance of emerging technology, he created a hands-on classroom at UConn's Spring Valley Farm that used data analytics and tech to grow herbs and keep fish healthy.
Moore, who has been described by his former students as visionary, inspirational, and committed to their success, has been awarded the 2022 Teaching Innovation Award by UConn's Center for Excellence in Teaching and Learning.
A 2007 alumnus, who has worked at UConn since his graduation, Moore said he looks for potential in people, systems, and organizations, and is motivated to "help things become the best they can be."
OPIM Innovates Offers Safe Space to Explore Tech
During his time at the School of Business, Moore created OPIM Innovates, a experiential laboratory on the third floor that welcomes students, staff, and faculty to learn about emerging technology, ranging from 3D printing to virtual reality to microcontrollers.
"I wish I'd had this opportunity as a student," Moore said. "I wanted to create a place for students to explore new things without worrying about a grade; a safe space to explore without pressure."
"The careers of tomorrow are not focused on one specific skill, but the ability to navigate different environments and technologies," he said. "We need to teach students how to take chances and put themselves out there."
Looking for the 'Ah-ha Moments'
The innovative teaching award is given to a faculty member who demonstrates a commitment to continuously improving teaching through innovation and reflective practices, and who supports student engagement and learning.
In the nomination, students and faculty pointed out that Moore also helped create an annual Wellness Challenge, empowering students to come up with creative ideas to keep their peers healthy. And when he became the adviser and mentor to the student-run Information Management Association, and drew in more corporate partners and student opportunities, the membership nearly tripled. Moore has also been passionate about bringing high school students and non-profit groups to UConn to teach them about emerging tech.
In one nomination letter, a former student described Moore as genuinely concerned for his students.
"He's invested in pushing them out of their comfort zone, challenging them, and helping them grow as a young professional," the student said. "Jon invests more time in his students than any other professor I know."
"Jon has an unwavering determination to provide students with opportunities and resources that will enhance their undergraduate experience while helping them develop skills that will ensure their success in the future," she continued.
Moore has also been instrumental in the growth of the programs in the OPIM department as well. When he started working as an instructor-in-residence, the management-information systems major had 66 students enrolled; today there are 165. He also created the data analytics minor in 2017, which currently has 227 students.
Moore said he works hard to engage students.
"I think it is a combination of leading by example and showing people you care, and that's not easy because the bigger the programs get, the harder it is to have those longer conversations and connect with students," Moore said. "I think it is important to take the time to provide the opportunity for students to learn in different ways. Lots of times they don't know where to start, they're afraid. And then you see those 'ah-ha moments' and it's amazing."
Passion for Forward Motion
His colleagues also said that his work is inspiring.
"Jon is always on the cutting edge of technology to improve communication, visualization and interaction with the learning environment, and the overall learning experience," said another educator. "His passion for forward motion in his teaching methods, and fascination with imaginative applications, is contagious."
Another student said that his career benefitted from Moore's initiatives.
"My classes with Professor Moore were a refreshing change of pace at times," he said. "He taught me how important it is to not only educate students but to ensure that they have a firm understanding of how skills they learn are applicable in the modern business world," he said.
"Many companies are expecting students to have experience with these technologies, but there are no courses available for them to learn them. Professor Moore saw this disparity and created a free space where students could get the experience that they needed," he continued. "He is constantly working to connect with new business partners to help with the learning process and determine where industries are headed. I believe my experience working with Professor Moore on the OPIM Innovate initiative helped me launch my career."
What's next for Moore?
His fascination with agriculture, sustainability, and tech has led to the purchase of a farm-bot. He hopes that students will be able to program it to precisely plant and water greenhouse plants—and even weed them—while operating the entire ecosystem off the grid.