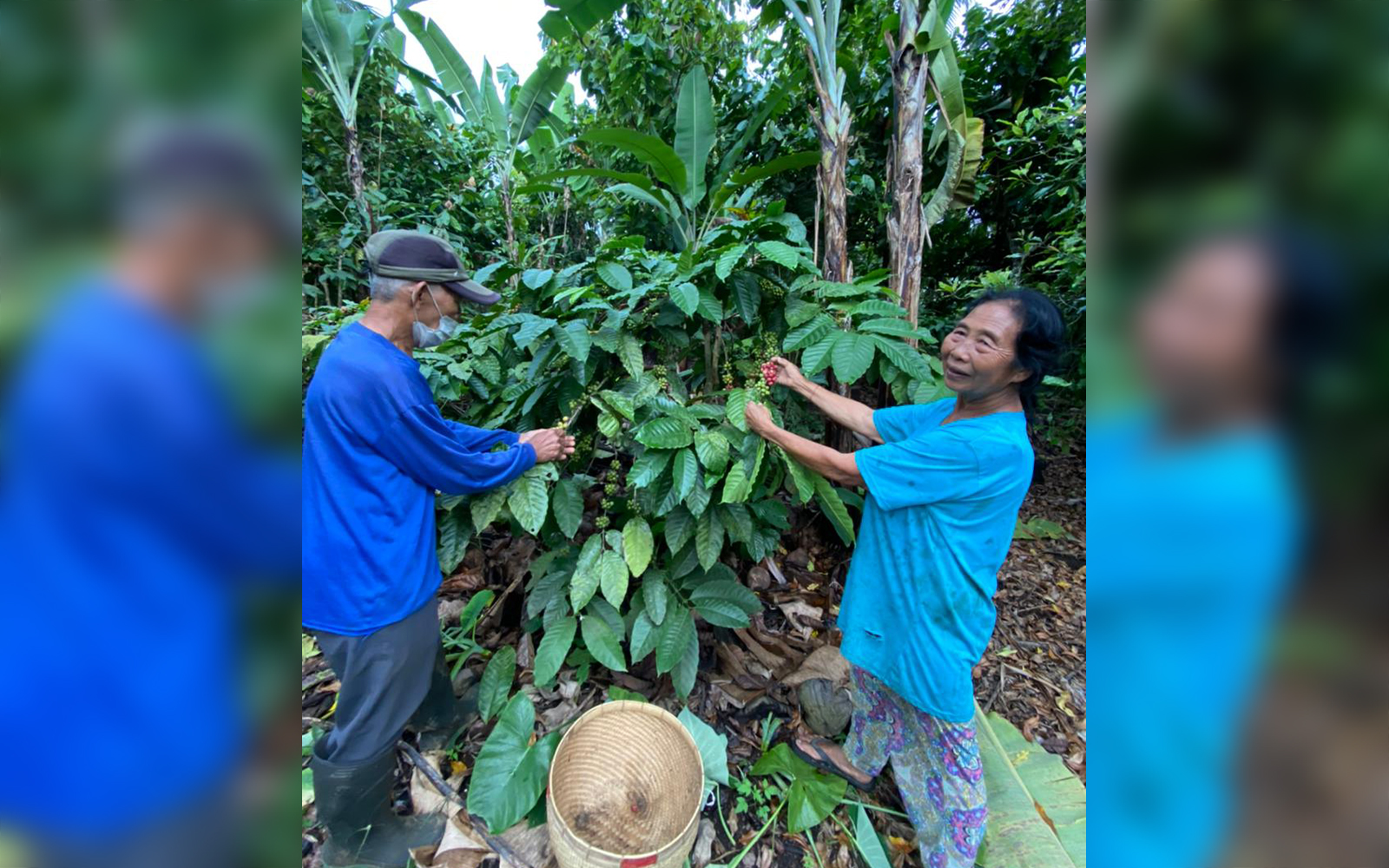 For every 300 kilograms of rich, flavorful coffee beans Rinjani Mountain Coffee growers pick on their farm in Indonesia, about 100 kilograms are unusable husks, suitable only for composting.
Or so co-owner Brett Tagrin thought.
That was before he saw the myriad opportunities to repurpose the waste byproducts dreamed up by resourceful students in the 2021 UConn International Business Case Challenge. Hosted by the School of Business for the eleventh year, the competition brought teams of undergrads from around the world to compete virtually by solving real-life business issues, and boosted their global expertise in the process.
"Intercultural competition better prepares our students for the global marketplace," said Arminda Kamphausen, associate director of Global Business Programs. "It allows our students to get a better perspective on what's going on in the world. It's a matter of giving them the education and experience they need."
Twenty-six students participated in this year's competition, chosen by six universities from Australia, Ireland, Italy, Germany and the United States.
Each team is made up of members from different institutions, offering fresh perspectives and the added challenge of working virtually in different time zones, due to the constraints of COVID, said Lucy Gilson, associate dean of faculty and outreach at the UConn School of Business. Students are placed on teams by school and major, including marketing, IT/operations management, management/global business and finance/accounting.
For the first time, UConn teamed with the Asia Institute, allowing the teams to consider challenges faced by real companies instead of hypothetical cases. Rinjani Mountain Coffee hoped to increase its customer and revenue base, as well as address sustainability issues, such as uses for waste products. Another business, Forum Tauri Development Co., was looking for smart ways to keep young people from leaving Japan's rural regions for the big cities, by encouraging entrepreneurship.
Once assigned a problem, teams had to research together to present feasible and creative business solutions. The students had four weeks to prepare before the live presentations, feedback and final judging.
Team-building activities, a T-shirt exchange and coming up with humorous names for the international squads help build a sense of camaraderie and fun. UConn graduate students and alumni mentors, provided feedback and judge the teams.
"Their input was helping small businesses succeed," Gilson said.
Jennifer Ndjomou, a third-year UConn MIS student, said she enjoyed the challenge of working with her far-flung teammates, who were as much as 14 hours apart. Their persistence paid off: The team won the Forum Tauri challenge.
"By being flexible and communicative with each other, we were able to overcome this aspect and overcoming obstacles is an important skill for the workplace as well," she said.
Jonathan Pilz, a senior studying business administration at Germany's University of Tübingen, is spending a semester abroad at UConn this fall. He was on Team Mushbrains RCC, and met twice a week in the lead up to the final rounds, with his colleagues Mykki Fuduolff of Florida State University and David "DJ" Needs of Belmont University.
They spent time researching whether the coffee farm, which is based in Lombok, Indonesia, should export internationally, and working on a full market analysis of the company's ideal customer, Pilz said.
"We split up our work into three different parts, as each of us brought different expertise to the table," he said. "Mykki was great in marketing and DJ had knowledge about pricing and cost structures. I mostly worked on the overall business strategy and the logistics of the project.
"We then tried to get all of this into a 15-minute presentation, which turned out to be quite a challenge. But overall, I think we definitely covered the entire scope of the project and we all were very happy with the final product!," he said.
The team took first place in the Rinjani Mountain Coffee competition. The farm is unusual in Indonesia, as its leadership is committed to sustainable farming and caring for the land that supports their work and family, said Tagrin.
He is already experimenting with the "bright and energetic" students' ideas – from creating antioxidant-rich cascara tea from byproducts to fashioning bean bags from the coffee bags.
"They use hundreds of bean bags [for seating] on the beaches here, and when they break open, they spill out the styrofoam filling," he said. "We are going to do some pillows to try and promote a more eco-friendly bean bag. I think that's a good idea."
Creating and marketing cascara tea allows the company to expand its product line in a similar market to coffee, but targeting a different audience, said Hugh O'Gara, a senior bachelor of commerce student from University College in Dublin, Ireland.
His team also recommended the company market a transformative travel experience, promoting the natural beauty around Mount Rinjani, and spotlighting the region's culture, traditions, and superior coffee.
"This type of travel involves showing visitors around the local area and the coffee farm itself, taking time to learn about the region, its people, its struggles and its potential," O'Gara said. "We felt that while these ideas served different purposes on the surface, they both helped the community as a whole."
Jennifer Norris, a liaison between the Asia Institute and local companies, said both companies who provided the challenges plan to try any feasible solutions. The Institute plans to work on the competition again next year, she said.
"Overall, it was great to see the creative output of the students and to hear their ambitious projections," she said. "The students conducted themselves professionally and represented their teams and institutions well."
As for Tagrin, he's happily tinkering with the teams' ideas.
"Personally, we felt overwhelmed with emotion from the students' work on the project," he said. "We loved all of it. For us, it was a great step forward in helping us to achieve our goals and we are very grateful for all the work the students put into it."