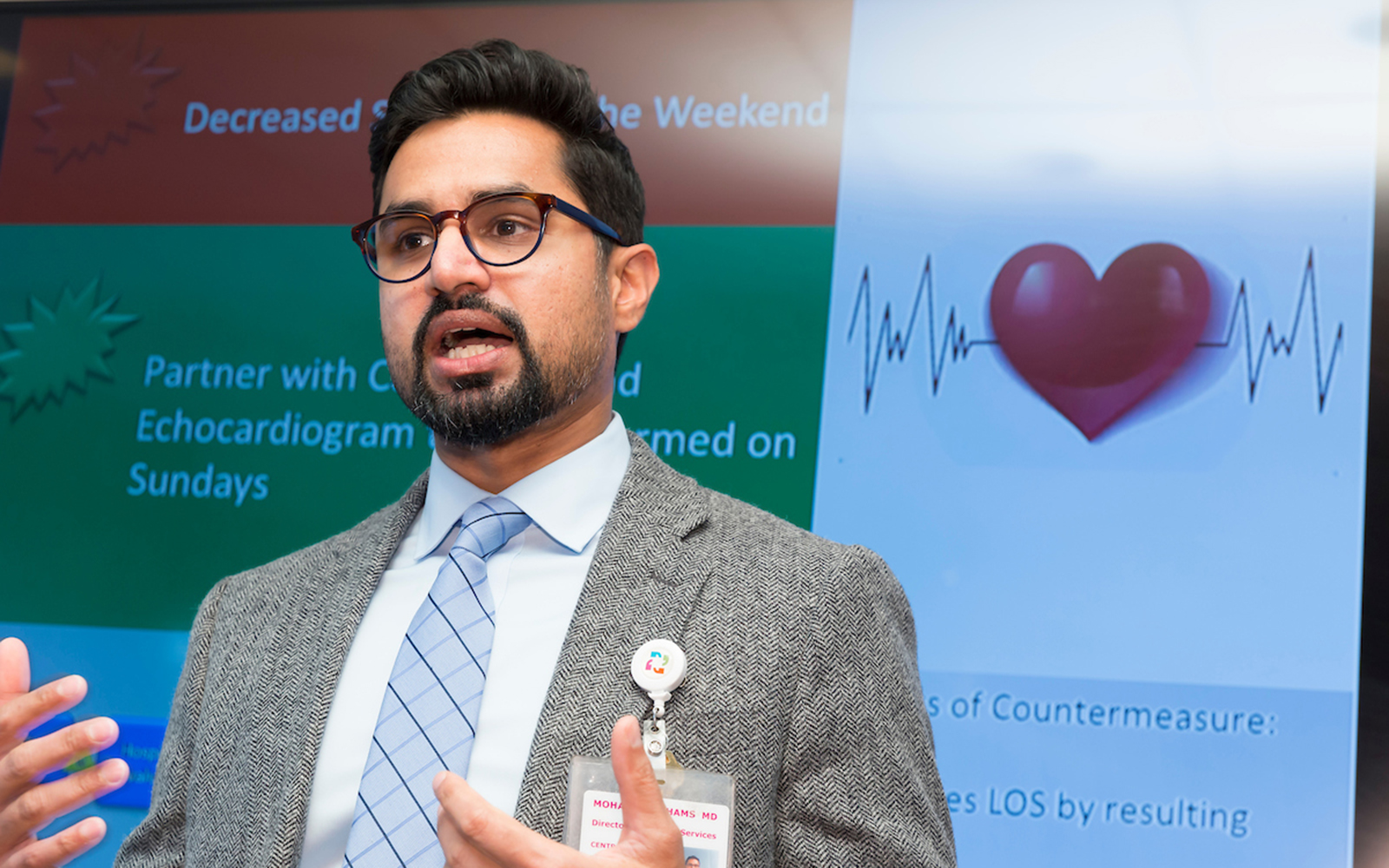 During the height of the pandemic, when hospitals were overflowing with COVID-19 patients, Dr. Mohammed "Ameer" Shams '18 MBA made a bold decision.
Because hospitals were above capacity and inpatient beds were unavailable, he thought: Why not send the younger COVID patients, who had a good prognosis, home with supplemental oxygen and very close medical monitoring, and allow them to recover at home?
The decision was bold and unprecedented—and extremely successful.
Shams said he wouldn't have started The COVID at Home Intensive Program without the benefit of his UConn MBA degree. The master's degree program taught him not to accept the status quo but to seek better solutions.
"Before I got my MBA, I would have been skittish to do something like this. The UConn MBA made me see the value in innovation, trying new programs, and delivering results," said Shams, who just earned a promotion to Chief of Medicine in Hartford Healthcare's Central Region. In his new role he will be directing patient care at hospitals in Meriden, Southington and New Britain.
At-Home Patients Recovered More Quickly
Patients in the COVID at Home Intensive Program were able to wean off oxygen in about 2 ½ days, versus the hospitalized patients who were typically on oxygen for six days. The 40 participants had constant monitoring of their heart rate and oxygen levels by medical staff, and were able to have nursing visits in their home.
"We found that patients did much better in their own homes," said Shams, who is also an Assistant Professor of Medicine at UConn's Medical School and at Quinnipiac University. "They slept better, were more active, they were able to wean off oxygen more quickly. Patients were happy to be home, and we had more capacity in the hospital for the sicker patients."
In total, the program saved 110 patient hospital days, and 93 percent of the surveyed patients said they would likely recommend the COVID At Home program to others. Now, Shams and his team are creating a similar program for patients with COPD, and are hoping to publish their findings in a medical journal.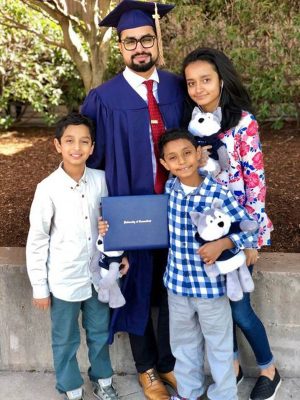 Physician Routinely Studied at 4 a.m. to Complete MBA
Shams' new responsibilities include managing 40 hospital physicians, at MidState Medical Center in Meriden, The Hospital of Central Connecticut in New Britain, and its auxiliary Bradley Memorial Hospital in Southington. He is also the physician liaison with the administration in Hartford.
One of his short-term goals is to build a more robust palliative-care program to serve a state with an aging, and often chronically ill, population. He aims to help providers give clear expectations of what medical science can offer patients, the pros and cons of treatment, and provide additional resources if needed.
"I like to build stuff, particularly programs that serve the community that previously didn't exist," he said. "Through the UConn MBA program I learned to be an out-of-the-box thinker and to step out of my comfort zone."
"As physicians, we follow 'best practices,'" he said. "Business is more of an iterative process. It encourages risk-taking, in a controlled way, that I wouldn't have been exposed to if it weren't for the business school."
Shams completed his MBA through the part-time program, which allowed" him to balance a full-time job, his education pursuits, and the needs of his family, including three young children. The first year he got up routinely at 4 a.m. to study, but later opted to devote six hours every Saturday and Sunday to classwork, often camped out at a local coffee shop.
"I enrolled in the part-time program intentionally," he said. "Having the ability to use what I learned in class at work the very next day reinforced the ideas. I savored it, and used what I learned to build my leadership capabilities."
"The professors were very encouraging and very supportive," he said. "I found that the UConn professors really lit a fire. One of the things I learned from my professors was the importance of reading, reading, reading. I continue to read business and leadership books, even now."
Post-COVID: A Plea for Renewed Respect for Healthcare Workers
Shams said there are many lessons to be learned after the COVID pandemic, and one of them is the importance of regular, preventive healthcare.
"Now people are seeking medical care and arriving in our offices and hospitals sicker, and with multiple active issues," he said. "When the pandemic was rampant, people had to make tough decisions on care. Maybe a knee replacement could wait a bit, but not a heart attack."
He said the demand for surgeries has risen and, unfortunately, the public hasn't donated as much blood as needed. He urged those who are able to attend a blood drive to do so.
The dedication of medical staff during the pandemic is something that Shams said he will never forget, and something he hopes that the world will not either.
"During the peak of the pandemic, doctors, nurses and other medical providers gave care at their own peril and risked their own safety," he said. "It speaks highly of the altruistic nature of healthcare workers. Some slept in the basement of their homes for six months so that they could come to work and take care of patients without risking the health of their own families."
"They overcame the fear, stepped up, and went to work," he said. "We celebrated them as heroes, but we, as a society, tend to forget quickly. I hope the lessons that society learned is that healthcare providers do it selflessly, and we need to hold them forever in high regard."