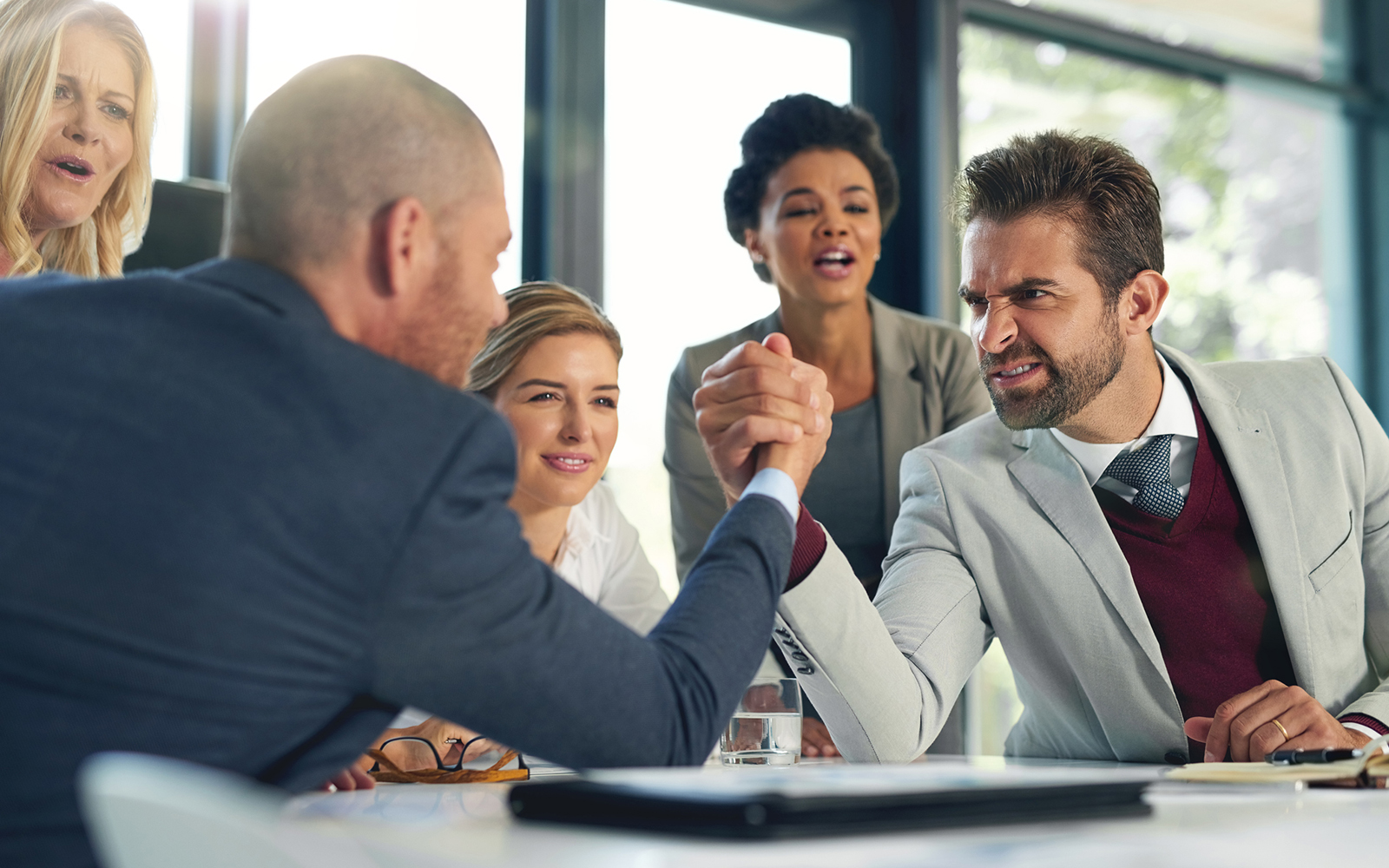 Although MBA student Nishant Jain and his team won first-place in the 6th Annual Business Law Negotiation competition last week, there really was no way to lose, he said.
"The ability to negotiate is a necessary skillset for any professional, and to be able to develop and refine this skill was a fantastic opportunity," said Jain, whose teammates were law students Magdalena Klin and Jacqueline Cushing. "It is going to be very useful, especially when I am job hunting or trying to move up the ladder in an organization."
"For me, the one important takeaway from this competition was the importance of preparation before negotiation. A good preparation means half the job is already done, and I can say with confidence that we were the better-prepared team," he said. "I learned about when to walk away from the table or how to stand my ground, both equally important when negotiating. It was an amazing experience."
A screenshot from this year's Business Law Negotiation competition, held virtually (Contributed Photo)
UConn Students To Participate in International Challenge
Some 48 graduate students from the School of Business and the School of Law participated in the virtual challenge on Jan. 29 and 30. The winning team will compete in an international competition and will likely be joined by the second-place team, composed of Jasdeep Singh, a part-time MBA student, and law students Sam Gagnon and Kelly MacCluen.
Last year, a UConn team captured third place in the international competition.
The year's main case involved negotiations between the founders and investors of a new company. The key was to convince the other party that the corporate evaluation is fair and to build a trusting relationship. Success hinged more on relationship building than presenting facts, said management professor Nora Madjar, who runs the challenge with law professor Jessica Rubin.
"It is very exciting to see more business students realize how valuable it is to be able to negotiate well, no matter what you do," Madjar said. "The business students are very enthusiastic about the competition and they see the value of working hand-in-hand with law students, who think differently and approach the same negotiation problem from a different perspective. It is great to watch the collaboration exhibited at the negotiation table from these interdisciplinary teams."
"This year's teams impressed me with their versatility in negotiating," Rubin added. "Students not only managed the challenges of online negotiation, but strategically used that format, running hidden spreadsheets, calculations, and text conversations among team members."
Varied Strengths Built a Stronger Team
Although Jain, Klin and Cushing were strangers before the competition began, that didn't impede their success.
"We found that our biggest power as a team was our synergy," Klin said. "We each brought different strengths to the table, which worked really well together in practice. Among other things, Jacqueline was great at building trust with our opponents, while Nishant had great math and financial skills."
"We shared speaking time relatively equally; but, when one of us needed assistance, there was always someone ready to jump in," Klin said. "My teammates are both very well spoken and I'm honored to have had the chance to work with them!"
Cushing said the team has already started mapping out a strategy for the international challenge in the spring.
"In addition to working with our faculty mentors and researching the specific judging criteria, we will make a thorough, yet flexible, game plan," Cushing said. In addition to their thorough negotiation strategy, they worked hard to build a strong and respectful team.
"We paid attention to the importance of ensuring a good working relationship in the future," Cushing said. "Additionally, each one of us has different strengths, styles of communication, backgrounds and approaches, and we worked best when we allowed each of us to operate in their own strength. I am confident that the more we work together, the better we will become as a team unit."
"Win or lose, this experience will certainly serve all of us well as the world becomes more interconnected; if anything, this past year has shown us how much people can adapt, and being able to come to a mutually beneficial deal across distance and technological platforms is a skill that will become more and more valuable," Cushing said. "The way to effectively interact through technology is something everyone is figuring out at the same time, and being able to be flexible and strategic with the tools available is an exciting challenge."
Competition Intensified Due to Online Challenges
"The event has always required collaboration between law and business students – that is a feature that Professor Madjar and I built into it from the start, believing that such collaboration is essential for legal and business professionals," Rubin said. "This year's online event added a new skill-set and, as a result, students experienced what is, in very real time, evolving as a new way of conducting business negotiations. I am confident that participating students will be better prepared for online negotiating as they enter their professions."
"I believe it is very impressive how our students have mastered the technology and can negotiate online as well as they can negotiate face to face – this is very hard as one is missing non-verbal cues and understanding but it seems that the students have adjusted very well," Madjar agreed. "They demonstrated it with the deals they managed to craft in such a short time during the negotiation competition."