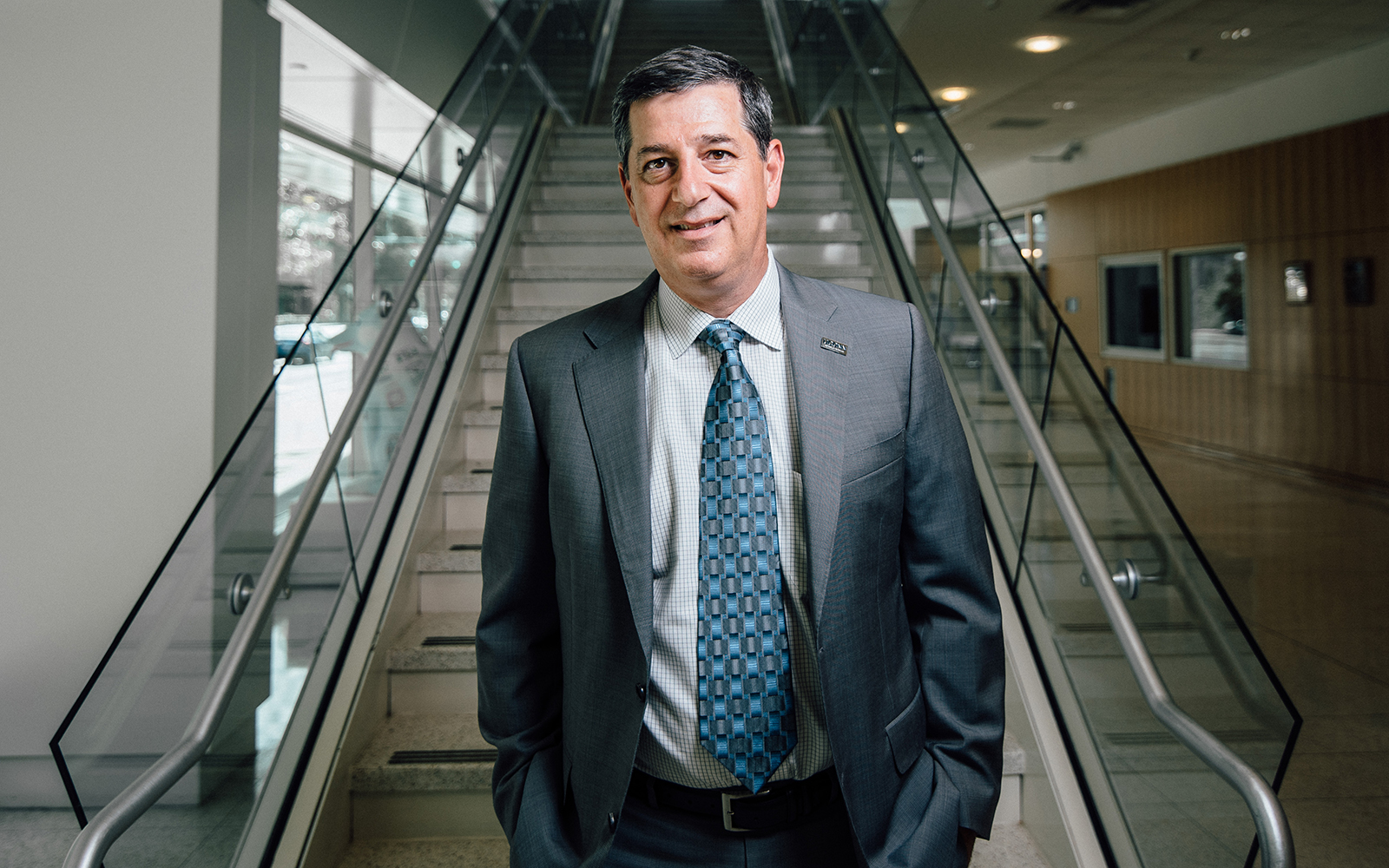 Even in a year of unprecedented upheaval like this one, exceptional business leaders must persevere, said former Walmart CEO and UConn alumnus Bill Simon '81, '88 MBA.
Simon will discuss "Embracing Change in Challenging Times," as the keynote speaker at the School of Business' Rosenberg McVay Business Leadership lecture on Oct. 22. The virtual presentation is open to School of Business students and alumni.
"A year ago, if I asked anyone in the business world to write down the worst thing that could happen, no one would have predicted a global pandemic, civil unrest, and tragic wildfires, all in the same year," he said in a recent interview.
"You've got to build a business plan that will allow your company to succeed regardless of the chaos in the rest of the world," he said. "You do that with personal skill, discipline, kindness and good judgement."
Simon, Team Created Walmart's $4 Prescription Plan
Simon grew up in Manchester, Conn., and earned both a bachelor's degree in economics and an MBA at UConn. Prior to joining Walmart, Simon worked at Brinker International, Diageo, Cadbury-Schweppes, PepsiCo and RJR-Nabisco. He also served as the Secretary of the Florida Department of Management Services under Gov. Jeb Bush.
Simon was hired by Walmart in 2006, and he and his team made the bold and unprecedented decision to create a $4 flat-rate prescription price for many medications. The gamble paid off, and Walmart's share of prescription drugs tripled. Simon later became the President and CEO of Walmart U.S., serving in that role from 2010 to 2014.
One of the traits he plans to speak about in the presentation is the importance of taking risks, even when skeptics say a plan is impossible. The inexpensive prescription plan was a risky decision and Simon worried about whether it would work—and whether he'd be fired if it didn't. His wife, UConn alumna Tammy Thornton Simon encouraged him to stick with his convictions. The program saved customers nearly $3.5 billion on medication.
Taking risks is something that a good leader needs to do professionally, but also that can help create a better world, he said.
As retailers, for instance, grapple with changing demands for clothing, they need to be agile and pivot, he said. They can't sell many dresses and business suits, but they can sell pajamas and casual clothing.
"Part of the lesson is don't walk off the cliff. Find out what customers want and deliver it for them," he said. "The back-to-school and Halloween sales seem to be disappointing, but sporting goods stores have done extraordinarily well selling camping, fishing and outdoor equipment. As people wanted to do more outdoors, they were able to respond to that demand."
Great Leaders Inspire Greatness in Others
Another important quality of a leader is to be kind, truthful, and generous, Simon said. Great leaders earn loyalty and respect by setting high expectations for themselves first.
"You earn your leadership stripes by being a trusted person who people want to follow," he said.
Simon served 25 years in the U.S. Navy and Naval Reserves, receiving commendations for combat service in Grenada as well as peacekeeping efforts in Lebanon. As a reservist, he was the Executive Office aboard a minesweeper.
When Simon began his military service as a 22-year-old Ensign, he reported to Captain Don Dyer, who, from day one, gave Simon a vote of confidence. "I don't know you, but I trust you," Dyer told his subordinate. "Your country is counting on you. While you might make mistakes, we're all in this together. Now, go do your job!"
Dyer inspired greatness in those who reported to him, and Simon said he has tried to do the same. When people know they are expected to excel, they usually will, he said.
Simon sees similar leadership today in Eugene Lee Jr., the CEO of Darden Restaurants, which owns Olive Garden, Longhorn Steakhouse, and others. Lee took no pay during the pandemic, said Simon, who serves on the company's Board of Directors.
"He cares deeply about the people who work there and knows his role as a leader. I'm sure he'll be successful," Simon said. "He's a great example of someone who is ready for difficult times and willing to preserve through them."
For more information about the Rosenberg-McVay presentation or to register for the event, please visit: s.uconn.edu/rosenbergmcvay20.