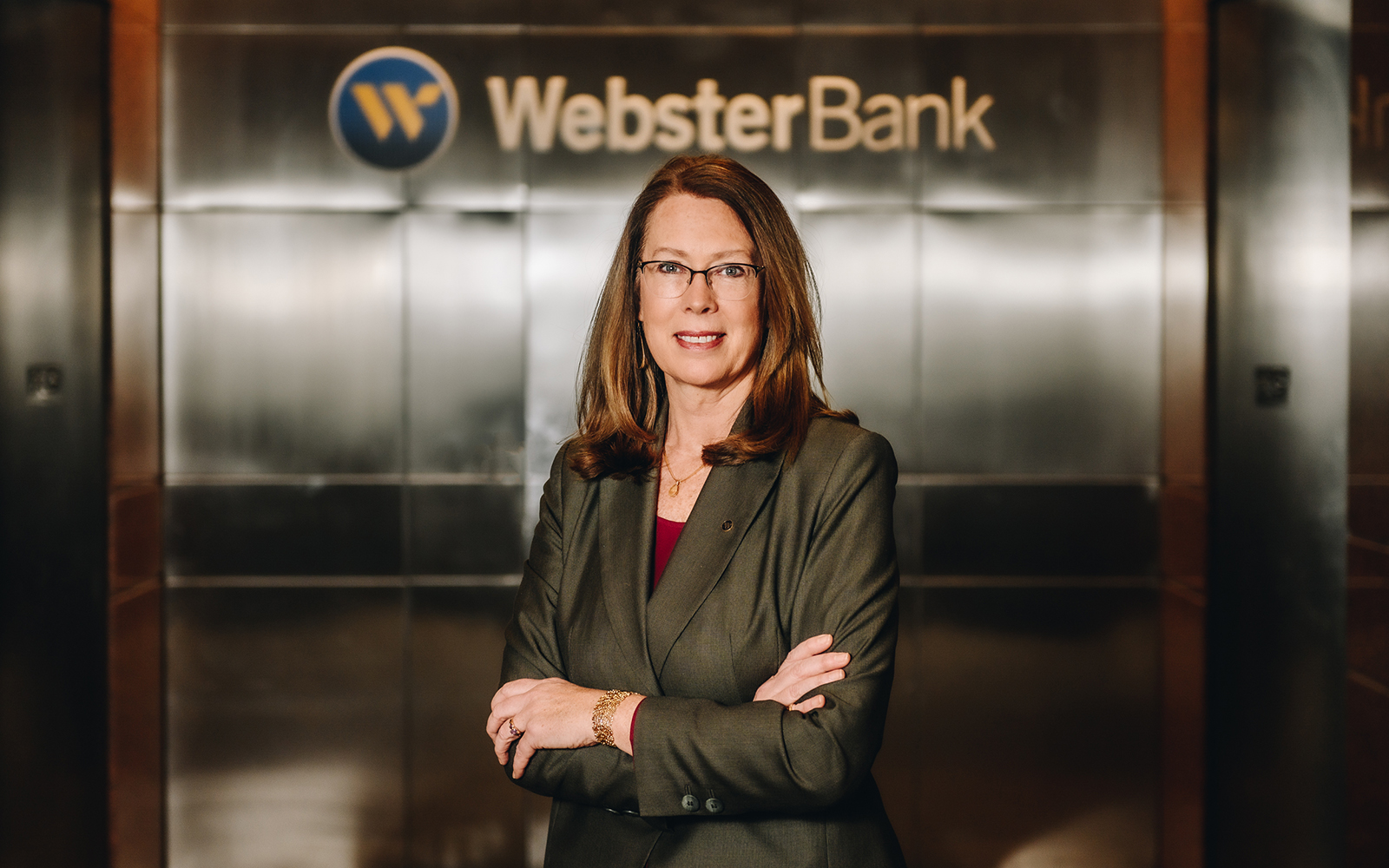 Few people are lucky enough to traverse the road of life without hitting a few potholes. For alumna Kathy Luria '91, senior vice president, community affairs and director of philanthropy at Webster Bank, that jarring, shake-you-to-the-core moment came in 1988.
A stay-at-home mother with a 2-year-old son, Luria found herself embroiled in an unexpected divorce. With no job, no income, and a young child still in diapers, her first reaction was complete disbelief.
"I was horrified at my circumstances and I kept asking myself, 'How did this happen?'" she recalled. For several years, she barely had enough money to pay the $600 rent, and worried constantly about whether she could afford to feed her child and herself. She had to ask others for help.
Today, Luria oversees Webster Bank's $5 million philanthropic and economic development initiatives. She organizes the bank's far-reaching projects, including a record-setting campaign that last year raised $1.7 million for the United Way.
She spearheads community-focused projects, including efforts to end food insecurity and to educate young people about money management. And she coordinates volunteer opportunities for more than 3,400 bank employees, who are offered 16 paid hours each year to volunteer in the community.
Richard Porth, president and CEO of the United Way of Connecticut, has known Luria for 15 years and serves with her on the Connecticut Council for Philanthropy. He described her as an outstanding leader with a talent for fostering camaraderie.
"First and foremost, Kathy leads by example. She's accessible, a great listener, and she cares about both the projects she works on and the community," he said. "She's not only a wonderful person, she's very smart, a good leader who listens and allows people to help shape how we can, collectively, address our biggest challenges."
Not Long Ago, Philanthropy Was a Secret
Luria has been leading corporate philanthropy since she joined Webster in 2006. Although serving the community was a high priority of the bank, it wasn't embraced by the larger business community then as it is today.
"I often hear from students that they want to work at organizations, like Webster, where there's an emphasis on giving to the community," she said. "Corporate philanthropy has been a part of the fabric of who we are since the bank was founded in 1935. Our bank was originally created so that people could borrow money to build homes."
"Giving back to the community, historically, is something we kept very quiet and behind-the-scenes," she said. "But over the last seven years, I think things have shifted. Employees want to do more and give back more. Corporations today, small or giant, are putting the good that they do in the forefront. CEOs are making it a priority. Whether you're in banking, manufacturing or technology, everyone is looking outward."
In October 2019, Luria was honored with the American Bankers Association Foundation's George Bailey Distinguished Service Award, in recognition of her efforts to enhance the bank's commitment to supporting the people and communities that Webster serves. It is given to a non-CEO who demonstrates outstanding initiative, commitment to customers and community, and the ability to inspire others.
John R. Ciulla, president and CEO of Webster Bank, said Luria's impact has been powerful.
"Our people are our greatest differentiator, and Kathy's efforts at engaging the bank with nonprofits helps all of our bankers, at every level, make a tangible difference in the communities where we live and work," Ciulla said. Although concentrated in the Northeast, Webster's reach also extends to Pennsylvania and Wisconsin.
Philanthropy is constantly evolving, Luria said. During her tenure at Webster, she refined the corporate giving program from an immediate, grant-based approach to one that partners with organizations at the forefront of solving the root causes of issues. Her goal is to be purposeful and empathetic; to serve and to lead.
One of the biggest challenges of her job, Luria said, is that she can't help every organization that requests it. But Luria lives by two rules: she will always, always return a phone call; and if she can't offer help, she will try to recommend someone who can.
"I pinch myself because when I started on my career path, I never thought I'd be here," Luria said.
Once Told She Wasn't College Material, Luria is Now a UConn Adjunct Professor
When Luria, a Southbury, Conn. native, graduated from high school, her guidance counselor told Luria's mother that she need not pursue college. Then a C-student, Luria can still recall the anger she felt at the implication that she didn't measure up.
"In my head I said, 'I'll show you!'" she recalled. She graduated from Mt. Ida Junior College in 1978 with an associate's degree, and became a medical transcriptionist, working in the field for some time.
After marrying and having a child, she became a stay-at-home mom. After her divorce, she answered a newspaper ad for a job as a temporary secretary, working for the president of Mattatuck Community College, now known as Naugatuck Valley Community College.
He recognized her potential, but told her he couldn't offer her a higher-level position unless she earned a college degree. She enrolled in UConn's Bachelor of General Studies (BGS) program, back when the campus was on Hillside Avenue, before its move to downtown Waterbury. A Pell grant paid her tuition; she sought state assistance to cover childcare; she received assistance from the electric company, and accepted food baskets at the holidays.
She credits her success to professors and mentors "who saw potential and promise in me, when I did not," Luria said. One of those people was Tracie Borden, director of administration & external affairs at the Waterbury campus. The two have since become good friends.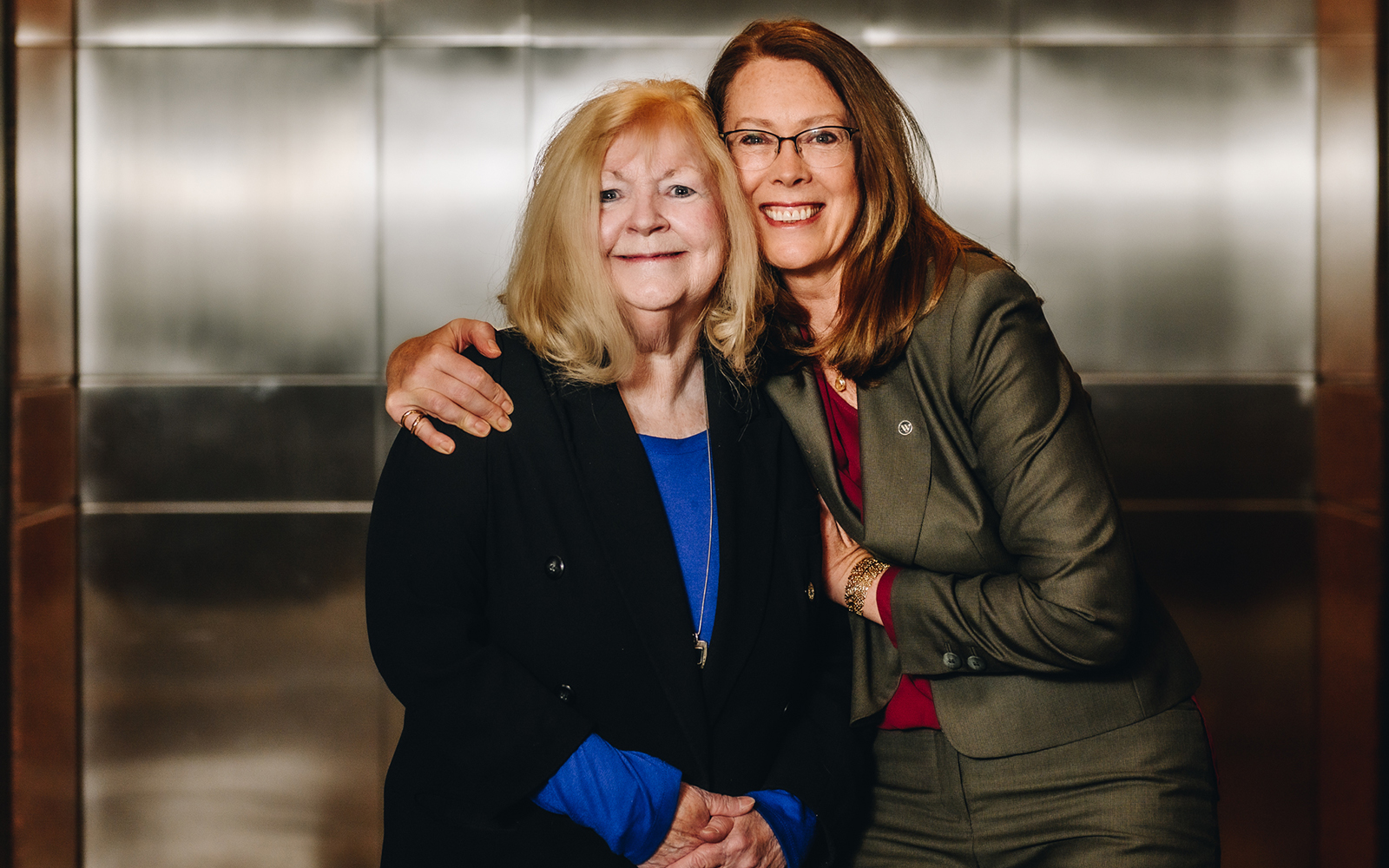 "Kathy was a star student from the moment she entered UConn until the time she graduated," Borden said. "As a single mother, she had many challenges, but she was always committed, and driven, to complete her degree. And, in her professional life, both in higher education and in banking, she always made it her mission to make the community a better place. She does this with endless energy, generosity of spirit, enthusiasm and passion."
Luria became the director of marketing and public relations for Naugatuck Valley, spending 20 years at the college. She even gave a commencement speech there, explaining the hurdles she faced when pursuing her own degree.
"It seems inevitable that when you're given an opportunity to grow, you're handed two or three challenges that force you to make a choice: fall down and give up, or carry on and say to yourself, 'Bring it on!'" she told the graduates. "Be proud of your own voice, especially when you sing out of tune with traditional expectations…Leave the world a better place than you found it. You have the power to make your life incredible."
Although typically a private person, she shares her story with the anticipation of making a difference for others.
"My hope is to inspire other people who may have thought about going back to school," said Luria, who later earned an MBA from the University of New Haven and has never given up the idea of pursuing her doctorate. "Education is a game-changer."
In addition to her work at Webster, Luria is board chair of the Connecticut Council for Philanthropy, and serves on the Federal Reserve Bank of Boston Working Cities Challenge Advisory Council.
For the last 12 years, Luria has served as a UConn adjunct faculty member, teaching business communications at the Waterbury campus. The joy comes not only from teaching, but also from championing the next generation.
"Our students come from an array of backgrounds. Some have never had a family member in college before," she said. "If I can get someone to say, 'I can do this!' then I've done my job."