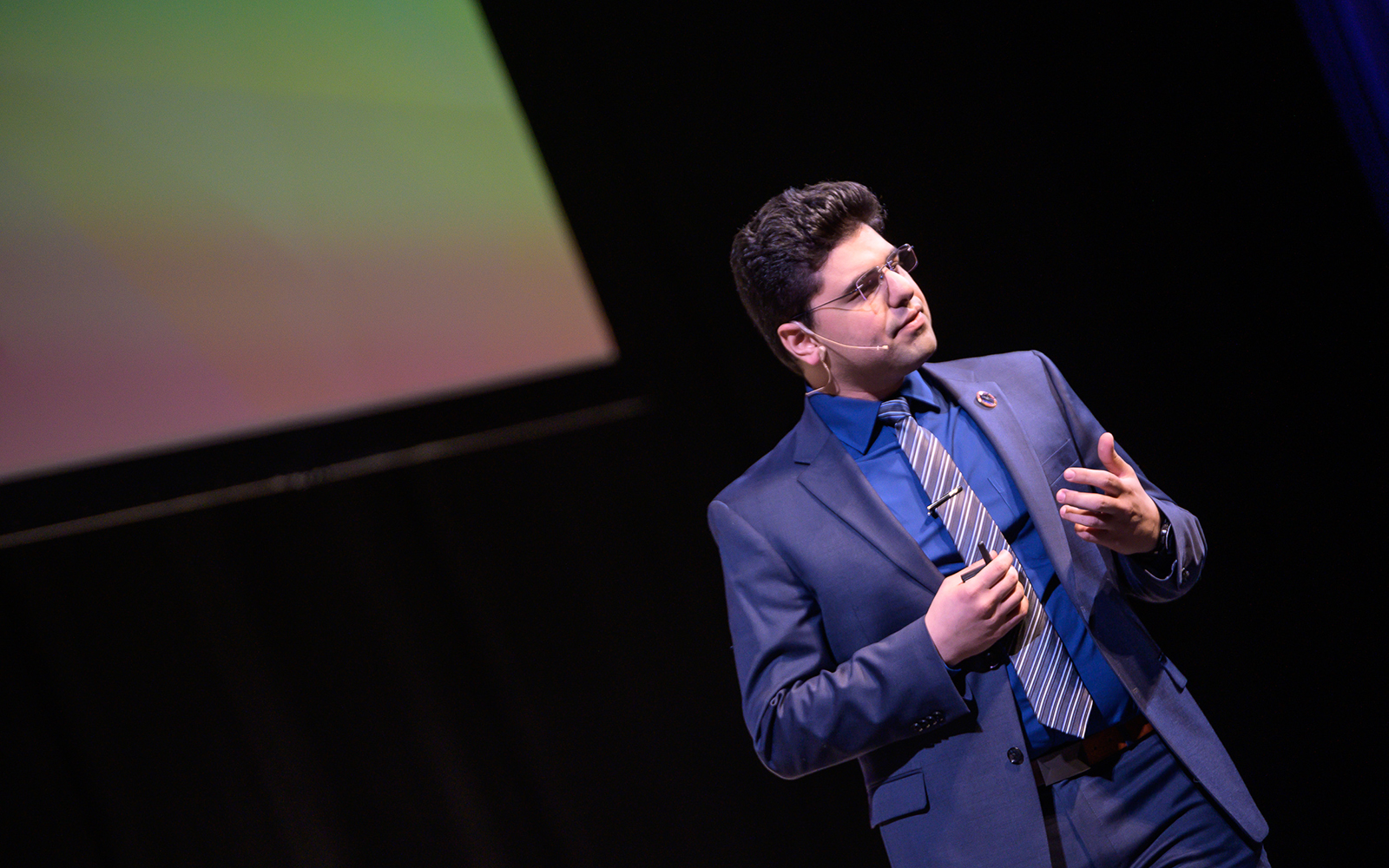 The excitement was palpable Monday night as 10 health care startups, including two that are UConn-grown, shared their medical technology innovations that promise unique solutions for some of medicine's most vexing problems.
"Startups always talk about changing the world, but these companies will absolutely change lives," said entrepreneurship expert Alex Farcet, who was among hundreds of people who packed The Bushnell theater.
The audience—composed of health care, business and economic development executives—cheered loudly for the startups, who had just completed a 12-week business accelerator program, sponsored by Hartford HealthCare, the UConn School of Business, Launch Hartford and Trinity College.
Many of the speakers at the event spoke passionately about how Hartford's commitment to incubate innovative medical technology could bring lasting economic growth to the region.
Medical Startups Face a Grueling Challenge
Dr. Barry Stein, chief clinical innovation officer at Hartford HealthCare, described the startups as "the seeds of our future."
"I'm super excited for Hartford and for the startups to work in our health care system and address real problems that impact everyone," Stein said. "For medical startups, success is extraordinarily difficult to achieve, because there are so many dimensions required to accelerate these companies."
"Oftentimes health care can be very 'silo-ed.' To have an environment that provides that critical support is everything, it's gold," he said. "I couldn't be happier to celebrate their success and show the world what we in Hartford can do to transform health care delivery."
David Souder, interim dean of the School of Business, agreed, adding that digital health is creating new entrepreneurial opportunities. He said he is especially proud of Encapsulate and QRfertile, two UConn startups that UConn business programs helped to advance.
"All the presentations were excellent, showing a combination of good ideas, motivated leaders, strong mentoring and a great deal of practice," Souder said. "The School of Business is excited to play a role in their development, and support a program that has benefits for our students and the city of Hartford."
A New Way to Fight Cancer
Encapsulate, an innovative, personalized "tumor on a chip" cancer-battling technology, drew particular enthusiasm from the crowd. The UConn-grown company can replicate a patient's cancerous tissue outside the body, producing a collection of tiny tumors that allow oncologists to pinpoint the most effective medications to combat them. The process takes only two weeks.
The innovation can speed delivery of lifesaving treatment, spare patients from ineffective medication, and save money for insurance companies. The startup has been selected for NASA's prestigious space-medicine program.
"UConn and the State of Connecticut were our biggest supporters," said Leila Daneshmandi, co-founder of Encapsulate and a UConn Ph.D. candidate. "We had amazing mentors who were so kind and helpful, who saw our success as their success."
"We're a Connecticut program and our mentors helped us establish roots here," said Daneshmandi, who co-founded the company with Armin Rad. "Having the opportunity to participate in such a focused accelerator, specifically promoting health care companies, was very helpful to us."
QRfertile, another UConn-affiliated company that participated in the accelerator, expects to offer its at-home male fertility diagnostic test for sale to the public in about 18 months. The company offers men confidentiality testing and results without visiting a lab or physician.
"We are in touch with all our mentors from the School of Business," said Reza Amin, co-founder and CEO. "The support we've received from UConn, since day one, has been incredible."
Both companies grew their business presence through the Connecticut Center for Entrepreneurship & Innovation (CCEI) which helped them identify their strengths, support their needs, focus their development and connect with experts to enhance their knowledge.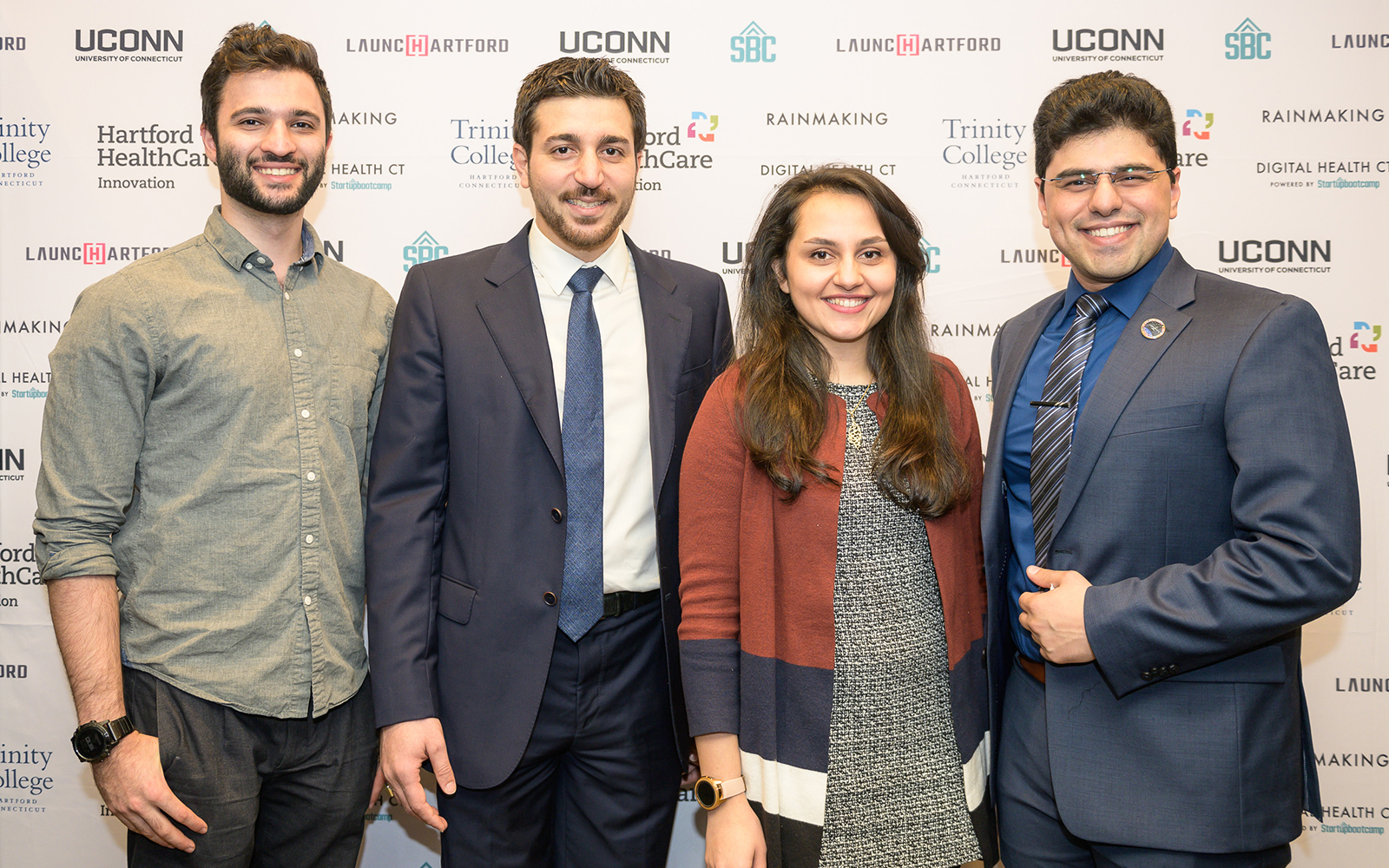 Jennifer Murphy, director at CCEI, said her team would have been thrilled to have one UConn startup in the accelerator; to have two was phenomenal.
"We have been able to prepare startups to take the next steps and be ready to be accepted into nationally and internationally known accelerator programs," she said. "We are so proud of Encapsulate and QR Fertile for the persistence and hard work both teams have put into their companies. We are looking forward to seeing where this momentum will take them."
Other startups participating in the Digital Health CT powered by Startupbootcamp accelerator included: DeepScribe, an AI-powered medical note translation device that allows can save clinicians up to three hours per day and provide more time for focus on face-to-face interaction with patients instead of taking notes; Lineus Medical's IV catheter lines that prevent patients from pulling the device out of their arms; and CompanionMx, which uses AI algorithms to produce acoustic and behavioral biomarkers that predict symptoms of mood and anxiety disorders.
UConn OPIM Professor Jennifer Eigo, who is part of the medtech advisory committee and helped select the 10 startup participants, said she was excited to participate and be part of a team that identified untapped potential.
"What I like about the accelerator is that startups are using analytics in novel ways to impact patient care," she said. "To have it happening here, in Connecticut, is allowing our students to see the big picture impact that analytics can have on their careers."
Building An Ecosystem of Entrepreneurship
Jeff Flaks, CEO of Hartford HealthCare, said Connecticut offers entrepreneurs earnest collaboration, a welcoming home and an abundance of talent. The growing startups represent an opportunity to improve health care and solve complex challenges. For the state, health care innovation provides a perfect opportunity to differentiate and distinguish the region as the go-to place for health care entrepreneurs, he said.
"In Hartford, we're building a whole ecosystem of entrepreneurship, not just promoting some very great startups," said Farcet, co-founder of Rainmaking, the global company that has nurtured almost 900 startups, including the participants in Monday's event. "We recognize that this is a broader mission. That's incredibly fun, and adds another layer of meaning to our work because our impact will extend to the city of Hartford and the state of Connecticut."
Michelle Cote, director of Launch Hartford, said the city is well positioned to thrive because of the medical accelerator and similar programs in the insurance industry and advanced manufacturing.
"Hartford is emerging as an incredibly powerful hub of innovation for entrepreneurs from around the globe," she said. "Our city has committed itself to being the best place to launch or grow a business on the East Coast."
The School of Business' startup accelerator, the CCEI Summer Fellowship, is preparing its next cohort. The application deadline is March 1 and is open to any UConn-affiliated startup (student, faculty, alumni) in any field. In addition, CCEI is always looking for mentors to support startups. For additional information, please contact Jennifer.Murphy@uconn.edu or call 860-728-2108.