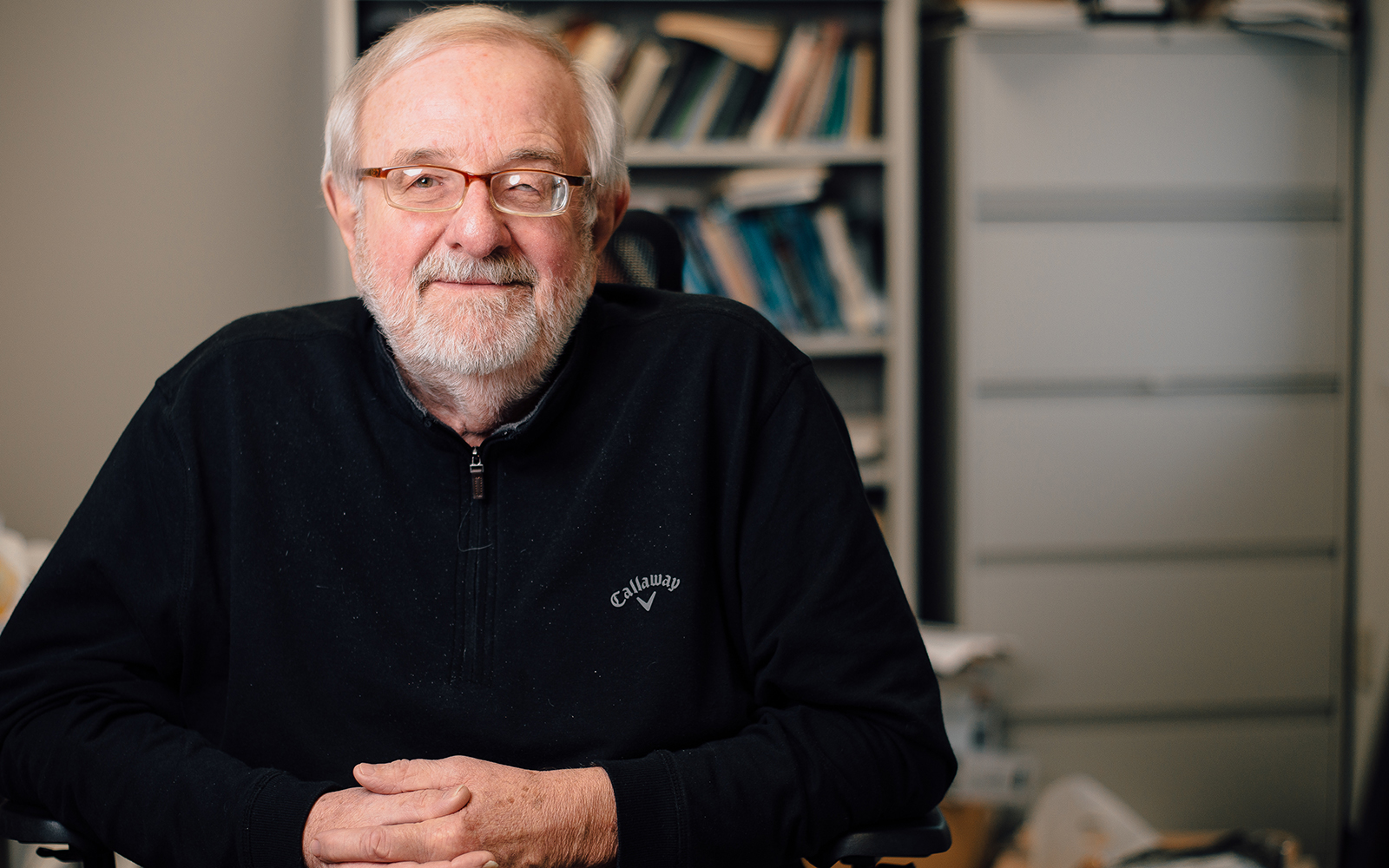 Professor Jim Marsden, who led the OPIM department for 15 years and helped put UConn's information management program on the national map, has taught his last class before retirement.
Marsden, a Board of Trustees Distinguished Professor, helped create the GE 'edgelab' business/learning accelerator, spearheaded the creation of the MSBAPM program, and mentored future faculty members, many of whom have also become leaders in the field.
"Jim is admired by everyone in the department for what he has done for us over the years," said Professor Suresh Nair, OPIM interim department head. "His leadership as a department head transformed OPIM into a powerhouse of research productivity."
"He has been a great teacher, researcher, guide and mentor to many in this school, and we are fortunate to have had him here," Nair said. "He had the capacity, determination, and drive to translate vision into reality, a sign of great leadership."
Marsden Spearheaded Innovative UConn-GE Partnership
Marsden was an instrumental member of a forward-thinking faculty team that created and nurtured the GE 'edgelab' in Stamford. The award-winning research partnership between GE and UConn spanned more than a decade, from 2000 to 2011. Students, faculty, and GE managers worked together to address key initiatives, and the program drew national attention as a first-of-the-kind business/learning partnership.
"I would say I'm most proud of 'edgelab' and the team effort that was involved in that incredible partnership. It was a tremendous benefit for our students, for our faculty, and for GE, which put such tremendous trust in our relationship," he said. "The students, the faculty, and the GE managers all put their heart and soul into it."
In 2016, Marsden, a widely published and often-cited researcher, received an international, lifetime achievement award for his contributions to the field of information systems. The LEO Award from the Association for Information Systems recognizes lifetime exceptional achievement and contributions to the field. Recipients are considered role models and an inspiration to colleagues and students, and are persons of exemplary professional and personal integrity.
'Lucky to Do Something I Love'
Marsden said when he came to UConn in 1993, OPIM had one major, Management Information Systems. The programs offered by the department have grown tremendously, and now include the long- running MIS major, the prestigious Management and Engineering for Manufacturing (achieving rare dual accreditation by both AACSB and ABET), the undergraduate program in Business Analytics at the regional campuses, the MSBAPM program in both Hartford and Stamford, the Ph.D. program, and a variety of minors and emerging technology classes that serve a broad swath of UConn students.
"Each year we're teaching something new. The faculty is re-tooling constantly to keep up-to-date. In our fields you have to keep up," he said. "Businesses are pushing forward with analytics and we have to keep ahead of them."
"I'm extremely lucky to have been able to do something I love for some 50 years," Marsden continued. "I've enjoyed teaching, conducting research, and collaborating with colleagues. We built a great department with people who were productive, generous with their time and committed to being great colleagues."
During almost three decades, Marsden has seen a tremendous change at UConn.
"Both the number and quality of students coming to UConn is impressive. We are delivering more rigorous material at a higher level, whether to undergraduates, graduates or doctoral students," he said. "I believe the university and the School of Business are in great shape."
"I want to thank UConn for all the opportunities it gave me—great administrators, wonderful colleagues and terrific students," he said. As an educator, he said, you get used to the cycle of students arriving and graduating. Now, he said, it is his turn. "It's part of the natural transition—not a bad thing at all," he said.
Marsden said he is looking forward to traveling with his wife, Kim, to England and Spain, where they will visit friends. The Marsdens will split their time between Arizona and Chicago, where their two sons, Granger (an emergency medicine resident at Stroger Cook County) and Grant (a Ph.D. candidate in chemical engineering at Northwestern) will be living for at least a few years. Marsden expects to keep in close touch with the many friends he's made at UConn.
He said he will continue academic and editing pursuits ("exercise for the mind") including, for a few years, his work as editor-in-chief of the journal Decision Support Systems. But he is looking forward to a slower pace.
"I still have projects to work on, and I won't be bored!" he said.