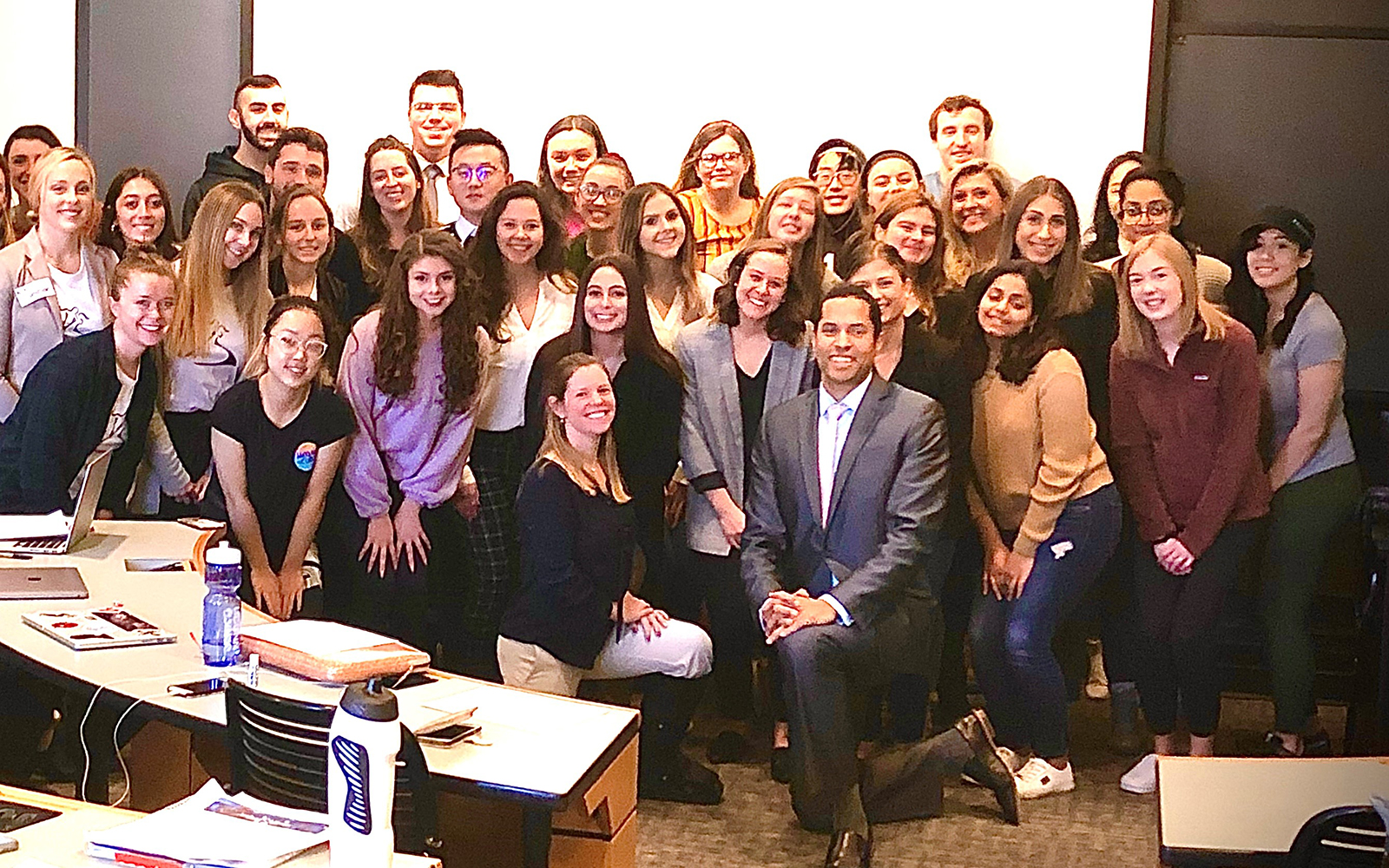 Todd and Karrie Russell will tell you there's no such thing as a talentless dancer. Given the right instruction and a commitment to learn, anyone can master an elegant waltz or an enviable Cha Cha.
Teaching novice dancers is great fun, they said. Getting potential dancers in the door of the Arthur Murray Dance Centers, which they own in Vernon and Guilford, is a bit more exhausting.
The husband-and-wife team needed a fresh marketing strategy to increase revenue and expand their customer base. They turned to UConn's undergraduate marketing students for recommendations. Seven teams of upperclassmen from Professor Cinthia Satornino's capstone "Marketing, Planning and Strategy" [Marketing 3362] class gave it a whirl.
The students spent most of the semester creating marketing plans for the business. Their ideas included recruiting previously untapped groups of potential customers, such as minority and LGBTQ clients; developing a 'ballroom bootcamp' fitness program; and adding a boutique that would feature workout and athleisure clothing emblazoned with the company logo. Most teams also offered additional ideas to maximize social media outreach.
"They did a fabulous job coming up with ideas," Todd Russell said. "Some were brand new while some were similar to ideas we'd discussed in the past, but they really gave us a road map about how to implement them. They gave us the confidence to take our next step."
Hiring a professional firm to devise such a plan would likely cost between $30,000 and $50,000, Satornino said. The Russells will hire a student intern from the class to help implement the ideas.
The seven teams came up with vastly different recommendations, Satornino said.
"This is a high-value opportunity for our clients and our students. Everybody wins," said Satornino, noting that all the teams scored very highly. "We've had stellar teams in the past but this year's students knocked it out of the park. Each of the seven teams had a vastly different proposal. They did an incredible job."
"For this class, the students have to use everything that we've been teaching them. They're about to graduate and enter 'the big game' and now I'm less their professor and more their coach," Satornino said. "They have been through a challenging project that made them all very uncomfortable. They were very stressed out. But I can turn to them and say 'You persevered. Look at what you know now!'"
'I Felt Like a Professional'
Many students said the capstone project was one of the most challenging and rewarding experiences they'd had at UConn.
"This was my favorite marketing class because it sums up all that we've learned," said student Madeline Sanzo. "We felt ingrained in the culture and developed a sense of who our customers were, to the core!"
Teammate Isabella Baldoni agreed. "This was not a case study. It was very impactful to be able to help a real, small business and a family. We got face-to-face time with Todd and Karrie and got a real feel of what they wanted. We were very passionate about helping them."
Jake Ferraro said for the first time, "I felt like a professional working on a project."
"We had a responsibility to help these people and come up with a practical, attainable solution," said Matthew Heath. "l was proud of what we did. I could talk about our marketing plan for an hour!"
"What I loved about this project was the freedom to choose what to do and be creative without restraint," said Tara Troy, who was part of the first-place team, which had recommended recruiting from diverse groups. Her teammate, Jessica Co, said mid-way through the project, the team scrapped their original plan and started from scratch. "We came up with a whole new idea. We just had to brainstorm it out," said Geethinka Kodakara.
"This is the most work any of us have put into a project," said Meghan Diamond, whose team was the runner-up. They recommended the Russells establish a boutique within their studio that would sell t-shirts, leggings and other athleisure products displaying their company name. They conducted their presentation wearing Arthur Murray clothing samples. "We are all marketing majors but we all brought something different to this project. We meshed well as a team," said Hannah Sugrue.
"In the beginning, I think we were all overwhelmed," said Laura DeSousa, who, with her team, visited the dance studio. "But soon we all started picking up answers." Their recommendations involved different price bundling and a new social media marketing plan. "I think every business student should get this opportunity at least once," said Sophia Pascon.
Teammates Amanda Kelly, Audrey Ryan and Ashley Jacques even learned the Cha Cha, The Salsa, and the Tango while embarking on the project. Their recommendations included offering a ballroom bootcamp health class and a new social media presence. They may even take dance classes in the future, they said.
'He said I had no rhythm'
Both Todd and Karrie are UConn alumni. Todd earned a degree in economics in 2002; Karrie majored in psychology and sociology and completed her degree in 2009. They have owned their business for about 10 years.
A friend had suggested they reach out to the university for marketing assistance, but Todd procrastinated.
"One of the hardest things is to admit you need help," he said. "But we need advice to help keep our business strong."
"Honestly I figured we would be lucky if we got one good idea, and we got seven. Even the ones that made me feel a bit uncomfortable, still had merit. The students' presentations, and their effort, was great. We will implement some of the ideas right away, and some we will put on the back burner for now."
Ironically, Todd's first dance lesson took place right at UConn.
"When I was a student at UConn, my roommate tried to teach me The Salsa. The lesson lasted about 5 minutes. He said I had no rhythm and that I'd never learn!" he recalled, laughing. "Years later, after college, I was just going to work and the gym. I wanted to meet people, so I enrolled in a dance class. I found out I could learn, and I could teach others. Many people feel they can't dance, when, in fact, they've had the hidden talent all along."