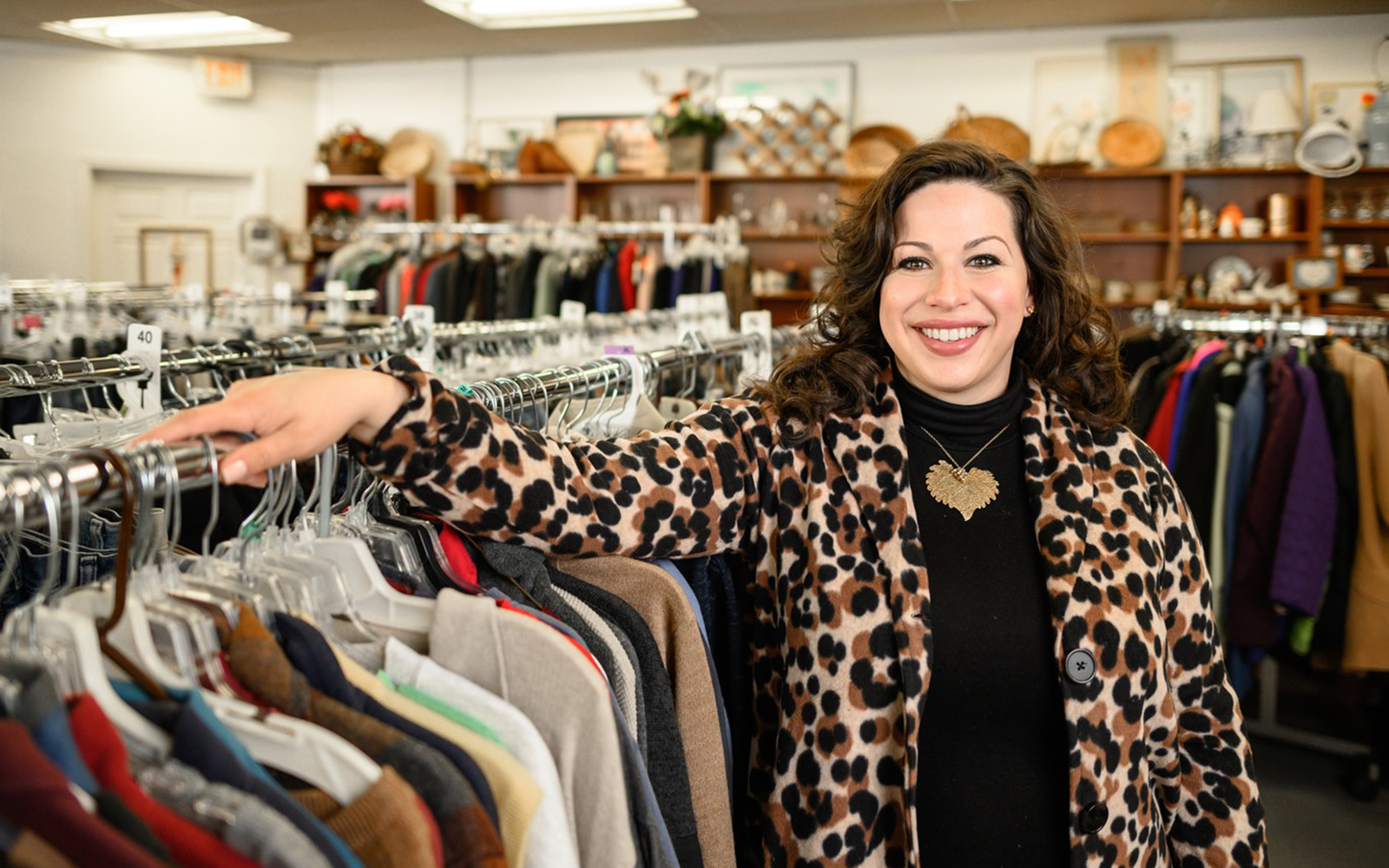 What initially seemed like one of the worst days of Sarah Elizabeth Carabetta '07 (BUS)'s career turned into the impetus for one of her biggest achievements.
Carabetta, the executive director of the charitable organization Acts 4 Ministry, in Waterbury, Conn., visited an apartment to assess whether furniture, provided by her organization, would fit up the stairs.
She asked the family's 7-year-old daughter if she was happy to be getting a new bed.
"You don't get it," the young girl said, leading Carabetta to the bedroom and pointing to a purple blanket, and a pillow, on the floor. "This is my first bed!"
Carabetta was stunned.
"Most kids find that their bed is their sanctuary, a safe place that's all their own," said Carabetta, a 2007 alumna of the School of Business. "And here was a child who had slept on the hard floor her entire life. I couldn't believe this was happening in our community."
That experience motivated Carabetta to create Acts 4 Ministry's "Sleep Well" initiative, which provides new mattresses, box springs, and bed frames to children in need.
The demand has been staggering.
Four years later, Acts 4 Ministry and its partner, the Elisha Leavenworth Foundation, have donated more than 1,000 beds to children in Greater Waterbury.
Carabetta: 'This role found me'
Acts 4 Ministry is a non-denominational charity that supports the needs of families and individuals in extreme financial distress. It takes its name from the fifth book of the New Testament. The Bible passage of Acts 4:32 highlights the importance of sharing with those in need.
Since 2005, the organization has provided more than 200,000 articles of clothing, furnished more than 1,100 homes, and donated more than 30,000 household items to people who have lost everything due to fires, floods, domestic violence, homelessness, incarceration or other devastating life circumstances.
Carabetta runs the organization with the help of two part-time employees and 185 volunteers. One day Carabetta might be seeking a large grant, the next she's sorting clothing.
"I do every role here," she said. "It's less about the title you have, and more about the impact you make."
On Nov. 4, she was honored as the 2019 recipient of Sacred Heart High School's Rev. John Meaney Community Impact Award, which recognizes the leadership commitment of an individual who has had a strong impact on the Greater Waterbury community through service to others. She is reluctant—almost embarrassed—by the attention, but said she's glad the community is taking note of what Acts 4 accomplishes.
Carabetta earned her UConn degree in business administration, with a concentration in technology, studying primarily at the Waterbury and West Hartford campuses. The skills and the business acumen she learned at UConn have been invaluable in a world where she depends heavily on the generosity of individuals and corporations.
"I love what I do. This role found me, as I found myself," said Carabetta. "I ask people, 'If you've had a good experience in life, how are you giving that back to others?'"
UConn Education Fostered Her Success
Carabetta, who grew up in Naugatuck, said her UConn experience greatly influenced her journey. As a student in Waterbury, Carabetta became president of the student government and created many new social opportunities for students.
Longing for the camaraderie that her older brother experienced in Storrs, Carabetta planned an overnight social event at the then-new Waterbury campus, and some 600 students from the Waterbury, Torrington, and West Hartford regional campuses attended.
"I wanted to find ways to make the college experience more diverse for me and those around me. I wanted to experience those cultural and social activities," she said. "The event was incredible."
Through UConn she met William Pizzuto, then an administrator and currently the campus director.
"Bill was an incredible part of my story," she said. "He shaped me into the person I am today. He is an incredibly humble human being who makes such an impact on the community through his service with various agencies. I wanted to be part of that."
Pizzuto said that Carabetta is a born leader.
"Sarah is just a dynamic individual," Pizzuto said. "Even back then, she could do the work of five people. She was mature beyond her years and she had great personal skills."
Pizzuto said Carabetta would be successful in any job or industry she chose to pursue. The people of Waterbury are extremely fortunate to have her as an advocate, he said. The impact of her work has been felt in the public, private, and religious sectors, and she has united them through a common purpose, he said.
After graduating from UConn, Carabetta worked for a cosmetics company, then an ad agency, and later ran her own marketing firm. The experiences all helped her sharpen the skills she uses today.
Seven years ago, Carabetta was approached by a former Acts 4 Board member's spouse, who encouraged her to apply for the role, noting the organization was seeking to elevate its marketing and fund development outreach in the community. That ultimately led to her job.
"I felt my purpose was greater than just going to work. I took this as a social responsibility. I applied the business acumen I learned at UConn to sharing our cause with people who are just not exposed to that hardship," she said.
"I saw an opportunity to expand, explore, redirect and elevate what we're doing," she said. "At Act 4, our mission is less about what we say, and more about what we do."
From Tackling Renovations to Buying Delivery Trucks
Carabetta recently renovated the organization's Thomaston Avenue shop to make it more like a boutique. There is coffee for visitors, a play area for children, neatly organized racks of clothing, and a display of jewelry. Customers are greeted with hugs and warm hellos.
"If one person leaves here each day feeling brighter than before, we've done well," she said. "We, as human beings, all just want to feel loved."
Her next goal is to renovate an adjacent warehouse as a sorting area for the 275,000 pounds of donated clothes and 6,500 pieces of furniture the organization receives every year. Acts 4 is particular about the clothes it accepts. They must be clean, free of stains, and untattered.
"If they are not worthy of putting on our own backs, they are not worthy for our clients," she said. "This is a place of trust; a place where we want to elevate people—not hand them a stained shirt."
When she arrived here seven years ago, volunteers were delivering donations in a truck that was more than 20 years old. It wasn't safe, she said. Through the Waterbury Chamber, Carabetta met a woman who worked for Ion Bank. She helped Carabetta apply for a grant from the bank, allowing the agency to purchase a new truck.
"Sometimes people will look at me and say, 'I don't really understand what you do,'" said Carabetta. "And I'll tell them, 'I'm inspiring acts of love.'" The phrase is so ingrained in the organization, that it owns the trademark.
In addition to her work with Acts 4, Carabetta is chair of the Chamber's Leadership Greater Waterbury Steering Committee and a member of the local Exchange Club. She previously served for six years on the board of Main Street Waterbury, ending her term as chair in 2015. She was also a member of UConn's Service-Learning Community Advisory Board until 2014. Her husband, Kevin, an Air Force veteran, is one of her biggest supporters, encouraging her to forge ahead in times when the challenge seems great.
She is both optimistic and realistic about the challenges ahead.
"The Waterbury community is strong in partnering to help families," she said. "We've made an impact, but the need isn't going away. Most of our clients live moment to moment."
"You can hear the stories of our families but until you experience it with your own eyes, it's different," she said. "There's a contemporary Christian song by Matthew West called 'Do Something.' It's about a man who shakes his fist at heaven and says, 'God, why don't you do something?' And God says, 'I did, I created you.' I love that song because it celebrates the power that we all have to change the world around us."