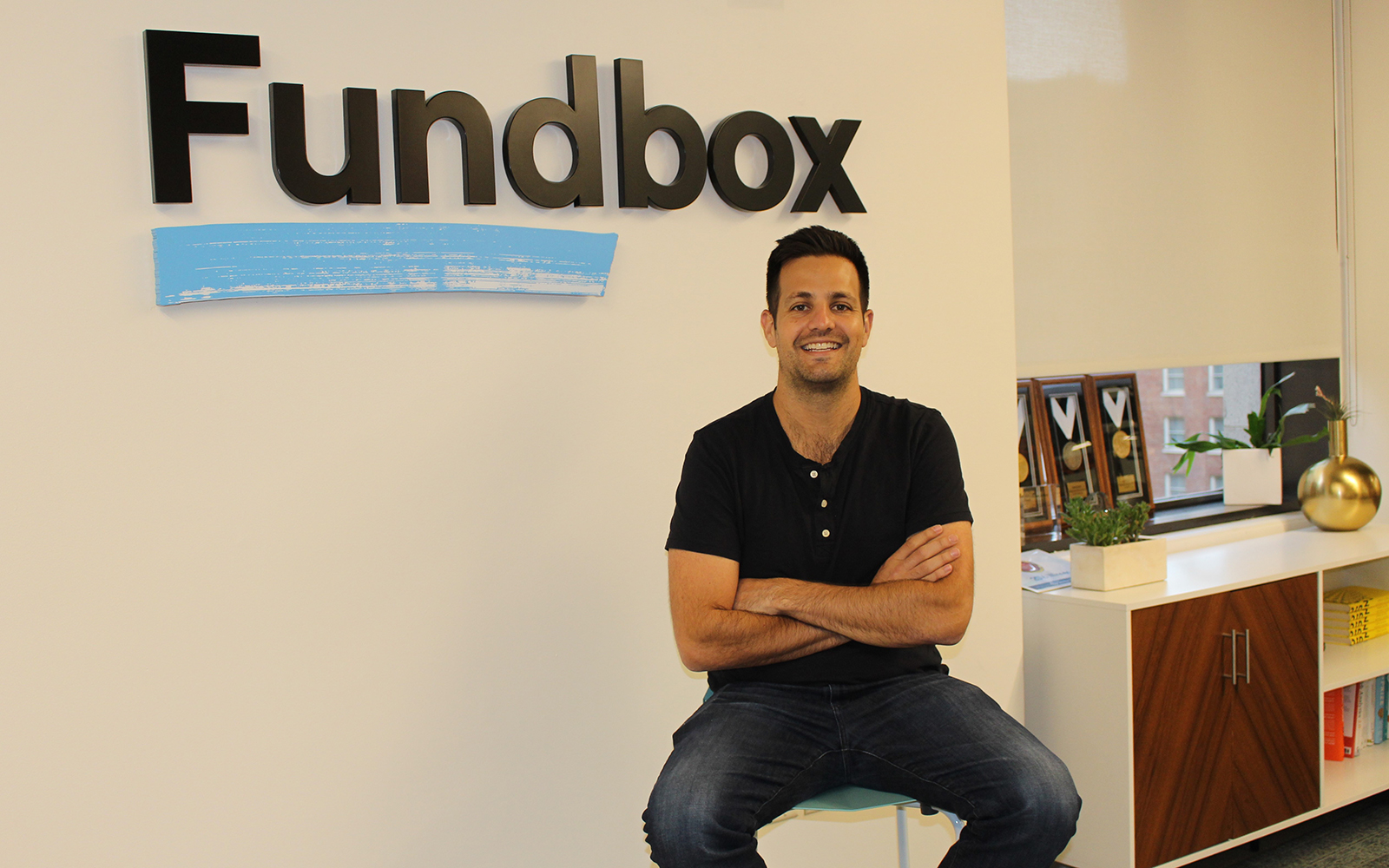 For many small business owners, the months-long gap between completing a job and getting paid threatens the growth, potential, or even solvency of their firms.
Having a viable and innovative solution to that problem is what drives UConn accounting alumnus Steven Groccia '10 (BUS) in his work every day.
Groccia is the Director of Finance at Fundbox, a San Francisco, Calif.-based fintech company that has revolutionized the way small- to medium-sized businesses pay, or get paid, by launching the first B2B payments and credit network.
Just six years after its creation, Fundbox has more than 150,000 customers and has raised over $585 million in capital. Using big data science, machine learning, and predictive modeling, Fundbox offers businesses lines of credit or net terms, often giving approval within minutes of receiving an application.
"It's tremendously gratifying to see the impact we have on the small businesses we serve," Groccia said. "One of the things that attracted me here was the simplicity of a product that solves real-life problems. Given our dynamic startup environment, no two days are ever the same."
Many Companies Suffer Because of 'Trapped Cash'
Fundbox was founded in 2013 by CEO Eyal Shinar, who came up with the concept after watching his mother's small business struggle with cash-flow issues. The company offers a revolving business line of credit up to $100,000 for small- to medium-size businesses. For many companies it is the bridge to overcome slow sales, late payments, or unplanned expenses.
"The traditional payment processes and systems used today are fractured, inefficient and slow. Few businesses can afford to wait 30-, 60- or 90- days to get paid," Groccia said. "We estimate there is $3.1 trillion of 'trapped cash,' what our team calls the "Net Terms Economy," impacting U.S. businesses today. Our company wants to help businesses overcome that hurdle."
Fundbox has served as an alternative to conventional bank loans. And although a few companies have tried to invade its space, none have the sophisticated ecosystem that Fundbox does.
"Speed is our secret sauce," Groccia said. "We have developed a way to automate the credit-approval process. Companies connect their business bank account credentials or accounting software to our business capital platform, and we can assess their financial health. There is no paperwork for our clients."
Once approved, businesses can withdraw funds from an account as soon as the next day. And businesses can save money by repaying loans early.
"We employ data scientists and we've created, and revised, our own risk assessment models from scratch, driven by big data and machine learning," Groccia said. With careful analytics, risk of loss is minimized.
Fundbox customers draw funds from their line with a 12- to 24-week duration and repayments are made weekly. "That way we get an early warning sign if we see any red flags," he said. "We are getting immediate feedback."
UConn Fostered Internships and a Marriage
Groccia, a Stamford, Conn.-native, said he has been intrigued by business for as long as he can remember. He was drawn to UConn by the School of Business—and the basketball teams. He enjoyed both finance and accounting, but with the economy in a recession in 2007 and 2008, he embraced accounting as a safer path.
"Dick Kochanek was my favorite professor, hands down," he said of the now-retired accounting educator. "His enthusiasm for a subject that can sometimes be very dry, was amazing!"
UConn shaped Groccia's future in many ways.
"Any time you go out of your comfort zone it starts to define you," he said. "Living on your own you learn a lot about yourself, your interactions with others, your work style and work ethic. You grow up."
"UConn challenged me," he continued. "I wanted to learn and to be challenged across all facets of business. The accounting faculty prepared us well with the skills we needed, but they also taught us how to be a professional, and instilled best practices. Having professors from industry really taught us what our jobs would be like, and the networking was incredible."
Groccia had internships at UBS and, later, at Deloitte, working in the banking and financial sectors. The latter led to a job offer.
He graduated in 2010 with a major in accounting and minor in economics. At UConn, he was a member of Beta Alpha Psi and the Accounting Society, he worked as a volunteer Income Tax preparer and played intramurals.
But perhaps his best networking success came during freshman orientation in spring 2006, when Groccia met his future wife, Rachel Tavana '10 (BUS), who also works in the finance field. The couple married last year, in California, and some 40 percent of their guests had UConn ties. The social life at UConn was second to none, he said.
Eventually, Deloitte offered Groccia the opportunity to transfer to the San Francisco office, working in mergers-and-acquisitions. He enjoyed the work, especially the introduction to different industries and big deals.
"Growing up in Connecticut, and working initially in my hometown of Stamford, the opportunity came to move across the country," he said. "Things were comfortable [in Connecticut], but my wife and I eventually decided, 'Why not?' It was a good time to try something different and leverage what I'd learned."
When the Fundbox opportunity came up, Groccia was eager to try something new.
"At Deloitte, I'd seen a lot of companies from the outside, looking in. This is just the opposite," he said. "I'm on the inside, helping build the company from the ground up."
Advice to Current Students: Stay Humble
While UConn prepared him extremely well for his career, Groccia said some business acumen can only be learned on the job.
"I would tell current students to stay humble, keep their heads down, and stay focused," Groccia said. "You can come out of school having 'aced' all your courses and feeling very confident, but there's a different kind of learning that comes when you enter the business world."
"You have to learn how to manage people; your staff, your peers, and your managers. You must set high expectations for yourself and those around you. You need to roll up your sleeves and do the dirty work," he said. "You should ask questions so that you understand exactly why you're doing what you're doing. And always have the mindset to keep learning. Don't be afraid to take chances and get out of your comfort zone. Do all those things, and you'll succeed."