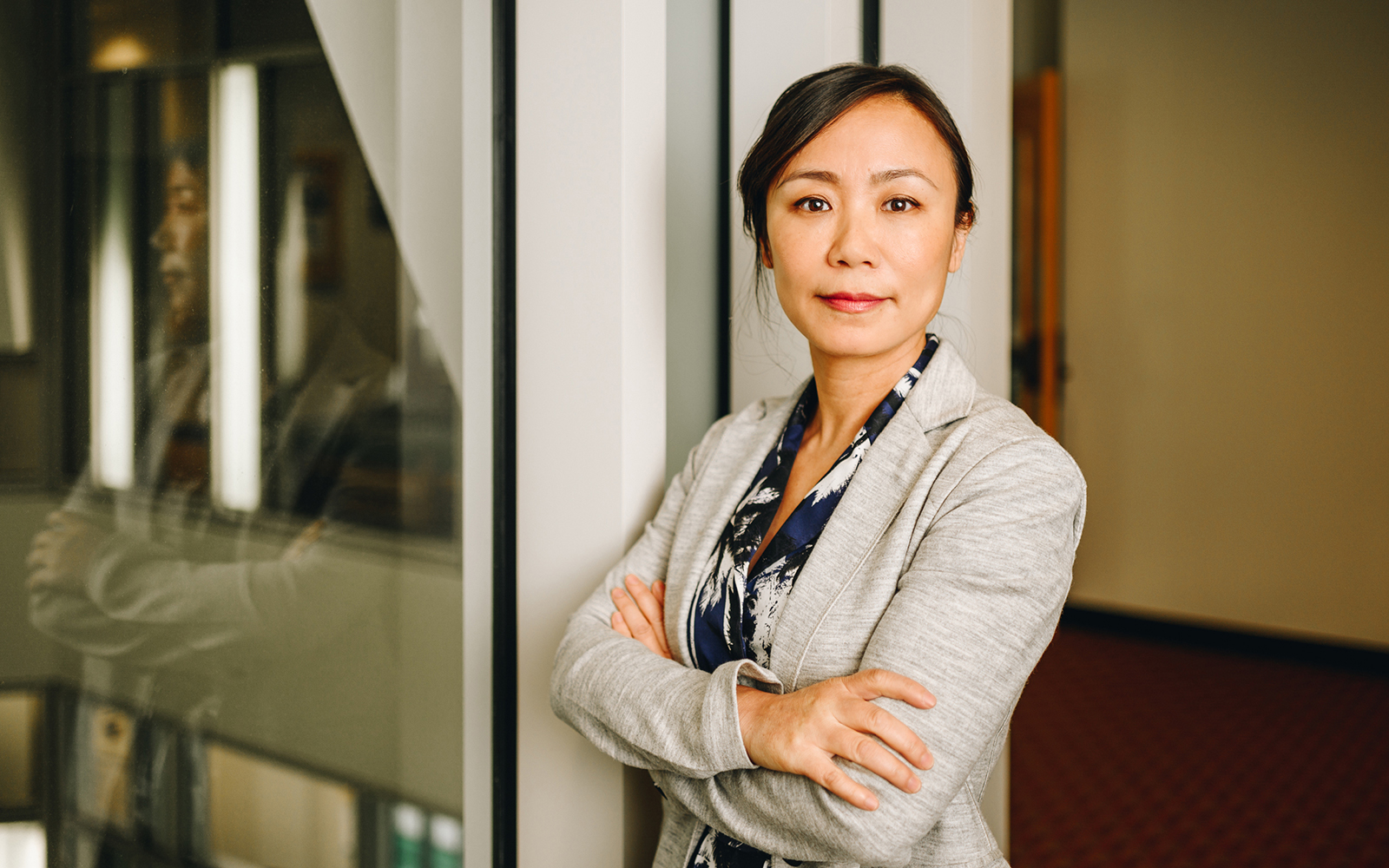 Those unfamiliar with the finance discipline sometimes underestimate the tremendous good that analysts and investors bring to the world, said Yiming Qian, who has just joined the faculty as a full professor and holds the new position of Toscano Family Chair in Finance.
"When people ask me why I chose the field of finance, I tell them that finance is a very important and fascinating field," she said. "Students often wonder what good finance people do compared to scientists, doctors or artists. The capital market plays a key role in channeling funds to worthy human endeavors in the most efficient way."
"We all know that the United States is the best place for innovations. An important reason for that is because we have the most developed capital market and financial system," she said. "In this system, many motivated people, including investors, traders, bankers and others, work very hard to search for the next high-potential thing, and they take the risk by providing the necessary funds and, therefore, make it possible for that potential to become reality."
'Greatest B-Schools Blessed with the Best Educators'
Qian is the first faculty member to hold an endowed chair in the Finance Department. An endowed chair is a high honor bestowed on a faculty member who has produced excellent research and can help attract and retain talented faculty to the university, explained Interim Dean David Souder.
Dan and Tresa Toscano, who met as undergrads at UConn, recently created the Toscano Family Chair in Finance. Dan, a finance major who graduated in 1987, is now the managing director of global capital markets at Morgan Stanley, and the chairman of the UConn Board of Trustees.
"Attracting the highest-caliber faculty to UConn complements our family's commitment to helping students with significant financial need," he said. "The greatest business schools are blessed with the best educators, the best researchers and those who ask and answer the most vexing questions, in addition to the best students."
"UConn is on its way to being one of the great institutions of business higher education," he said. "We are proud to support the continued quest for excellence at UConn and our entire family extends a warm welcome to Dr. Qian."
Qian earned her Ph.D. in finance from the Stern School of Business at NYU. Before joining UConn, she was promoted to full professor and also extended a chair professor offer at the University of Iowa, which, like UConn, is a top research university. She has also been a visiting scholar in Asia, Australia and Europe. Her research focuses on varying topics in corporate finance, including IPOs, mergers and acquisitions, behavioral finance and emerging markets.
Chinmoy Ghosh, finance department head, echoed Toscano's enthusiasm, noting Qian's outstanding publication record in premier journals.
"The Finance Department has witnessed unprecedented strategic growth in creating new programs as well as research productivity at the highest level, thanks to the success of several new, junior faculty members," he said. "With her focus on research in new frontiers and emerging markets, Professor Qian will be able to provide leadership and guidance, as well as collaboration, to this nucleus of junior colleagues and Ph.D. students. Professor Qian's research agenda is also a perfect fit for the proposed Center for Studies on Private and Entrepreneurial Capital."
Recognized that UConn Was Special
Qian said she was smitten with UConn the first time she stepped on campus, giving a seminar talk in 2016.
"I liked the place immediately," she said. "The campus is beautiful, the location of the School of Business is attractive, and I immediately had a great rapport with my colleagues who were tremendously interested in research and extraordinarily friendly. Of course, I already knew the School's reputation was rising among the best."
"It is a great honor to become the Toscano Family Chair in Finance," she said. "UConn has a strong and energetic Finance Department. I look forward to taking up a leadership role in research and teaching, and contributing my very best efforts to the department's growth."