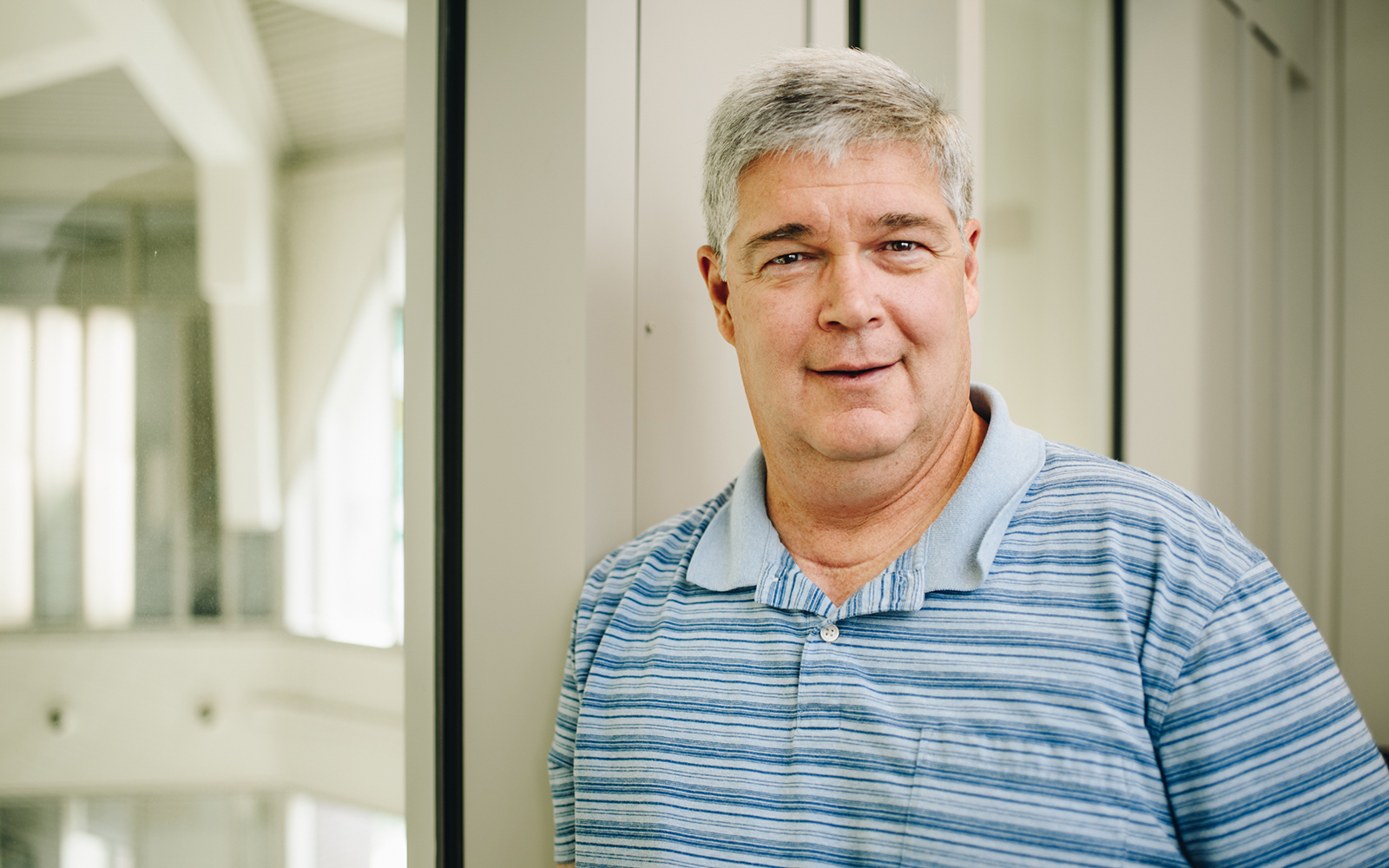 Although his technical expertise is in auditing, Professor Dave Papandria's exceptional accounting career has taught him a great deal about success in the workplace—and in life.
Papandria, who is retiring this month after 14 years at the School of Business, said his goal has not only been to impart accounting knowledge to his students, but also a little "fatherly advice" on making an impact in the workplace.
Much of his perspective comes from 28 years at accounting giant PwC, 16 of them as a partner in the Hartford office. He retired from PwC in 2005 and then came to UConn.
He dubs his advice "Hints to Help You Succeed in the Public Accounting Profession and Life," which he shares each semester with his auditing classes. The 25 tips span topics from leadership, to work-life balance, to fashion.
Developing into a Leader
Many students want to brag about their achievements once they get into leadership roles, but Papandria tells them that is the wrong approach.
"Give full credit to your team for a job well done, but take responsibility for the mistakes," he said. "If you do, people will flock to work with you, and upper management will see that you are developing into a leader."
Another recommendation that resonates with accounting students is to devise a work-life balance plan that is agreeable with your life partner. One example of an agreement Papandria and his wife, Pris, made when he was with the firm was that, despite working long hours, he committed to being home on Friday evenings and Sundays. It was a consistent plan that worked for his family. However, responsibilities change, especially with the arrival of children, and a good personal partnership needs as much attention and nurturing as a good professional one does, he said.
And the fashion advice? During a meeting with the CFO of a client, Papandria noticed to his dismay that he had worn one blue and one brown sock. The client noticed it at the same time and just smiled. "He didn't want to embarrass me," Papandria said. "But since then, I made sure my socks were always a perfect match! I threw all of them away and asked Pris to go out and buy nothing but black gold-toe socks for work." However, the real message here for his students is not about fashion, rather that great accountants pay attention to detail.
An Emergency Resume Revamp
In addition to his teaching responsibilities as an Instructor-in-Residence, Papandria is also assistant department head in Accounting. Although teaching is his first love, the position gave him the chance to work on everything from academic accreditation, curriculum issues, student advising, course transfer approvals and more. This breadth of responsibility helped make the role special.
He laughs when he recalls how his role as an educator started. As a PwC partner, one of his responsibilities was to serve as the liaison to UConn for recruiting, grants and other opportunities. In early 2005, when he told Professor Mo Hussein, who had become a friend, that he was retiring from the firm and thinking about teaching, Hussein said to get him a resume right away.
"I said, 'I don't have one!'" Papandria recalled. "I hadn't updated my resume since college!" Hussein's response? "Do it!" Six weeks after retiring from the firm, Papandria became a college instructor.
Papandria, who teaches audit theory, has a reputation for being a stickler about attendance. He typically has a 90 to 95 percent attendance rate, spurred on, in part, by frequent in-class quizzes and assignments. As he organized his office in preparation for his departure, he reminisced about the amount of work it takes to teach and said he is thankful for the enormous assistance he's received from his colleagues, including Hussein, Emeritus Professor Larry Gramling, Department Head George Plesko, and many others.
"What I will miss the most is dealing with students. I like going to class!" he said. "What I won't miss is grading papers. I don't like that in the least."
The Best is Yet to Come
As he leaves the University, Papandria said he is excited about the growth that he has seen here.
"We're in a great position as a university. The campus is better than ever and the University, its students and its faculty continue to grow. I'm optimistic about the prospects of what's to come," he said. "This is a really, really good University, School and Accounting Department. It has been a pleasure to teach at such a great institution for 14 years."
Papandria's retirement plans are deliberately open-ended. The only commitment he has is to spend more time with his wife, Pris, and family.
"Retirement plans? I don't have a clue!" he said. "Pris and I just want to have time to enjoy this next phase of our life."