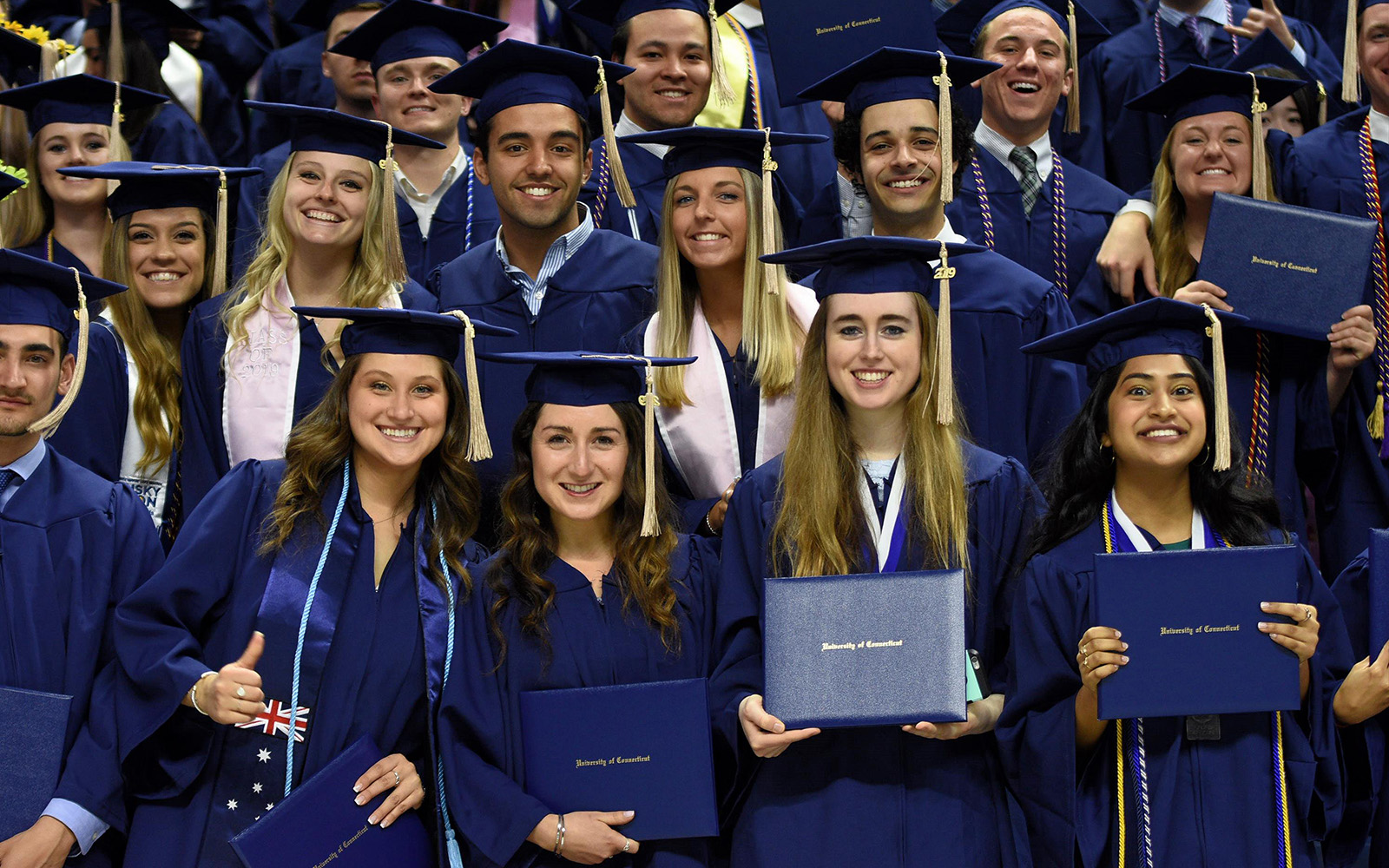 On his first day as a student athlete at UConn, John Fodor '85 briefly considered just packing up and going home.
Scolded by the football coach for wearing the wrong jersey, a disheartened Fodor trudged back to the locker room, on a steaming August day, to change into the appropriate practice uniform.
"I have to tell you the conversation I was having in my head was, 'I am going to keep going–and go home! I don't need this!'" Fodor, the keynote speaker, confessed to hundreds of soon-to-be graduates, their family and friends, at the 2019 School of Business commencement.
"You see, even when you think it is all going to plan, stuff happens that can derail you, that can knock you off your game," said Fodor, who recently retired from The Capital Group/American Funds, one of the world's largest investment firms. During his 22-year tenure there, Fodor became a partner, member of the Board of Directors, and executive vice president of Global Distribution.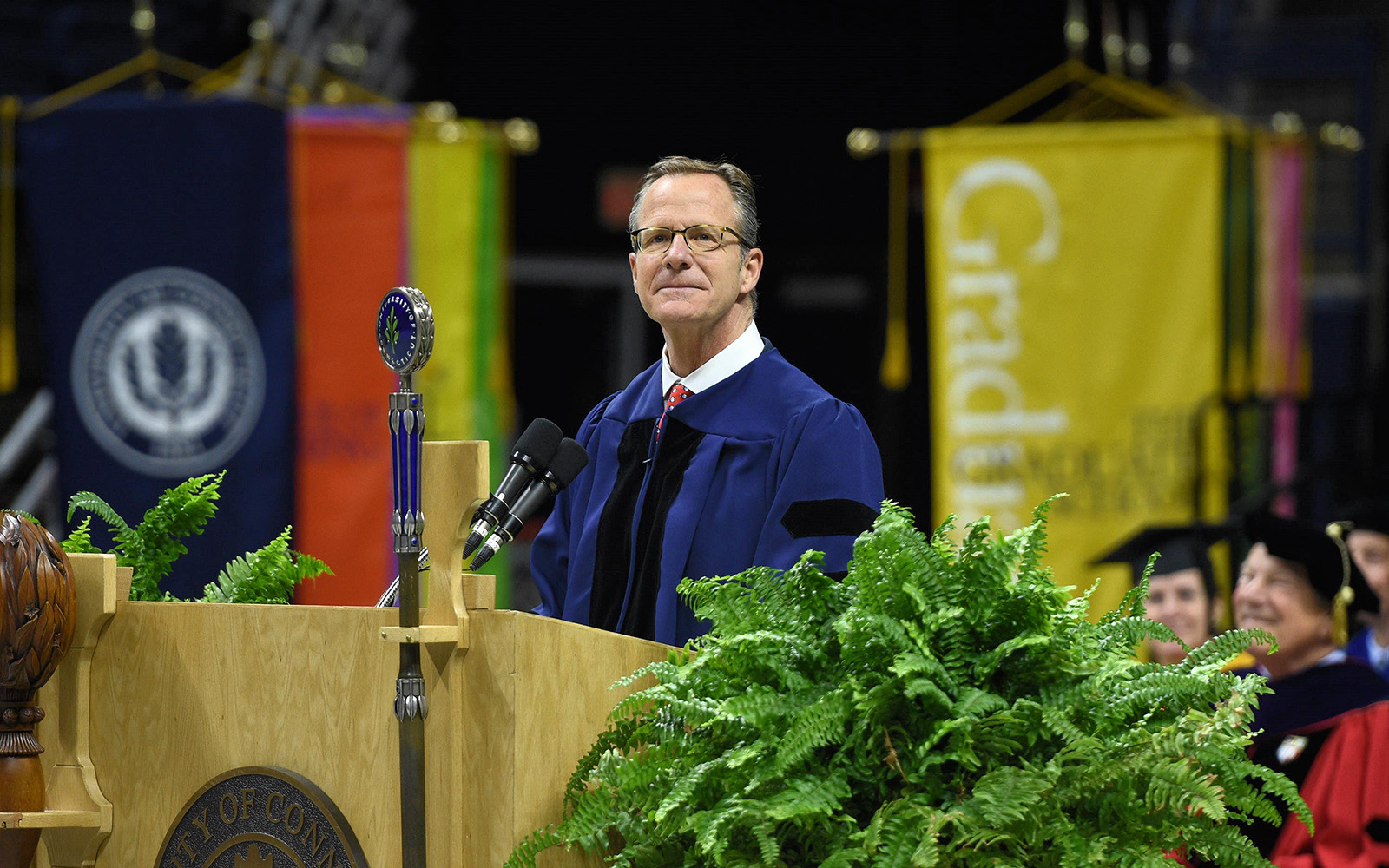 Life is Unpredictable; Make Good Decisions
As he addressed a jubilant undergraduate crowd on a rainy Mother's Day, Fodor said there are three fundamental ideals that will serve them well in both business and life.
The first piece of advice, echoed in his football story, was always have a Plan B. No matter how carefully you've mapped out your plans, there is still no knowing what the future will hold, he said. Surprises are guaranteed.
"That is the concept behind Plan B: the skill and art of decision making," he said. "What is it that helps people better deal with change, make good decisions, and move forward—while others get overwhelmed or overtaken by it?"
Decision making, whether in business or life, is a critical and powerful skill, he said. And while feelings and emotions are what makes us human, they can impede our decision making, he said. Take a long walk, remove the emotions from your decision making, as best you can, and once you do, run back to solve your issues, he said.
"What I didn't tell you about my first day at UConn is that while my first emotion was to keep on going… during that long walk, I calmed down and let the logic sink in. After all, this is what I had dreamed of all my life!"
"I love this place! I went on to win four letters in the sport I loved, and had some of the best times of my life!," he said. "So take the long walk, take the emotions out of your decision making as best you can, and once you do, run back!"
Best Advice Part 2: Be Your Authentic Self
"I know you are ready to graduate and are done with class, but like they say on ESPN: 'Not so fast, my friends!,' Fodor said. "I have one more class for you. What Warren Buffett says is the greatest skill in business and in life is the ability to stand and deliver, to make an A-plus presentation."
Remember that confidence is key, he said, and confidence comes from practice and repetition. Like a basketball player practices free-throws, a business leader should practice presentations so when the time comes, he or she makes the big shot. Be ready to stand and deliver, he said.
Fodor, who has recently served as the Interim President and CEO of the University of Connecticut Foundation, said many people fear public speaking. When you present, don't try to be someone else. "YOU is good!" he said.
"Always remember, it is not what you say that they remember, but it is how you made them feel," said Fodor, who graduated from UConn in 1985 with a bachelor's degree in economics. He is a member of the School of Business Dean's Advisory Cabinet, a frequent guest lecturer, and a 2017 inductee into the School of Business Hall of Fame.
Strive for Never-Ending Improvement
The last piece of advice that Fodor offered is for the new graduates to strive for constant and never-ending improvement. The basis of that is intellectual curiosity, said Fodor, who, in his own career at Capital, logged 5 million miles of travel while helping expand the company's stake in Europe and Asia.
"At my old firm, filled with some of the brightest and best, we did an exhaustive study as to what are the common skills or traits that our most successful associates possess," he said. "The No. 1 trait, far and away, was what we deemed as being the associates that were intellectually curious.
"Looking back on my time here at UConn, I can honestly say the thing I learned that helped me most in my career was intellectual curiosity," he said. "So with degree in hand, do not let this be the end of your learning journey. Continue to remain intellectually curious and ask, 'Why?'"