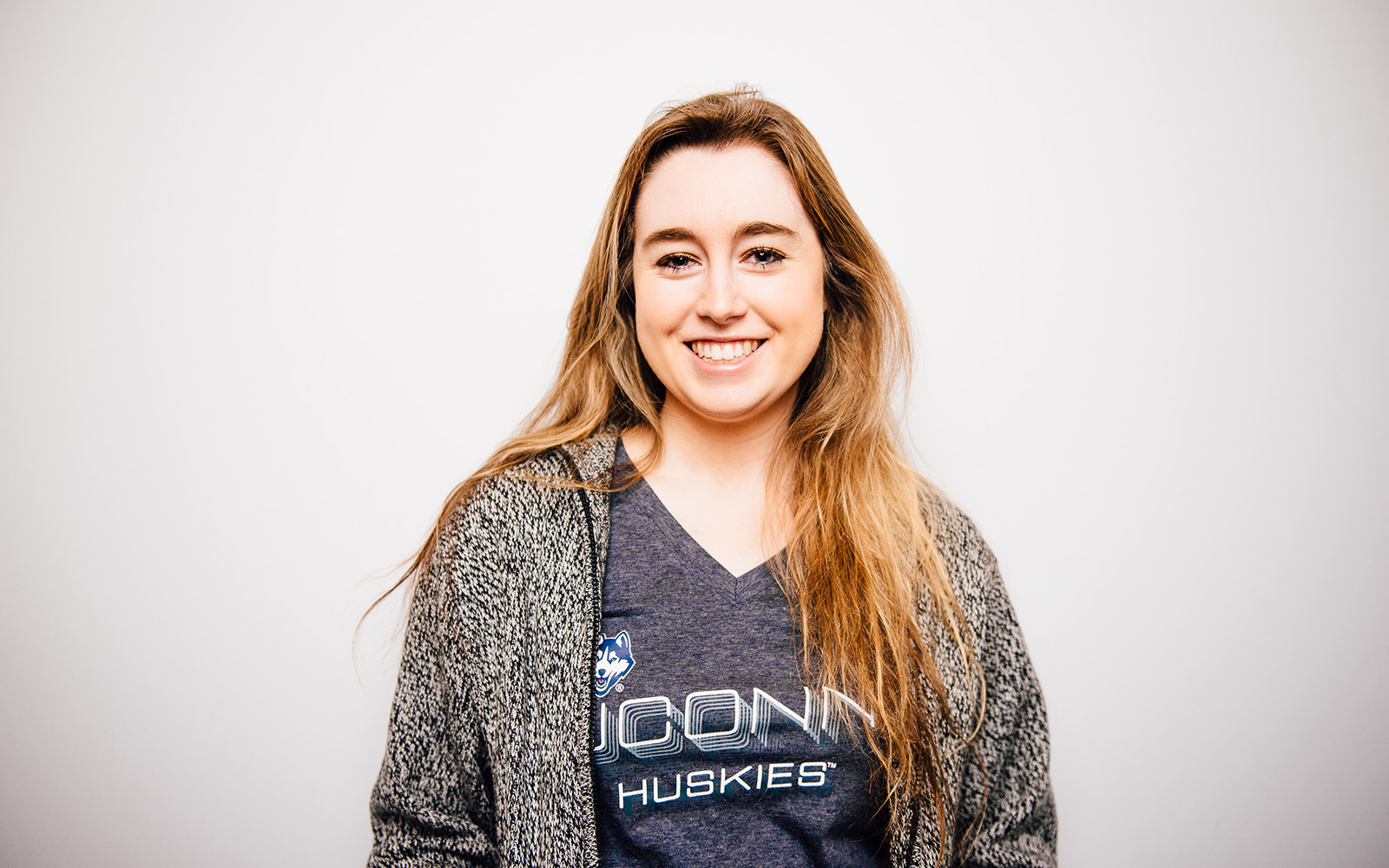 For her senior honors thesis, Hannah Bonitz is working to create a platform that would help law enforcement and other agencies to coordinate efforts to combat modern-day slavery.
Bonitz, a native of Cheshire, Conn., is using her expertise as a Management Information Systems (MIS) major and Women and Gender Studies minor to address a problem that has intrigued her for many years.
"Many of our students, including Hannah, are trying to find ways to use data to solve real-world problems," said Professor Jon Moore of the OPIM department and Bonitz's adviser. "This exploration during their academic career gives them the perspective to pursue solving issues for the social good."
Bonitz recently shared her discoveries, and her UConn experiences, with the School of Business.
Q: How did you become interested in modern-day slavery?
Bonitz:  Every Christmas, from the time I was a little girl, my mother would ask me and my siblings to select a favorite charity that we would like to support during the holidays. For as long as she can remember, I chose the Polaris Project, an organization that strives to combat and prevent modern-day slavery and human trafficking. I'm not sure how I first learned about it, but it became my favorite cause.
Q: What have you discovered through your honors thesis project?
Bonitz: I've spent most of last semester researching the topic. Modern-day slavery traps an estimated 25 million people worldwide. Although sex and human trafficking get most of the publicity, modern-day slavery most often entails forced labor, and in the U.S. it is most prevalent among agricultural workers. Often the victims are brought to this country either against their will, or through some type of deception.
What makes modern-day slavery such a complex topic is that I think often we don't understand or appreciate the struggles of people who just don't have any other options.
What makes modern-day slavery such a complex topic is that I think often we don't understand or appreciate the struggles of people who just don't have any other options.
Q: Were you surprised to hear about the Florida massage parlor prostitution/human trafficking sting that led to charges against several prominent men including Patriots owner Robert Kraft, former Citigroup president John Havens and private equity firm founder John Childs?
Bonitz: I have to say I am not very surprised or shocked to hear about the arrests of prominent executives for soliciting prostitution from sex-trafficking victims. This is because sex trafficking and modern-slavery conditions as a whole are largely overlooked and underestimated. In some ways, we have buried these issues in our society, despite increasing attempts by the government and various NGOs to determine the scope of the crisis. I do hope that the realization that prominent individuals actively support the perpetuation of modern slavery will increase awareness of the issue in the public sphere and increase visibility into the networks of illicit massage businesses that operate in nearly every state. Without this visibility, there is a limit to how effective efforts to combat sex trafficking—and other forms of slavery—can truly be.
Q: What are you hoping to achieve with your project?
I was definitely surprised by the number of groups trying to combat human trafficking and modern day slavery and also how disjointed it is. I'm creating a mock-up of a platform that would help local, state, and federal authorities in the United States to share information, not only improving data collection around the identification and monitoring of perpetrators, but also about how to support the victims.
I know it won't be ready to implement by the time I graduate, but I hope to share what I've done with others who are interested in addressing this problem, and who would be willing to apply my work toward a solution.
Q: Did you have a favorite class at UConn?
Bonitz:  One of my favorite experiences at UConn was Jon Moore's case competition class. We had to do a 20-minute presentation every week on a business problem. Initially I wondered why I'd taken the class. But I've seen my presentation skills improve so much. It taught me so much about how to present, how to work under pressure, and to accept that a solution may not be perfect but it is the best it can be in the time allotted.
Q: You've been involved in many varied activities at UConn, from case competitions to working in the OPIM Innovate Lab to joining Alpha Omicron Pi sorority. Was it easy for you to find your niche?
Bonitz: Not at first. If you go to a club and you don't have a leadership position, you float along and maybe you don't go to the meetings that often. The best advice I would give to new students at UConn is don't be afraid to try new things. Whatever interests you, do it. My freshman year, I didn't do enough. Sophomore year I felt so much more fulfilled. Getting involved keeps you going, it keeps you interested.
Q: You've also worked as an administrative assistant in the Management Department at the School of Business and as the social media coordinator for the academic journal Group & Organization Management for the last two years, spearheading social media and communicating with the publisher and international authors.
Lucy Gilson, head of the management department, describes you as a great worker, bright, determined and proactive in recommending new and better ways of doing things. What will you take with you from these experiences?
Bonitz: I will take so much from my experiences in the management department. Not only have I had the chance to interact with the wonderful professors in the department, but I have also been able to complete meaningful and engaging work for the past three years. Specifically, as the social media coordinator for Group and Organization Management, I have learned how to keep myself disciplined with self-directed work and to effectively coordinate with a number of different actors. I have thoroughly enjoyed the work, and I am thankful to Lucy [Gilson] and the department for providing me with such a rewarding opportunity that will stick with me and guide me as I move into my career.
Q: What are your plans after graduation?
Bonitz: I've accepted a job at Travelers in Hartford in a three-year leadership rotation program.
Q: What will you miss most about UConn after graduation?
Bonitz: What I will miss the most about UConn after I graduate is definitely how it operates as a hotspot for activity and opportunity. Whenever I am at UConn, I feel a sense of excitement given the sheer number of people present, the number of different student groups, and the number of amazing initiatives that different schools and respective departments are spearheading. I will miss the environment of enthusiasm and ever-present opportunity that UConn fosters, in tandem with a great deal of Husky pride. I hope as I move into my career that I again achieve the feeling of being a small part of something bigger than myself!